I'd driven past wine country in Northern California before but had never spent any time there. I'd pictured gently rolling hills with well-paved wide roads and sunshine.
I might have found that on another day, but I arrived in the jewel-box city of Paso Robles during one of the rainiest seasons in recent California history, a seemingly never-ending torrent that washed houses off cliffsides and formed gullies through formerly paved surfaces.
Both afternoons saw clouds gather, the air turn cool and drenching rain pour from the sky. And what I'd imagined would be gently undulating asphalt was so tight, narrow and challenging that the Subaru communication team doled out Dramamine® for passengers.
I ended up needing it.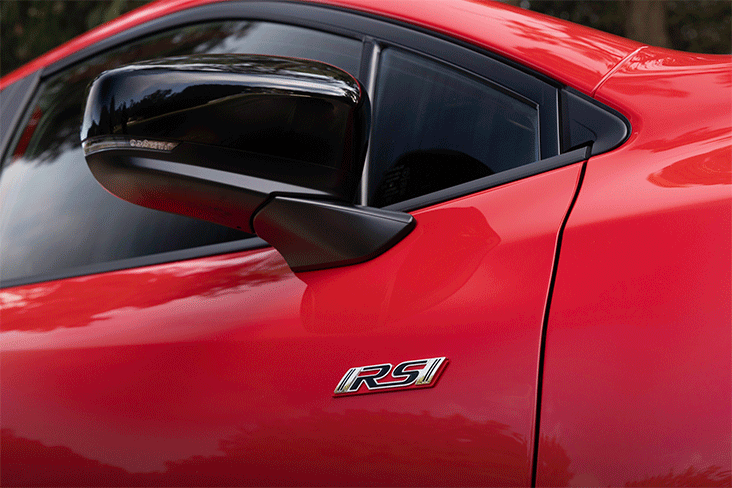 Subaru Impreza RS Resurrection
We were in Paso Robles to be among the first to experience the all-new 2024 Subaru Impreza, the sixth generation of Subaru of America's smallest five-door vehicle. It's been a long road for the Impreza, beginning in 1992 and followed by the second generation in 2000, which spawned bedroom poster-worthy performance offshoots of the model, including the WRX and, later, the STI.
While the first generation didn't offer a WRX for the North American market, Subaru enthusiasts were treated to something nearly as fun: The 2.5 RS. It arrived in 1998, just a year after Subaru decided to put all its chips on all-wheel drive as a means of distinguishing itself from other brands.
That wager paid off, and the arrival of a sporty iteration with a larger 2.5-liter SUBARU BOXER® engine, a manual transmission, bigger brakes, gold finish 16-inch alloy wheels, hood vents, and a rally-inspired rear spoiler was a serious test balloon for a company that hadn't offered a true performance model before.
Once the WRX hit the scene – first identified as an "Impreza WRX" – the RS 2.5 trim level exited, not returning until now. Its comeback story aligns with an all-new Impreza platform that dispenses with the sedan body style, leaving that for the WRX and STI models. The lone Impreza body style is the hatchback, which splits the difference between a sporty sedan and the utility of a compact crossover like the Crosstrek.
SUV Utility Without the SUV
Subaru Carline Planning Manager Garrick Goh says that 20% of surveyed Impreza shoppers intend to install roof rails, suggesting that while they're choosing an actual "car," they still equip them similarly to SUV customers.
"They want to get out there; they want to go hiking; they want to put stuff on the roof," he says. "They also do not want an SUV. But they still want to do SUV things. They're actually looking for a sporty car that can get them on their adventures."
Goh points out that while Impreza customers have long enjoyed the benefits of how far all-wheel drive can take them, enthusiasts of the model have often transformed their cars into a sort of "WRX lite," with the wheels, lowered suspension, spoilers and other accoutrements of the WRX without the turbocharged Boxer Engine. "It's not typical SUV behavior," he says.
At the same time, Goh sees an opportunity primarily because the rest of the industry seems to have shifted away from producing cars. "The segment is not dead," he says, pointing to research that shows a slight increase in vehicles sold in the traditional "car" segments – coupes, sedans, hatchbacks and station wagons – following a dip during the pandemic.
That information, Goh says, is what prompted Subaru to go "all-in" on a sporty vehicle but, most importantly, a sporty Subaru, with the safety, reliability and longevity that the brand is recognized for.
So, if the car segment is still important enough for Subaru to invest in a new product, why drop the sedan? "One of the main reasons was sales," says Goh. "We offered both up until now, and the vast majority of our customers were opting for the hatchback version."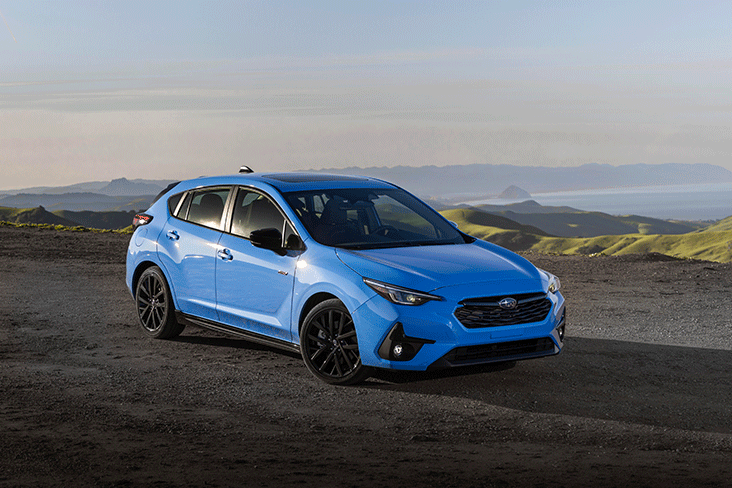 Simplified Trim Strategy
The emphasis on sportiness is evident in the way the 2024 Impreza is packaged. If you look at the 2023 Impreza lineup, with its two body styles and four trim levels (Base, Premium and Sport for both models; Limited only for the 5-door hatchback), there were seven separate variations of Impreza, two trims of which were focused more on luxury than sportiness.
The 2024 Impreza sheds the sedan body style and drops both the Premium and leather-lined Limited trim levels, offering a clean slate of just three trims: the value-leading Base (which is one of the least expensive all-wheel drive cars in America – if not the least expensive when destination charge is factored), the Sport and the RS.
Todd Hill, Product Public Relations Manager for Subaru, notes that with the average price of a new vehicle in the United States in 2023 pegged at Kelley Blue Book's estimated $49,000. "It's enough to buy two Imprezas," he says.
While every manufacturer needs returning customers who upgrade as their lifestyle changes, young customers push a brand forward. It's the reason for vehicles like the WRX, the Crosstrek, the BRZ and – as Goh mentions – the Impreza.
And it's the reason that the Impreza model's mid- and higher-level trims are equipped the way they are. With the mid-level Impreza Sport, "we go straight to the 18-inch wheels. Our younger customers really want the good looks, and they really want the technology," Goh says.
The key differentiator in the top RS trim is the 182-hp 2.5-liter SUBARU BOXER engine. It provides a 30-hp boost from the 2.0-liter in the Base and Sport trims. In a car that weighs between 3,171 and 3,275 pounds, that nearly 20% increase in power is immediately evident. It's not the kind of "push you back in your seat" torque that a turbocharged Boxer provides in the WRX, but in the switchbacks and tight ascents around Paso Robles, the engine offers good power and is well matched with the Lineartronic® CVT (Continuously Variable Transmission).
In both the Sport and RS trims, the Lineartronic CVT has an 8-speed manual shift mode controlled by the dual paddle shifters behind the wheel, which provides a more conventionally shifting feel that you may have expected from earlier CVTs.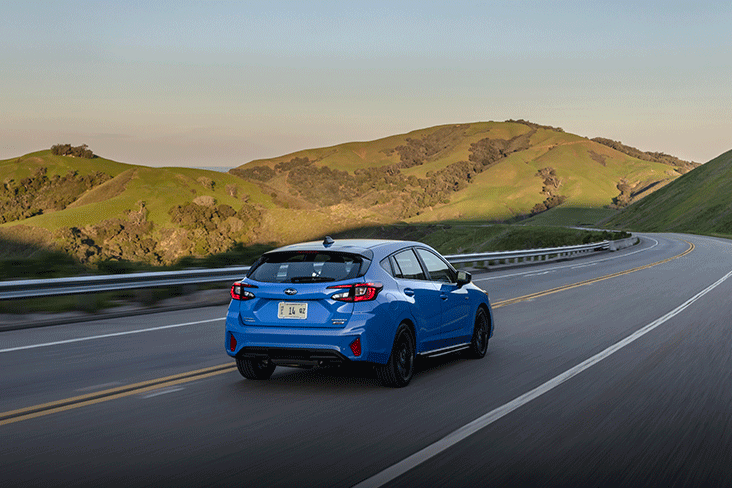 A Comparative Bargain
Feature packaging is a value proposition for Impreza shoppers. Goh laid out a comparison between the Impreza Sport and a sporty trim from one of the brand's primary competitors; when the two cars are competitively equipped with all the equipment that the Impreza Sport offers, the competitor's vehicle rings up at $28,000 to the Subaru Impreza Sport model's pricing starting at $24,995.1
And that's before you factor in that the competitor's car is only available in front-wheel drive.
Stiffer Chassis = Quieter On-Road Performance
The all-new Impreza pulled a lot of learned behavior from the WRX, which was also based around an updated Subaru Global Platform with 10% higher torsional rigidity. Part of that rigidity comes from the expanded use of structural adhesive. Where structural components used to be welded together, the all-new Impreza increases the use of adhesive from 26.2 feet to 88.5 feet – not only making the body more rigid but also lighter in the bargain. Both the stiffness and the lightness equate to sharper handling as we twist and turn through the grapevines of Paso Robles.
And all those benefits result in a quieter cabin. No matter how good a performance car is, if there's wind noise, tire noise, cowl shake and suspension vibration, the occupants are going to have a less-than-premium experience. On long highway sections and rally-like transits through the hills, the Impreza RS cabin remained quieter than previous iterations of the vehicle.
The incessant rain that California had experienced really showed in these tight, snakelike sections of asphalt. Washouts were everywhere, spreading sand and gravel across the roadway. Standing water pooled in every low section, and we had to double back to avoid a closed section in one spot. As we negotiated these challenging sections, a revised Subaru Symmetrical All-Wheel Drive with Active Torque Vectoring shifted power to the wheels with more grip and an even faster response time, allowing for crisp handling and cornering.
Another cheat code from the 2023 WRX is dual-pinion electric power assisted steering rack standard on all Impreza trims for 2024. The rack offers a more direct and natural steering feel and greater responsiveness, and its electric pump dispenses with the requirement of a pulley driven by engine power, helping to contribute to the vehicle's impressive fuel economy and long range, enhanced by a 16.6-gallon fuel tank.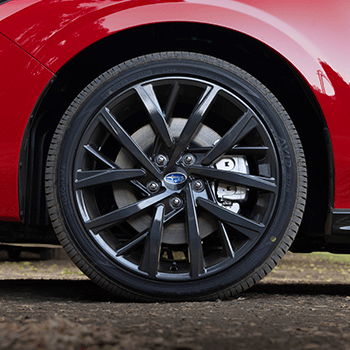 Photos: Subaru of America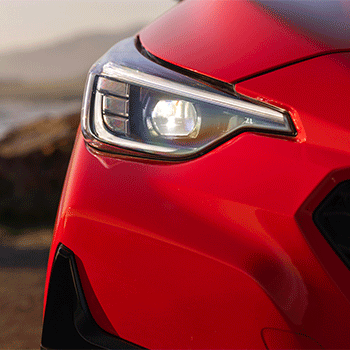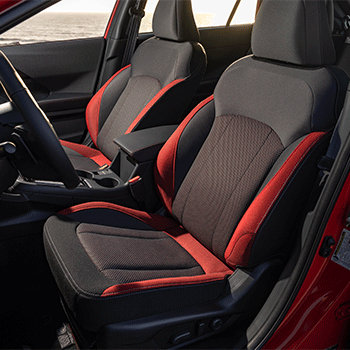 Impressive Standard Features
Across the board, the Impreza offers a wide array of standard features, but the top-level RS trim really layers it on. In addition to the 2.5-liter engine, the RS pops with unique exterior trim, including Boxer-inspired RS badging on the front doors and rear hatch; 18-inch alloy wheels in dark gray finish; black finish on the front grille, side spoilers and side mirrors; and upgraded LED headlights.
The RS cabin is all business, with gunmetal and simulated carbon-fiber interior trim accents and sport front seats in black cloth with red cloth bolsters. The carpeted floor mats highlight the RS logo, and the interior includes an upgraded leather-wrapped steering wheel and shifter handle, aluminum alloy pedals, and USB-A and USB-C charge ports in the rear center console.
All the Impreza trims are equipped with Improved EyeSight® Driver Assist Technology,2 but the RS doubles down with Blind-Spot Detection with Lane Change Assist and Rear Cross-Traffic Alert.3
Our tested RS featured a unique package of equipment (MSRP $2,0701) that included a power moonroof, a power front driver seat with lumbar support and a potent Harman Kardon®4 10-speaker audio system.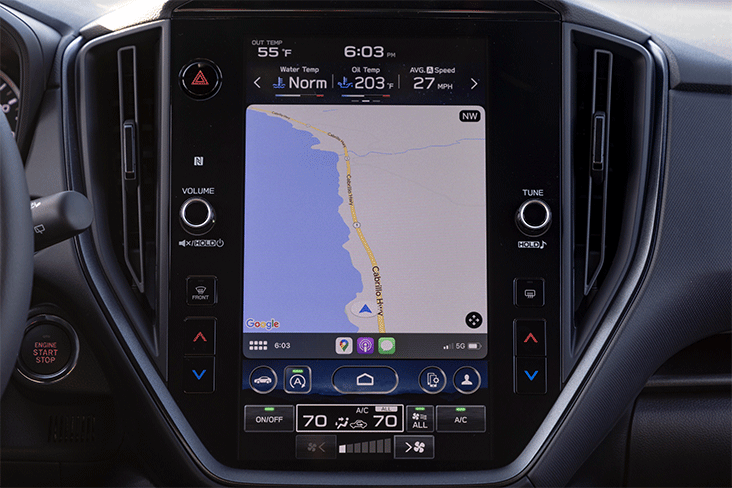 Technology Rules
As Goh pointed out, youth is interested in technology regardless of a vehicle's price level, and in response, the Impreza is loaded with it as standard features in every trim level. For the first time, the impressive 11.6-inch SUBARU STARLINK® Multimedia Plus system is available (standard on the Sport and RS) and comes equipped with wireless Apple CarPlay®5 and wireless Android Auto™6 integration.7
All trim levels feature power door locks, windows and side mirrors; welcome lighting; Remote Keyless Access; Tire Pressure Monitoring System with individual wheel display; and a 60/40-split fold-down rear seat.
The standard automatic climate control system is updated to focus on occupied seats instead of the entire cabin for better heat, cooling and efficiency, and dual-zone heating/cooling control is standard on every Impreza.
Stepping up to the Sport trim includes the STARLINK 11.6-inch Multimedia Plus system with wireless Apple CarPlay5 and Android Auto6 integration, Keyless Access with Push-Button Start and LED fog lights.
The appeal of the RS is obvious as we returned to the hotel and backed these cars into angled spots on the street: The all-new grille – which shares a family resemblance with vehicles like the Crosstrek and Outback – larger wheels, blacked out trim, subtle badging and spoilers all signaled a sporty car built for people who want to get somewhere and be active.
"People who are choosing to buy a car in the segment specifically do not want an SUV," says Goh. "They want a car, and they want it to be sporty." Our time in the hills showed us that the 2024 Subaru Impreza RS hits every mark for active owners who aren't ready to drive what everyone else has in the garage. The Impreza RS is a statement, and we love what it's saying.
2024 Subaru Impreza Pricing
2024 Impreza Option Pricing
1 MSRP does not include destination and delivery charges, tax, title, and registration fees. Destination and delivery includes handling and inland freight fees and may vary in some states. Prices, specifications, options, features, and models subject to change without notice. Select colors may be subject to an additional charge. See your retailer for more information.
2 EyeSight is a driver-assist system that may not operate optimally under all driving conditions. The driver is always responsible for safe and attentive driving. System effectiveness depends on many factors, such as vehicle maintenance, weather and road conditions. See Owner's Manual for complete details on system operation and limitations. Requires automatic transmission.
3 Blind-Spot Detection, Lane Change Assist and Rear Cross-Traffic Alert are systems designed to assist the driver by monitoring the rear and side areas of the vehicle during a lane change or reversing and are not a substitute for safe and attentive driving.
4 Harman Kardon® is a registered trademark of Harman International Industries, Incorporated.
5 Apple CarPlay® is a registered trademark of Apple, Inc.
6 Android Auto™ is a trademark of Google, LLC.
7 Compatible smartphone and application required. For applications to operate, latest version of each application required. Data provided by smartphone is displayed on head unit and screen. Some state laws prohibit the operation of handheld electronic devices while operating a vehicle. Smartphone apps should only be launched when vehicle is safely parked. Your wireless carrier's rates may apply.