Race fans know that suspension components on a Subaru Rally Team USA (SRTUSA) WRX STI are under near-constant punishment, but wheels can be an unsung hero. Just visualizing the forces exerted on the hubs, held in place by a mere five lug nuts, can strain the imagination. Luckily, with Compton, California-based Method Race Wheels (MRW), SRTUSA can ride easy.
MR203 Spec Wheel.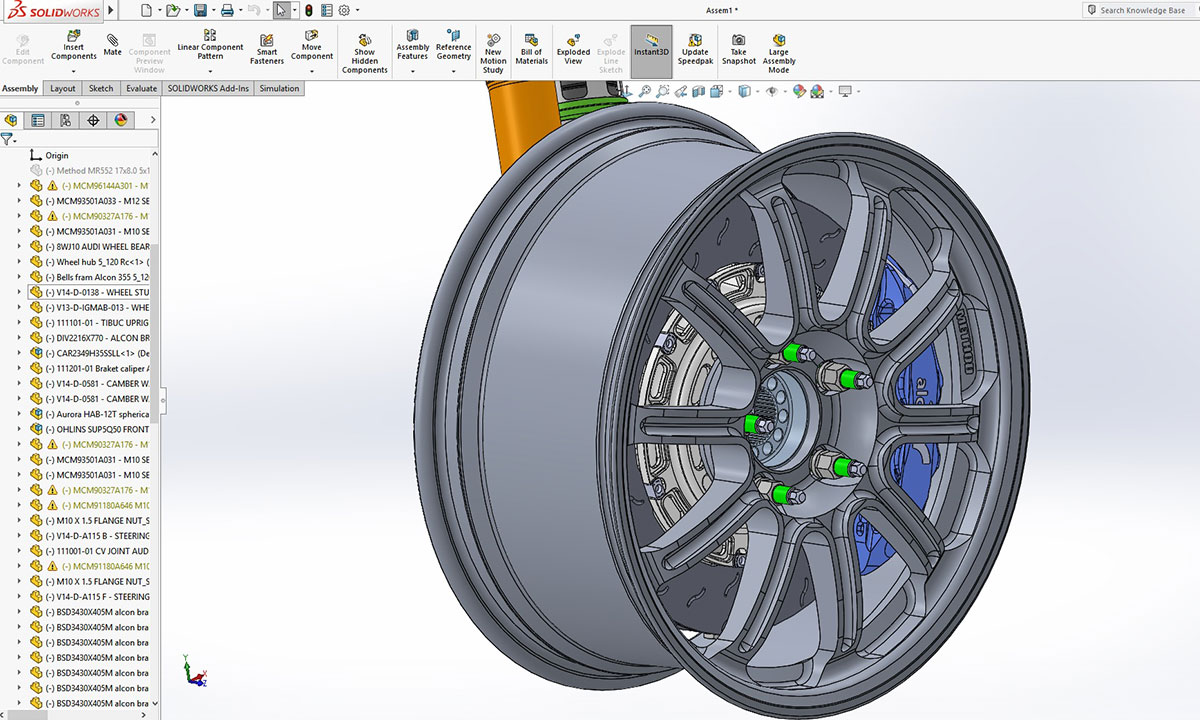 A Method wheel computer simulation used for vehicle clearance confirmation.
Computer-simulated image courtesy of SOLIDWORKS
Born to Race
For the last four years, strong, lightweight MRW have helped carry SRTUSA to victory. For stage rally, the team uses 15-inch cast aluminum wheels (MR502 VT Spec). For rallycross, where the racing is much tougher on the wheels due to both the courses and contact with other cars, it uses heavy-duty, 17-inch forged aluminum wheels (MR203).
Partners Colbey Groom, Bud Fitzgerald and Kevin Fitzgerald were veteran desert racers before founding MRW, and, consequently, they started off making wheels for desert racing. When MRW teamed up with Vermont SportsCar (VSC), the technical partner for SRTUSA, it found that the transition from desert racing to rally was natural, as both disciplines are extremely demanding on wheels.
Still, says Sean Kleinschuster, engineering manager for Method Race Wheels, it's not all about raw strength. "There's a balance to having the wheel be strong and reliable, but not so strong that a whole suspension system gets taken out on an impact," he says. "If we make the wheel so strong that it never breaks, other components of the car, which are more important and expensive, could break."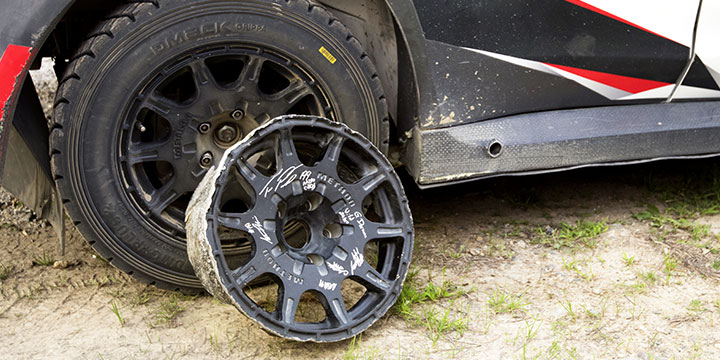 Designed to Endure
To make wheels for some of the harshest conditions in motorsports, MRW relies on its institutional knowledge of racing, data collection, rigorous testing and cutting-edge engineering.
Once VSC completes the car design, Kleinschuster and his team receive a computer-aided design (CAD) model of the suspension and brake systems.
The team first uses SOLIDWORKS® software to develop a rough wheel to confirm fitment to specs. The wheel then goes through a repetitive design process to arrive at a finished wheel that is as lightweight and strong as usage warrants. Following, Finite Element Analysis (FEA) simulation is performed to evaluate wheels by testing radial impacts, axial impacts and fatigue from wheel loading and unloading during a race. For cast construction rally wheels, the next step is machining the mold over 30 days; samples are then cast to confirm wheel functions and run virtual simulations. For forged construction rallycross wheels, drawings are created for forging dies, and the rough forged parts go on a computer numerical controlled (CNC) lathe to have the round features cut. Final machining of spokes, pockets and lug holes are done on a CNC mill.
Generation Next
MRW is now on its second generation of wheels for SRTUSA. The first generation was for stock body Subaru WRX and WRX STI vehicles. When the team switched to a wide body version of the car a couple of years ago, MRW developed a new wheel to accommodate amped-up performance.
The end result of all of this experience, work, simulation and testing? More confidence for SRTUSA drivers when they're four feet off the ground, coming in for a hard landing.