If your dog loves trips on the open road, there's no reason those trips need to stop when they begin to slow down with age. For Stacy Dubuc, a Subaru Outback owner in northwestern Montana, her determination to give her rescue pup joyful experiences kept them traveling together even when her dog's muzzle turned gray.
"When I first adopted Ginger, she was a very fearful dog. She had been rescued from a dog-fighting ring," Dubuc explains. "Though she would hide around people and other animals, the one place where she came out of her shell was in the car. If the window was open, she'd rest her chin on the sill and just hold her nose in the air. It was her safe place."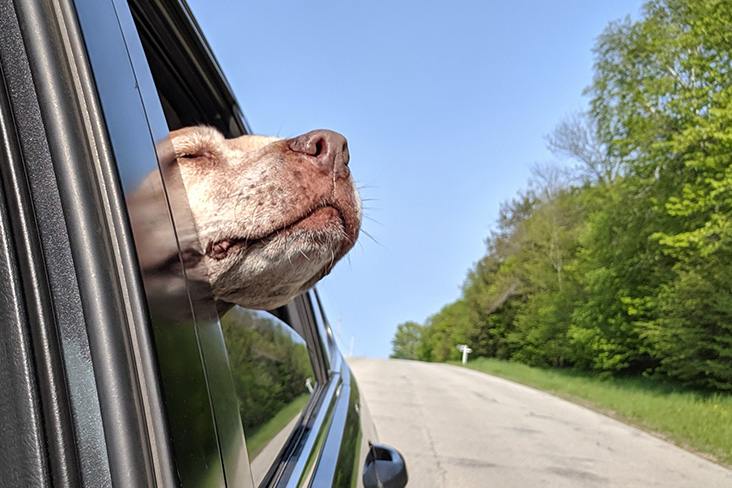 They frequently hopped in the Outback for adventures. Their most epic trip was a 7,100-mile journey to 10 national parks and monuments across the country when Ginger was 14. Though it took more effort and planning to bring her senior pal along, Dubuc says it was worth it. "If I had left her at home, I don't think the trip would have been nearly as fun for me. Vacationing with your dog makes you travel at a different pace and see things in a new way."
Ready to go on a trip with your older pooch? There are a few things to consider before you hit the road, says Dubuc. Read on for her tips as well as advice from Dr. Carolina Ikard, a Phoenix-based veterinarian who specializes in caring for senior pets at Luna Veterinary Care.
Make Sure Your Dog Is up for a Trip
Dogs, like people, have varying health needs, which can increase as they get older. Visit your veterinarian prior to planning a road trip with your dog to get your pet's health checked out. "You want your trip to be an enjoyable experience for your dog, not one that could worsen his condition," says Ikard. "Your veterinarian can assess if your dog is stable on medications or if the stress of traveling may have a negative impact on his health."
It's also a good time to get prescriptions refilled for the trip and to discuss any concerns about how your pet may handle the travel. Older pets are more likely to experience anxiety. They can also get sore from being in one position too long as well as from increased activity, says Ikard. (For steps that you can take to alleviate these issues, see the section below titled "Make the Journey Easier for Your Dog.")
Your veterinarian may recommend a pain reliever, especially if your dog has arthritis, or a low-dose sedative to help your pup settle down in the vehicle. "A sedative can be really helpful for everyone's situation," she says. "Because if your dog is stressed and restless in the car, you'll be stressed too. The medication eases anxiety and helps your dog relax."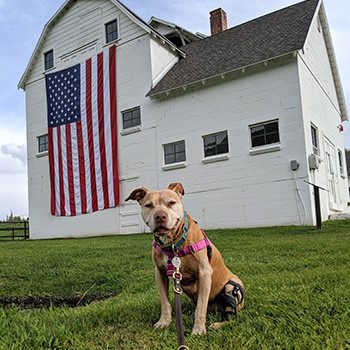 Park City, Utah. Photos: Stacy Dubuc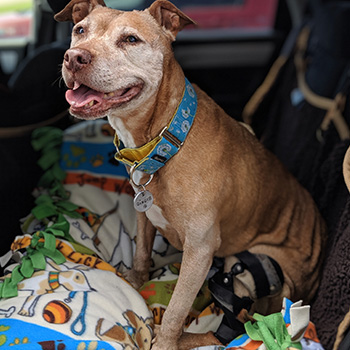 Ginger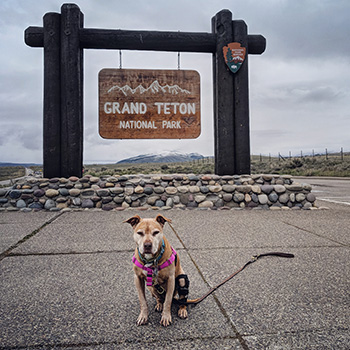 Grand Teton National Park in Wyoming
Do Your Research
Finding the best places to go with a dog in tow — from destinations to accommodations — requires some research. Not all national or state parks are great for dogs, says Dubuc. Some parks allow dogs on trails while others limit them to parking lots, campgrounds and picnic areas. Check park websites to see what their rules are for dogs. You can also join interest groups on Facebook to get recommendations for dog-friendly sites from other pet parents. Another good resource for finding places you can take pets is Go Pet Friendly®.
Accommodations all have differing policies when it comes to pets too. A vacation rental with a fenced-in yard is ideal, but pet-friendly hotels can work too. Stick to smaller two- or three-story hotels, advises Dubuc. "At big hotels, you have to walk a half mile to your room. You might have to go in elevators, maneuver a lot of stairs or walk through crowded lobbies with slick floors. All those little things can add up to be very stressful for older dogs."
Go at a Slower Pace
Spending more time in the vehicle than out of it is stressful for your dog. "If there was one thing I could change about my trip, I'd go to fewer destinations and spend more time in each one," shares Dubuc. Make sure you balance long driving days with a few days to unwind at each destination when planning your trip.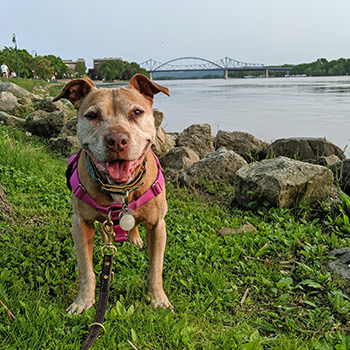 La Crosse, Wisconsin. Photos: Stacy Dubuc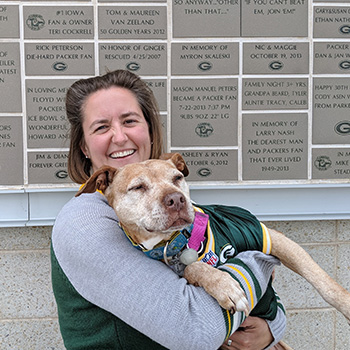 Stacy Dubuc and Ginger at Lambeau Field in Green Bay, Wisconsin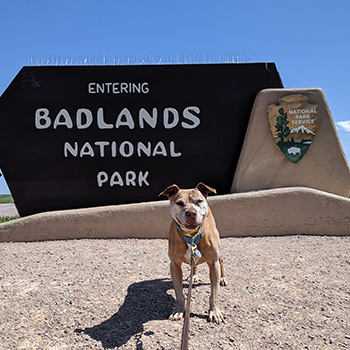 Badlands National Park in South Dakota
Remain Flexible
Traveling with your four-legged friend means you may have to adjust your plans on the fly, particularly with an older dog who can't tolerate extreme temperatures or long outings. "We had to remain fairly fluid in terms of what we were going to do each day," says Dubuc. "For instance, at Badlands National Park, it was so ridiculously hot that we didn't even get out of the car." Instead, they drove around the park to enjoy the scenic views.
Make the Journey Easier for Your Dog
Dogs in their golden years need a little more pampering on the road to feel good. For old bones, the seat of the vehicle may not be cushy enough. "Bring blankets or a bed from home to put in the car to make it more comfortable on your dog's joints, especially if he has arthritis. Plus, familiar items make pets feel more at ease," says Ikard. You can also throw those blankets over furniture in your accommodations to make it more pet-friendly, which is good pet etiquette anyway, says Dubuc.
Also, expect to make regular pit stops because senior pets can't hold their bladders as long. Stop every couple of hours or when you see signs that your dog needs a break, like becoming restless or panting for no reason. Rest stops are a great place to let your dog stretch his legs, sniff around and get a drink of water.
And although your dog may love taking walks and seeing new things, keep an eye out for signs that your pooch needs a break from sightseeing. "Let your dog rest when you see that he's starting to drag. When your dog's tail isn't up as high or it's in a down position, it's time for a break," says Ikard. "Because if you push your senior dog too much, that could set you back days. It's better to give your dog a short break so your pup can do more later."
Having a senior dog as your highway co-pilot can be a blast, but it's best to plan ahead. And while your doggo can't help with directions, he can inspire you to slow down and savor every vacation moment.