"Camping is about preparation," says Peg Couch, author of Easy Campfire Cooking: 200+ Family Fun Recipes for Cooking Over Coals and in the Flames With a Dutch Oven, Foil Packets, and More! "Anyone who hasn't enjoyed camping usually hasn't brought what they needed. You have to have a game plan."
When you show up with the right base ingredients and basic gear, cooking meals together at the campsite can be as memorable as the stories, games and s'mores. For Tiff Easton, who wrote The Family Camping Cookbook: Delicious, Easy-To-Make Food the Whole Family Will Love with her husband, Jim, cooking outdoors has been a great way to engage her children. "You can go off and source local food and have a real adventure," Easton says.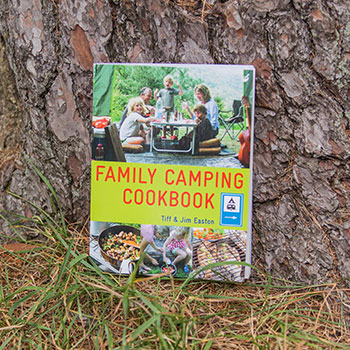 Photos: David Szymanski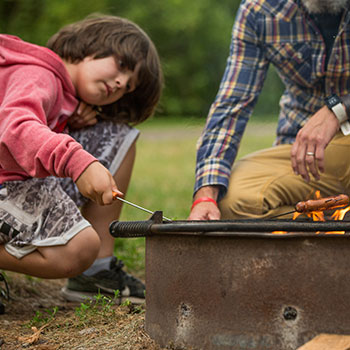 Pull off a menu of fail-safe, kid-friendly meals on your next camping trip with these tips from Couch and Easton:
1-2 Weeks Before You Leave
Research food markets near your campsite. Knowing what you can – and possibly can't – buy once you're camping will influence your recipe lineup. For example, if the only store nearby is a gas-station mart with basic conveniences, you may want to stick with recipes that have fewer ingredients so you're not loading the car with too many groceries purchased in advance.
And if your kids are more adventurous in what they'll eat, discovering what specialty markets are nearby can help you choose recipes, too, says Couch. For example, a butcher in the upper Midwest may have venison, or if you're camping at the beach, you can plan to pick up and cook some fresh seafood, Couch says.
Plan your menu and shop for what you need. Now that you know what you're working with, get your kids involved in menu planning. Ask for their help browsing campsite-friendly cookbooks and recipe websites and incorporate their suggestions to plan breakfast, lunch and dinner for each day. (Find a few favorite recipes from Couch and the Eastons at the end of this piece.) Know that you can be flexible once you arrive, of course, but it's nice to have a written-out plan. Then, shop for the ingredients you'll need to bring with you.
Assemble your gear. At the front end of your trip, you'll need to spend a decent amount of time thinking about and assembling all the gear you'll need for cooking outdoors; however, this will save you time, money and frustration in the long run. To make future camping trips even easier, Couch suggests designating a set of cookware as your camping gear and keeping all of it together in a large Rubbermaid® bin. She recommends assembling the following:
Cast-iron skillet

Oven rack (Many campsites have grates that campers can use, but if yours doesn't, prop rocks or aluminum cans underneath each side of an oven rack and position it over your campfire.)

Spatula

Heavy-duty aluminum foil

Coffee percolator

Metal skewers

Dishwashing liquid and sponge

Tupperware® containers (One should be large enough to wash dishes, and you'll need others to store leftovers.)

Melamine dishes and cups, cutlery (Try to avoid paper and plastic wherever possible.)

Dish towels or paper towels (Use dish towels whenever possible to minimize waste – you can rinse them out and hang them to dry, Couch says. But if you do bring paper towels, try a brand made from unbleached, non-dyed, recycled paper, which is generally compostable.)

Potholders

Good, sharp knife in a protective case

Cutting board

Two coolers (one for beverages, another for meat and perishables)

Meat thermometer

Lighter and matches in a plastic bag
2-3 Days Before You Leave
Do some meal prep at home. Couch suggests mixing the dry ingredients for marinades before you go so you're not packing an army of spice canisters. You and your kids can also premix the dry ingredients for muffin or biscuit recipes – which, yes, you can make over a fire. See Couch's "Orange Oatmeal Muffins" recipe below for one example.
Pack snacks. Campfire cooking is fairly quick, but food won't be ready instantly. Be prepared to tide kids over with a stash of healthful snacks: String cheese, homemade trail mix (use nuts and whole-grain cereal with a light sprinkling of mini chocolate chips) or clementine oranges are all great options.
At the Campsite
Make a good fire. "You don't need special gadgets to build a fire," Easton says. All you need is good hardwood (a better option than the creosote logs found at grocery stores) and a lighter. Campsites will usually have kiosks selling bundles of wood, as will markets that surround the campgrounds. Easton recommends building your fire right when you get to your campsite. "Light the fire before you pitch the tent," she says. "Otherwise, the kids are desperate by the time the food is done."
Give your kids a job. Get kids excited about cooking by enlisting them as junior chefs. Keep younger kids a safe distance from the open flames, but even they can help with small tasks, such as buttering the tortillas for campfire quesadillas.
Have fun! "Outdoor cooking, around a campfire in particular, is just one of my favorite things and always will be, whatever age I am," Easton says. Couch agrees: "Cooking outdoors is not about a gourmet meal. It's just having fun and doing it together, and truly everything just tastes better when you're outside."