Drew Warkentin watches as Mookie, a 9-year-old black Labrador retriever with a handsome red collar, paws through a deep pile of snow. Some dogs dig for fun, but this good boy is all business. Warkentin, a ski patroller in the Colorado mountains, has buried a backpack in the snow, and Mookie, an avalanche rescue dog, is trying to find it.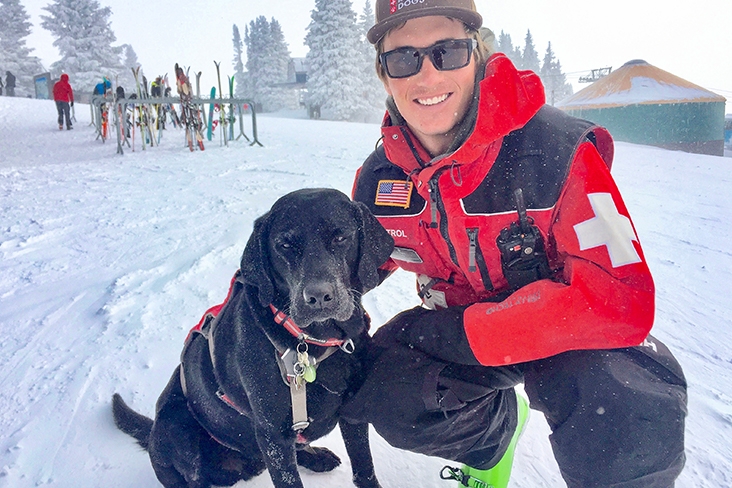 In a real emergency, Mookie and his furry crew – five dogs total – would be searching for more than a piece of gear. The astute noses of these carefully trained canines can sniff out skiers trapped by an avalanche. "Many backcountry skiers, snowboarders and snowmobilers carry an avalanche beacon on them, but if they do not have one, the dogs are our best chance to find someone," Warkentin says.
Warkentin, 32, is a member of the National Ski Patrol (NSP), a nonprofit organization that trains and accredits emergency responders in outdoor recreation areas all over the world.
Right now, more than 31,000 NSP members serve on roughly 650 patrols, delivering life-saving aid at critical moments.
A Day in the Life of a Ski Patrol Member
Warkentin, a 2020 NSP Subaru Ambassador, counts on his Subaru Outback to patrol Vail Ski Resort, where he's been stationed for the past 12 years. He shares more about his role:
"As soon as I wake up, I check the weather station data and the Colorado Avalanche report. I'm looking for wind direction, wind totals, snow totals, the water content. In midwinter if we get a certain amount of wind out of the Northwest, we know which slopes are going to be loaded for potential avalanche.
"After a quick shower, I drive to Vail. Depending on my turn on the rotation, I might report as early as 4:30 or 5:30 a.m. Before the mountain opens, I'll head out to ski all of the trails in my section and check that they're safe. Then I'll place rescue sleds and let the command know the location. This way, if there is an incident, they know where the closest sled is."
Dogs and the National Ski Patrol
"Within the ski patrol unit, there are a number of divisions in which a patroller can specialize. For the last nine years, I've been training the avalanche dogs. Mookie was born that same year. I'm his primary handler, but he lives with another patroller, Matt, and his wife, Caroline, who used to patrol. At home I have a German shorthaired pointer, but he's not an avalanche dog.
"Midweek we can be fairly quiet, and that's when we're able to train with the dogs. We bury clothing that's been slept with for a week, or a backpack or other gear. It's hard work for the dogs. Drills can last 45 minutes, and they're exhausted after running through fake avalanche debris and deep snow."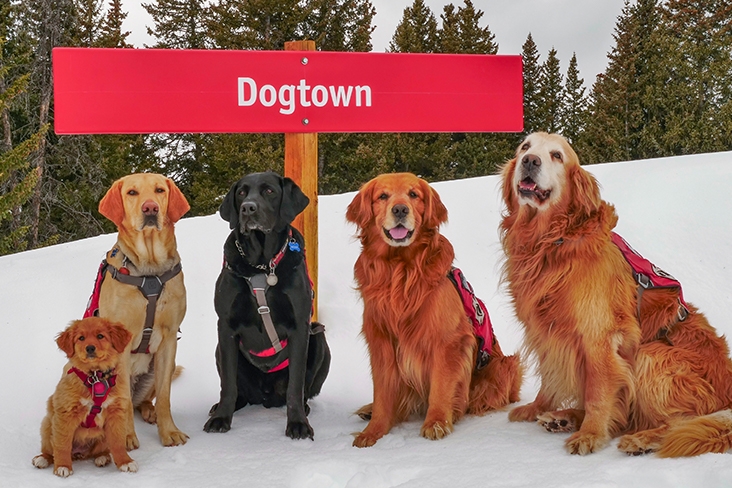 "When they're not on a drill, the dogs are resting. They're brought into a rescue mission as soon as we hear about an avalanche and soon as we deem it safe to enter the zone. They can be brought in by helicopter, snowmobile, toboggan or simply by running on foot, depending where the avalanche is located.
"But it's not always avalanche rescues. People break bones or get sick from altitude. Mostly, you never know what to expect. I love helping people, and I hope to do this for a very long time."