For the all-new 2017 Impreza, Subaru created a vehicle ideal for every stage of life and, similarly, looked to audio partner Harman Kardon to make an available sound system just as impressively versatile. The result? An 8-speaker, 432-watt-equivalent system as adept at hitting the sub-bass notes of country favorites as illustrating complex layers of sophisticated jazz.
To create world-class sound across genres, Harman Kardon concentrated its efforts in three main arenas: powerful speakers and leading amplifier technology; interior vehicle mapping; and Clari-Fi music restoration. These come together in a system that creates full, rich audio characterized by strong bass (despite no subwoofer), a clean midrange and brilliant highs.
With the Harman Kardon system, it can seem as if each instrument is playing from specific places in the car – an immersive effect created via eight speakers in six locations and a 432-watt-equivalent digital amplifier.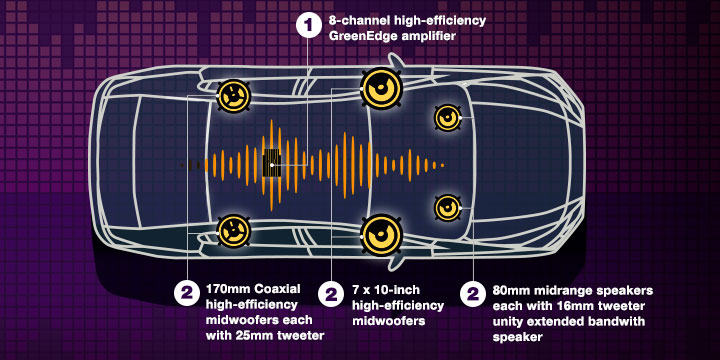 Why "equivalent"? Harman Kardon's GreenEdge™ digital technology provides the volume and quality of a traditional 432-watt amplifier while requiring far less energy to operate. Additionally, engineers spent hundreds of hours fine-tuning the system to the Impreza's interior. As a result, the Harman Kardon system is equally engaging from any position in the vehicle. The third key component of the available Harman Kardon system is Clari-Fi – cutting-edge technology that analyzes compressed music then rebuilds lost details, making the sound more faithful to original recordings.
The 2017 Impreza is also the first Subaru that comes with a HARMAN multimedia system head-unit. HARMAN, the parent company of Harman Kardon, is an industry leader in the connected car segment, and all new Impreza vehicles have HARMAN built head-units, including those without the Harman Kardon audio system.
Whether you're a classical aficionado with the highest standards or looking to get the most out of the latest pop hits, road-tripping in the all-new 2017 Impreza with the available Harman Kardon audio system is guaranteed to be a whole lot of fun.