Preserving Chicago's Architectural History
Four days a week, Eric Nordstrom, 43, visits buildings in the Chicago area that are about to be razed. From homes, theaters, offices and factories, he excavates what he thinks is valuable – vintage lighting, antique folk art, film reels, theater seating – and lugs all of it back to his own office and showroom, located appropriately in a former macaroni factory. A small white sign advertises his business: Urban Remains.
On this weekday, he's perched on a vintage industrial steel stool, on sale for $191.75, unaware that he's posed exactly like Rodin's The Thinker. Industrial furniture is hot right now; replicas of stools such as this go for at least $300 at Restoration Hardware. Nordstrom also has steel filing cabinets and tables, which will sell quickly. Millwork, including some gorgeous wooden mantelpieces looming in a corner, will not. It has fallen out of favor.
But Nordstrom is dedicated to preserving the history of Chicago. When he's not out salvaging, he's publishing articles about architectural history on his website and documenting the buildings from which he's rescuing his finds. On top of this, he maintains a private museum of his most prized excavated artifacts and volunteers as an archivist at the Art Institute of Chicago.
It's not easy work. The scouting, transporting and cleaning are hard on the body, and all of it keeps him busy more days than he would like. But he can't help himself. History calls. "I feel like it's a responsibility that's been put on my shoulders, but I'm the one that did that," he says. "I did that to myself."
In another corner of Urban Remains is a large white screen that Nordstrom photographs each artifact in front of, even if it's just a single antique brick, which he then posts online with a write-up. From a spot near the screen, he pulls out an old workman's boot he found in Chicago's Congress Theater and a late 19th-century terra-cotta fragment from a building designed by architect Louis Sullivan. "This is all dirt, dust, insanity," he says, grinning as if he had never uttered a word about responsibility.
In an era of fast fashion, next-day delivery, and easy knockoffs, Nordstrom specializes in the niche market of urban salvage, combining business, art, local history and preservation. Salvaging can put us in touch with our city's roots. It can also have environmental benefits. Meanwhile, research has shown the importance authenticity plays in the American purchasing consciousness: People will pay more for an object with a rich history. "Documenting the way that I do is probably the biggest reason why I've been in business for nearly 15 years," Nordstrom says. "Without a doubt."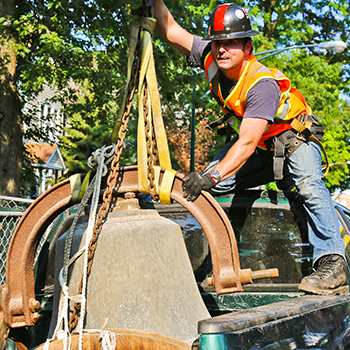 Photos: Eric Nordstrom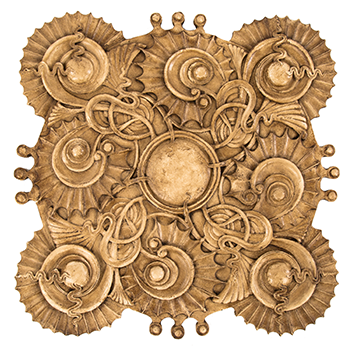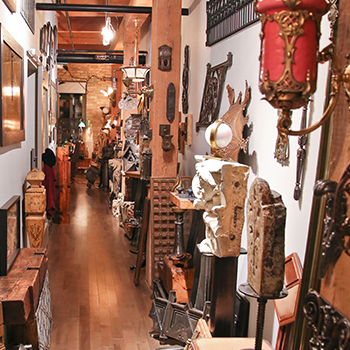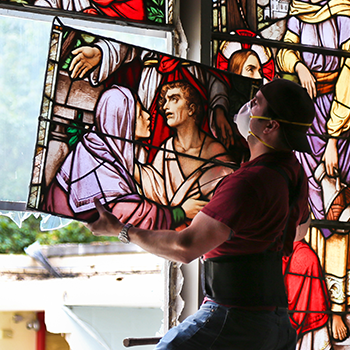 Reclaiming Urban Lumber
Leaders in urban salvage work in a variety of media. Jennifer Alger is the CEO of Far West Forest Products, a lumber company in Sheridan, California. "I was born into lumber," she says – her father owned a forestry company. When she was a child, Alger says, her dad would stop the car if he saw a dead or dying tree and ask the owner if he could haul it away. "He'd say, 'I don't want it to go to firewood,'" Alger says. Keeping a tree as usable lumber is better for the planet. When wood is burned, it emits carbon into the atmosphere. "When it's lumber, it's stored ore for as long as that beautiful thing is in existence," Alger says.
There wasn't a term for it back then, but Alger's father was working in urban lumber, which refers to essentially any tree that's planted on city property and needs to come down. In 2017, Alger used her many contacts in the lumber industry to found Urban Salvaged and Reclaimed Woods, a coalition of like-minded companies and agencies (including her own Far West Forest Products) that network to salvage urban wood. Arborists and sawmills in the network cut lumber into logs and sell them to woodworkers or consumers who are interested in reclaimed wood, used in everything from art to furniture to the build-out of Patagonia® stores.
Like Nordstrom, Alger believes that the story is part of the product, and she is developing AncesTREE, an inventory system that will let lumber professionals track the wood's chain of custody. The project was inspired by a 2,600-year-old California redwood that Alger helped salvage after a storm. With the database, the history of such trees will live on, available to those who purchase its wood.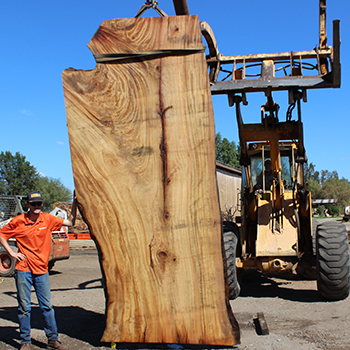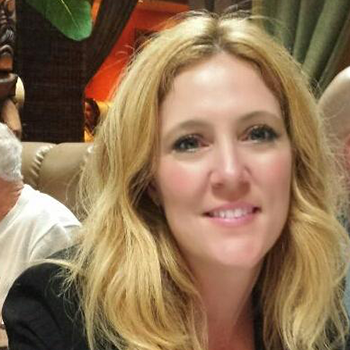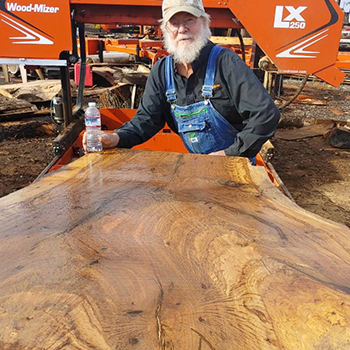 Turning Demolished Buildings Into Guitars
Wallace Detroit Guitars sells basses and guitars made out of wood salvaged only from demolished Detroit buildings. The instruments are works of art; many pieces feature wood in checkerboard reminiscent of the parquet floor at the Boston Garden.
"We only source wood if we're able to identify exactly where it came from," says founder Mark Wallace. He acquires much of it from the job-creating deconstruction nonprofit Architectural Salvage Warehouse of Detroit (ASWD), which meticulously inventories all of the wood it reclaims. Thanks to ASWD, Wallace has been able to make guitars that a historian would covet using wood from Detroit's former fire department headquarters and the David Whitney Building, an early skyscraper erected in 1915.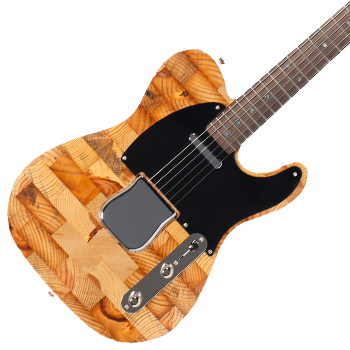 Photos: Mark Wallace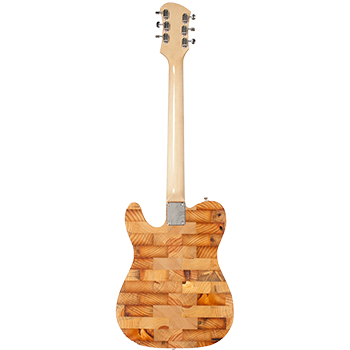 Growing up in Michigan, Wallace played in bands, but he didn't think of starting a guitar company until he began volunteering at a nonprofit that salvages wood from abandoned Detroit homes. Wallace noticed that a wood sample was the same thickness as one of his favorite guitars and had also just learned how 3D printers could trim wood. Today, his staff of six crafts about 10 guitars a month. Cutting the body can be done in a day – it's the lacquering and finishing work that takes a long time.
One of Wallace's favorite sources is the former Brewster Wheeler Recreation Center, located in one of the first housing projects in the country. It was shut down in 2006. "All the Supremes and Joe Lewis used to hang out at that rec center," he says. Diana Ross might have sat on the benches that are now becoming his guitars. "It's exciting if you know the history of an instrument. It's more interesting, more valuable."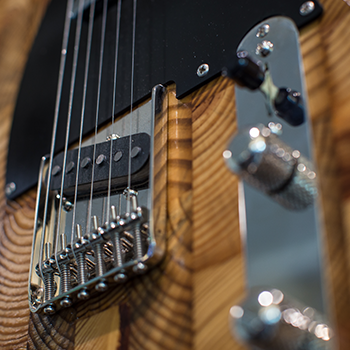 Photos: Mark Wallace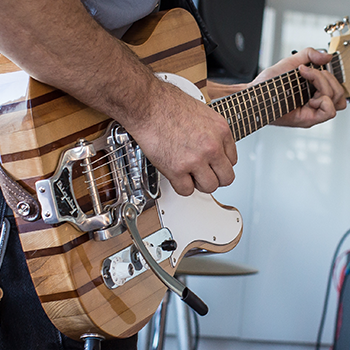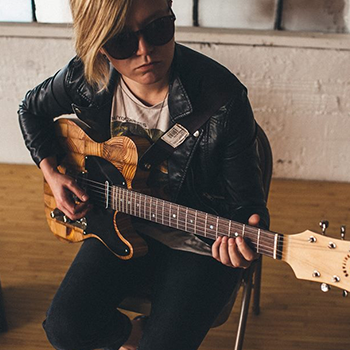 Providing Affordable Access to Salvaged Materials
The Green Project in New Orleans is focused less on preserving the history of its salvaged objects and more on keeping reusable materials out of the landfill and providing environmental education to the local community. The nonprofit began as a paint recycling center in 1994 and now runs community workshops and a bustling salvage store. Surplus building inventory – vintage doors, flooring, light fixtures, tubs, tiles, ovens – is sold at 30% to 50% of what it would sell for new, with the goal of offering an equitable way for people in New Orleans to access building materials.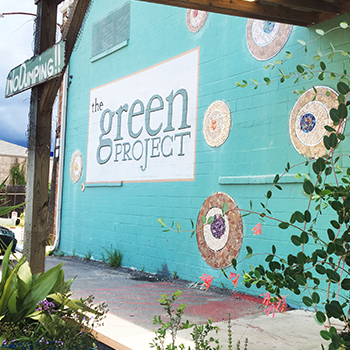 Photos: the Green Project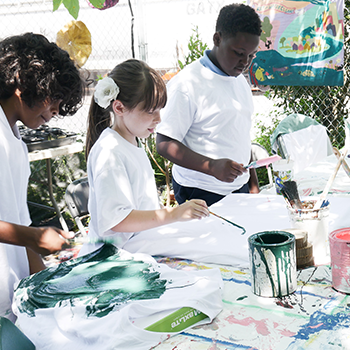 After Hurricane Katrina, many of the New Orleans residents whose homes sustained the most damage couldn't afford the necessary repair materials, says Hailey Allison, interim executive director of the Green Project. The salvage store helps keep New Orleans artifacts in the family, as it were. "The cultural aspect is so important to the people who live here, being able to reclaim those materials," Allison says. Store policies, such as not offering shipping or storage services, dissuade out-of-state decorators.
Back in Chicago, many of Nordstrom's clients shop for historic pieces to bring back the details that may have been ripped out of their own homes years before they moved in. We walk by the wrought-iron doors of an old incinerator, weathered and worn. It's in stark contrast to the industrial furniture, from which Nordstrom's team chips away layers of paint to reveal a sexy gleam. But he's starting to see a buying trend away from the Restoration Hardware formula of shiny steel. "Instead of this clean industrial look, let's incorporate some primitive stuff," he says. Maybe 2020 will be the year of the patina.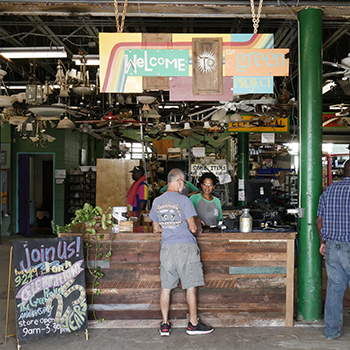 Photos: the Green Project