It was, ironically, an electric motor that gave gasoline engines a leg up in 1912. Up to that point, electric vehicles from carmakers such as Baker and Anderson enjoyed moderate success, shuttling passengers in near silence from about 20 to 30 mph with a range up to 80 miles on a charge.
Then Charles Kettering developed the electric starter. No longer would you have to risk breaking an arm hand-cranking your gas-powered flivver in the rain and cold, and for the next 100 years it would be internal combustion that drove us.
For most of those hundred years, we drove vehicles powered by the rear wheels. Then Subaru came along to preach the gospel of symmetrical all-wheel drive, offering sure-footed traction in any weather condition. All-wheel drive (AWD) – the ability to haul your outdoor gear to your hardest-to-reach destinations – and a bit of love is what makes a Subaru a Subaru.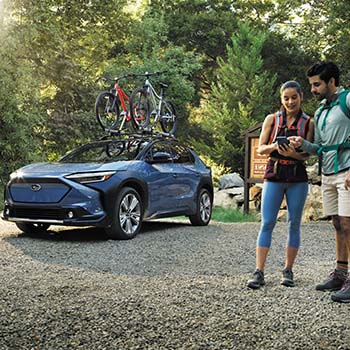 The 2023 Solterra EV features a full range of accessories for outdoor recreation.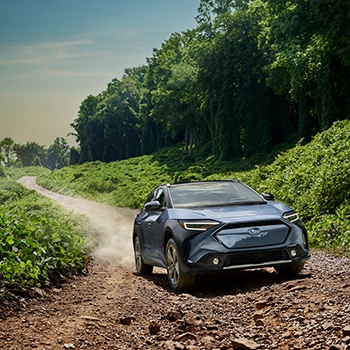 The 2023 Solterra EV is equipped with legendary Subaru Symmetrical All-Wheel Drive.
And then there's the commitment to the environment. One of the company's core values is to create advanced technologies that put the safety of its owners and the environment at the head of every decision.
"We feel it's our personal responsibility to protect Earth's natural wonders and encourage our retailers and customers to engage in smart environmental practices, simply because it's the right thing to do," says Tom Doll, President and CEO of Subaru of America, Inc.
Now Subaru has introduced the culmination of advanced automotive development and that commitment to the environment in the all-new 2023 Subaru Solterra® EV, a zero-emissions vehicle that delivers the all-wheel drive performance, capability, and durability that you expect in every vehicle that wears a Subaru badge.
The Advantage of AWD and an Electric Drivetrain
Up to this point, symmetrical all-wheel drive has been possible thanks to a center differential, sending power to the front and rear wheels. But there are distinct advantages to an electric drivetrain. The power loss absorbed by a transmission, a center differential and front and rear differentials is gone.
Twin motors send 215 horsepower directly to the wheels, eliminating the loss of power inherent in an internal combustion engine's driveline. And the Solterra features standard X-MODE® with Hill Ascent and Descent Assist and 8.3 inches of ground clearance to help you negotiate the most challenging terrain the trails can offer.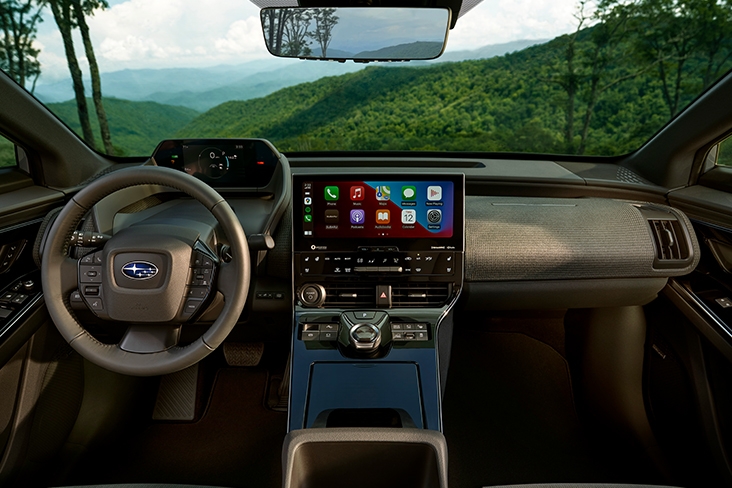 An electric platform also allows versatility inside. The spacious 5-passenger SUV has a nearly flat floor providing generous leg room and up to 30 cubic feet of useable cargo space behind the rear seats. Up front, there's the most advanced multimedia system yet, with an available high-resolution 12.3-inch touchscreen for more intuitive control and standard wireless Apple CarPlay®1 and Android Auto™2 integration.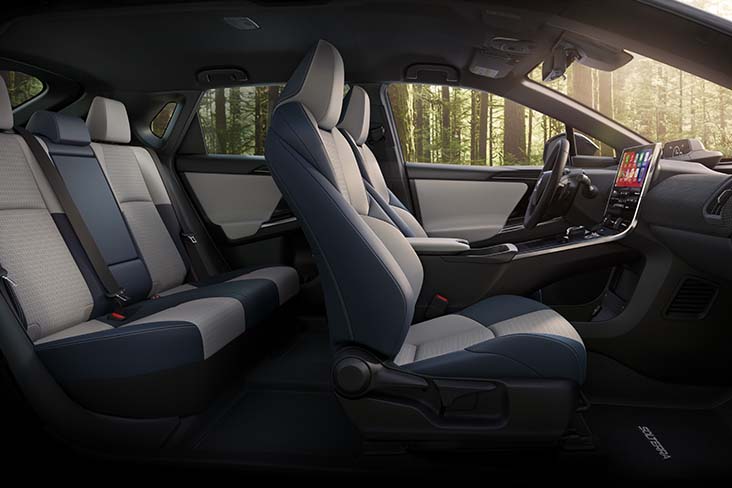 The Solterra uses a lithium-ion battery pack, which delivers more than 220 miles of range and offers DC fast charging capability.3
Advanced Safety Technology
No Subaru would be complete without industry-leading safety technology. EyeSight® Driver Assist Technology4 reduces the rate of rear-end crashes with injuries by up to 85%5, and every Solterra is equipped with EyeSight as a standard feature.
Plus, a 360-degree surround-view camera system is available for enhanced safety when parking and reversing. Safety Exit Alert – an all-new feature available for the Solterra – will beep and display a message if it detects danger when you're trying to open your door.
The Solterra name is the combination of the Latin "sol" and "terra," sun and earth. Power your next adventure with the 2023 Subaru Solterra.
1 Apple CarPlay® is a registered trademark of Apple, Inc. 2 Android Auto™ is a trademark of Google, LLC. 3 Time to charge overnight based on Level 2 charging speeds. Charge times can vary depending on many factors, including temperature, type of charging system, and condition of the vehicle and battery. 4 EyeSight is a driver-assist system that may not operate optimally under all driving conditions. The driver is always responsible for safe and attentive driving. System effectiveness depends on many factors, such as vehicle maintenance, weather, and road conditions. See Owner's Manual for complete details on system operation and limitations. Requires automatic transmission. 5 Based on IIHS reporting data as of January 2017 from MY2013-2015 Subaru models equipped with EyeSight through 2014. Claim is for demonstration purposes only.