I'd been noticing occasional #pickleball posts on Instagram and hearing about friends picking up paddles to try the funnily named racket sport – often described as a cross between tennis, Ping-Pong, and badminton – but only during the 2022 summer did I start encountering it.
The first time was up close and personal: As I pulled up to a friend's house on Long Island, I had to make a U-turn and circle around her cul-de-sac to reach her driveway, as her neighbors and their parents were in the middle of a fierce pickleball match, volleying a wiffle ball back and forth over the net on the chalk-outlined court they'd created in the street.
Soon I noticed pickleball popping up in my Queens, New York, neighborhood too. From elementary school kids to retirees, singles and doubles players were lining up for a turn. A local nonprofit even organized pickleball lessons for children to promote easy, free and fun exercise.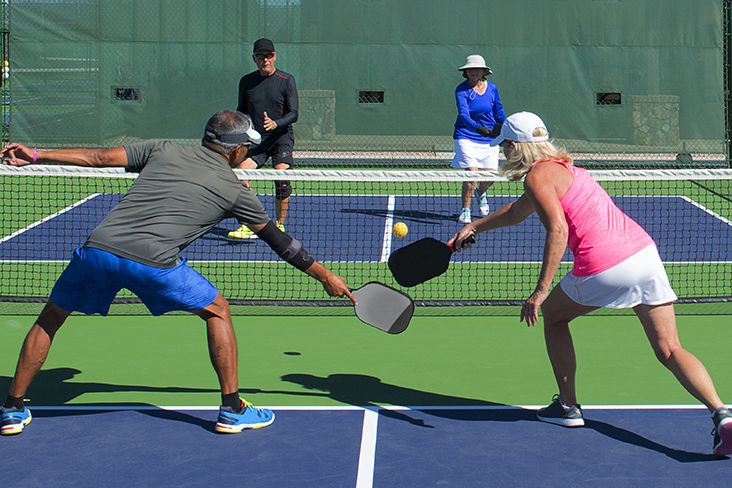 Pickleball, it turns out, is America's fastest-growing sport. But it's not new. Invented in 1965 by Joel Pritchard, a former Washington state congressman, and Bill Bell, a businessman, the two dads set out to make up a game their families could play together. They used an old badminton court, table tennis paddles and a plastic ball with holes.
When a third friend, Barney McCallum, joined the effort, they went on to establish some basic rules: serves must be underhand and diagonal, and the first person/pair to get 11 points with at least a two-point lead wins.
The court sport they dreamed up to entertain their families would, over the next several decades, become popular among pockets of Americans, especially older crowds who embraced the relative accessibility and low injury rates. By 1990, "picklers" were playing in all 50 states.
Flash forward to 2023, and pickleball is having a moment. You can watch pro tournaments on ESPN and subscribe to pickleball publications. It doesn't hurt to hear celebrities – everyone from Andy Roddick and Michael Phelps to Kim Kardashian, Brené Brown, Ellen DeGeneres, Melissa McCarthy, Larry David, and George and Amal Clooney – open up about their fondness for pickleball.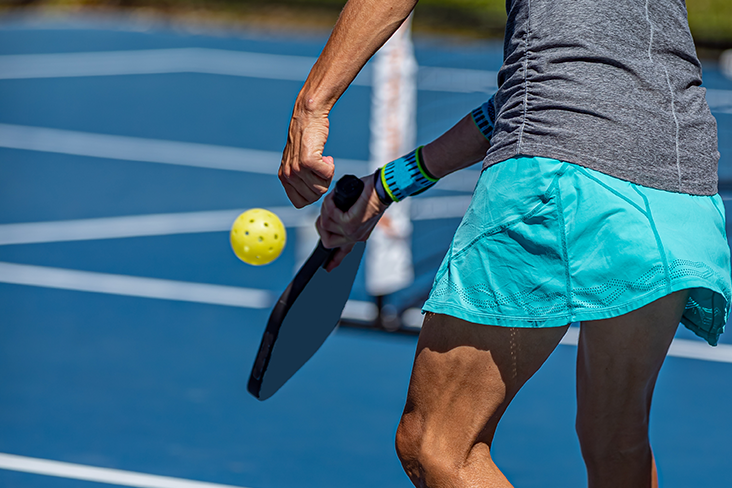 Whether from an increased appetite for ways to exercise and pass time during the pandemic or from viral social media posts and celebrity endorsements, pickleball seems here to stay.
There were more than 40,000 pickleball courts in the U.S. in 2022, according to USA Pickleball™, the national governing body for the sport.
An average of 12 new courts are popping up every day, according to Chuck Menke, USA Pickleball's chief marketing officer, who says that the beauty of the sport is in the low barrier to entry. "It can be picked up quickly; it's fun; it's addictive; it's social; and it's multigenerational," Menke says. "It brings people together, and we're excited to see where it goes."
These pickleball enthusiasts shared their love of the game and tips for getting started.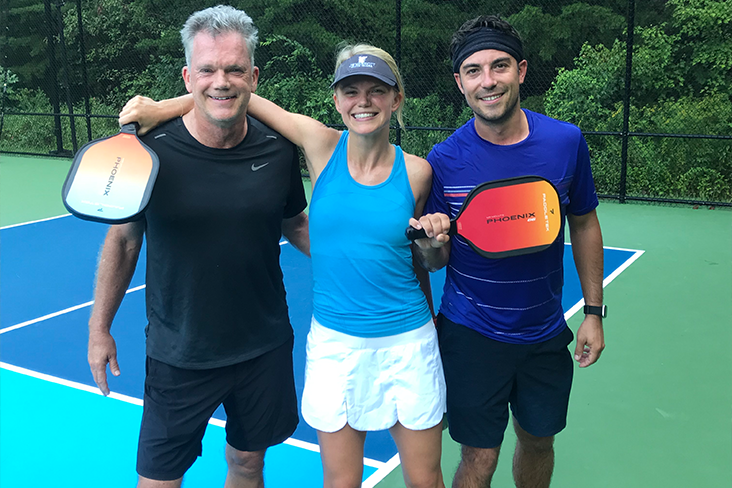 Hannah and Tobi Lutz
Boulder, Colorado
When Hannah Lutz received a set of pickleball paddles from her dad for Christmas in 2020, she was skeptical. The 34-year-old had grown up playing tennis competitively and didn't think a hobby involving a lighter ball, smaller racket and different scoring system was for her. But a month later, Lutz and her husband, Tobi, were working remotely from Florida and antsy for opportunities to get outside and exercise together.
They discovered that their temporary home was "a bit of a pickleball mecca." Several tennis courts in the community had been converted to pickleball courts, so they showed up with their paddles and started hitting the ball.
They met a couple of snowbirds from Ohio who were a few decades older and a lot more pickleball proficient. They started playing doubles with their new friends, who took the Lutzes under their wing and taught them about the sport's scoring system and strategy. They were hooked.
The Lutzes have now settled in Boulder, Colorado, but the pickleball obsession they picked up in Florida has stuck. Every other day, they toss their paddles in the back seat of their 2019 Outback and drive to a nearby court. They also love to travel, and when they do, their pickleball paddles come with them.
Tip: They've turned at least 10 friends onto the sport and recommend that newbies start by watching a quick pickleball 101 explainer video on YouTube. They sometimes use Places 2 Play to locate nearby courts but have also been pleasantly surprised at how easy it has become to find places to play. Tobi's rule of thumb: "Usually if there's golf, there's pickleball not far away."
Mona Kim-Brown
Sandpoint, Idaho
Mona Kim-Brown has friends in Idaho who have been playing pickleball for decades, but it wasn't until she and her partner were at an Arizona RV resort four years ago that she herself first picked up a paddle. With the support of a friendly community, she learned the rules and felt herself taking to the game.
After her return to Idaho, she joined a pickleball club. She plays doubles two to four mornings a week and loves that she can show up and rotate into matches with different partners. The 71-year-old says pickleball has reignited the passion she once felt as a volleyball player.
Tip: For anyone seeking a "sweaty, joyful workout and fun social outlet," don't be afraid to show up to a court by yourself. The sport has a culture of acceptance and inclusion, and players tend to be excited to welcome one another. "The different levels of skills promote patience, teaching, learning and empathy," Kim-Brown says. "Strength and a jock background are not required."
Pickleball 101 - The Basics
What it is:
A mashup of table tennis, tennis, and badminton, with its own equipment and a unique scoring system
What you need:
A paddle, a regulation pickleball ball (indoor and outdoor balls are different!), a court that

'

s 20 feet by 44 feet with a 36-inch net, and an opponent (or two for doubles)
Why people love it:
A fun workout
Intergenerational social interactions and friendship
Healthy competition
Ability to find a court easily