When Saul Leiken, global category leader for Specialized Globe electric bikes, thinks about cycling, he thinks about freedom.
Leiken has forged a career in the cycling industry, but he says for those who haven't been riding bikes nonstop since childhood, cycling can feel the opposite of free. "When you talk to somebody who's not a rider," Leiken says, "they're like, 'When I get on a bike, I get out of breath – I get confused by shifting the gears, and I don't feel free at all.'"
But an electric bike takes away many of those barriers. When Leiken gave one to his father, who is about to turn 80 and had undergone gastric bypass surgery a few years ago, his father went from being relatively inactive to using his e-bike daily to get around New York City.
"He has so much more energy and is just living his life so much more than he was before just sitting on the couch," Leiken says. "He rides that thing everywhere!"
Going the Distance
In just a few years, electric bikes have gone from MacGyvered home brew machines to a popular way for many families and individuals to spend more time in nature. Many modern electric bikes can cruise up to 60 miles and travel at 25 mph with just a little help from the rider, and their powerful motors make it easy to carry groceries or kids without slowing your roll.
You may not be working as hard as you would be without a motor, but studies show that riding an e-bike still yields significant health and fitness benefits, not to mention the feeling of the wind in your hair and the time spent outdoors.  
With an e-bike, you won't have to circle looking for a good parking spot upon arrival; you can lock your bike and get on with your day. For folks who pick up children from a busy school, this can make a huge difference. James Nixon, founder and director of media relations for Nixon & Friends, says it's not just the time he saves that makes him love his e-bike – it's also the time he gets to spend with his daughter. "It's been awesome," Nixon says.  
If you're ready to swing a leg over your first e-bike, you may find yourself overwhelmed by the options. Leiken suggests thinking about what you want to use the bike for, how you're going to store it and allocating a budget of $1,500 at minimum. Cheaper bikes tend to lack hydraulic disc brakes, which are a must for safely stopping a heavy bike.  
Read on to find out about possible models and how they may fit into your life with your Subaru. 
Which E-Bike Is Well Suited for My Lifestyle and Subaru?
Subaru Crosstrek or Outback
If you drive a Subaru Crosstrek or Outback and value the ability to cover a variety of terrain, look for an electric mountain bike. "E-MTBs" can also be a great option for bringing a spouse or friend on a ride they may normally struggle to keep up with.
When comparing models, range – the distance a bike can travel before a recharge, which takes two to seven hours – isn't that big of a deal. E-bikes can be charged at home using a regular wall outlet; make sure to read the manufacturer instructions first. Unless you already ride a ton, you'll likely be tired before your e-bike is. But if you want to hoist that mountain bike on top of your Subaru, it's a good idea to check the weight of a bike before buying because some electric mountain bikes can be heavy.   
Subaru Forester
If you're a parent who drives a Subaru Forester and loves to get your kids out into nature, consider a cargo bike. These bikes' extended wheelbases allow you to attach children's seats. Leiken says these seats are evaluated for safety by the U.S. Consumer Product Safety Commission, so you can trust your kids will be safely strapped in even if you decide to hit some bumpier trails. Of course, he added that all riders should wear helmets.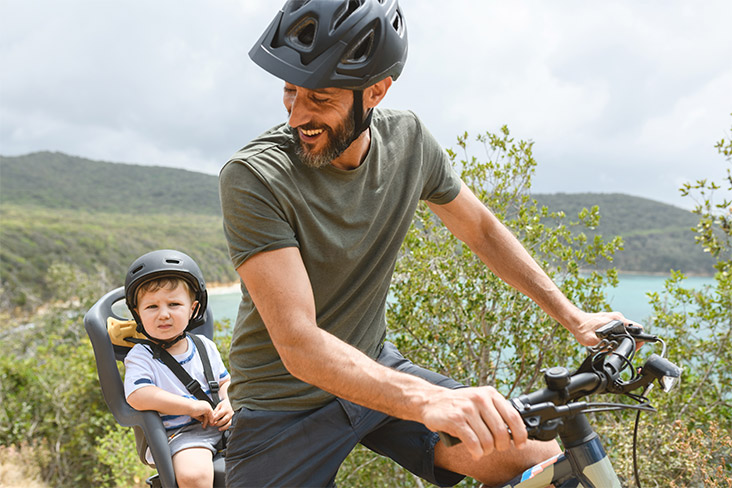 On an e-bike, children can experience the smells and sounds of nature and bring along drinks, snacks, and other things that may be too cumbersome to carry on a human-powered trail ride, and you can work out as hard or as little as you want to while your kids enjoy the view. If you love riding already, this can be a great way to combine time on your bike and time with your family.
Leiken says potential cargo bike buyers should consider where they'll store the bike, as some can be too bulky to fit easily in smaller apartments or to get up the stairs.  
Subaru WRX
If you're drawn to the speed of the Subaru WRX and aren't so concerned with hauling your family or getting deep into the backcountry, then an electric road bike is a great choice. These bikes can go seriously far and very fast and let you keep up with the fastest group rides.
Bikes like the Specialized Turbo Creo, with its additional battery pack that can be switched midride, can reliably be used for rides over 100 miles. E-road bikes can be an excellent tool for cyclists recovering from an injury who still want to get out there and ride with friends or a way for a friend with a bit less cycling experience to join a more experienced rider.
It's important to test ride electric road bikes to see if the wider cranks work with your body and to determine whether the motor applies power smoothly as it should or "surges" in an awkward way, which can be the case with bikes that use a less advanced controller.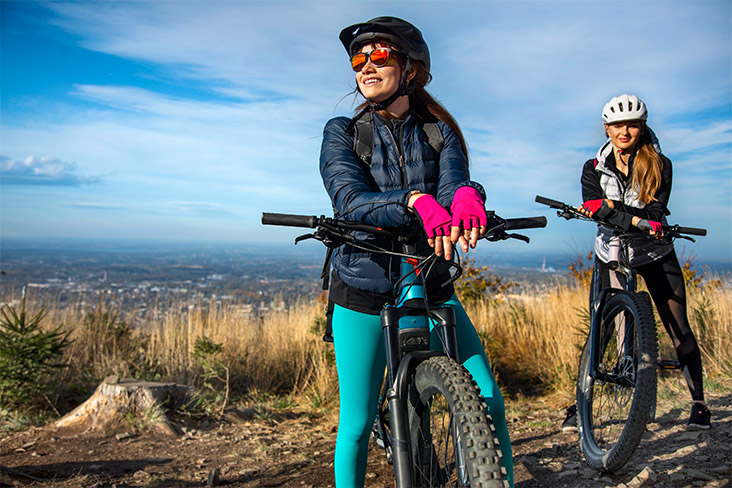 E-Bike Maintenance
Whichever type of electric cyclist you are, consider the serviceability of your bike. You'll be riding your e-bike a lot, so budget for replacement brake pads, tires and chains. These can run you about $40 each, depending on the model.
If you're not up for doing that maintenance yourself, it's worth checking to see whether your local bike shop will work on your e-bike. Some bike shops won't work on direct-to-consumer e-bikes because they tend to be too heavy for work stands, use proprietary parts which are hard to find and are prone to electrical failure.
Brands like Specialized Globe, Cannondale®, Yuba®, and Tern® all have established dealer networks that can fix your bike quickly and safely if something goes wrong – which is important, because once you start riding it, you won't want to stop.