The Subaru Motorsports USA team has kept a big secret for 14 years. Most of us don't know how, or even where, its striking blue-and-gold race cars are built. We see them at rally stages across the U.S. and Canada – with drivers such as David Higgins squeezing every last ounce from them to decimate the competition – and off they fade into the deepest corner of Vermont. Subaru Motorsports USA fans have known that Vermont SportsCar (VSC) has been the team's exclusive technical and manufacturing partner since 2005. But most of the time, curious locals and die-hard enthusiasts hoping to sneak a peek would be kindly turned away. The factory wasn't set up well for tours, so the cars and the talented people behind them were mostly hidden from public view. That all changed this summer.
For the first time ever, VSC and Subaru Motorsports USA are showing almost everything behind the most successful rally team in North America. They've opened a brand-new facility in Milton, Vermont, just minutes away from their previous shop in Colchester. And to celebrate this very public space, you're invited inside.
"We are a pretty unique business in a small state," says Chris Yandell, VSC vice president of marketing. "Visiting us isn't quite the same as seeing one of our 600-hp STI rallycross cars perform, but we've designed our headquarters to involve our fans and [let them] see firsthand how much effort and hard work it really takes."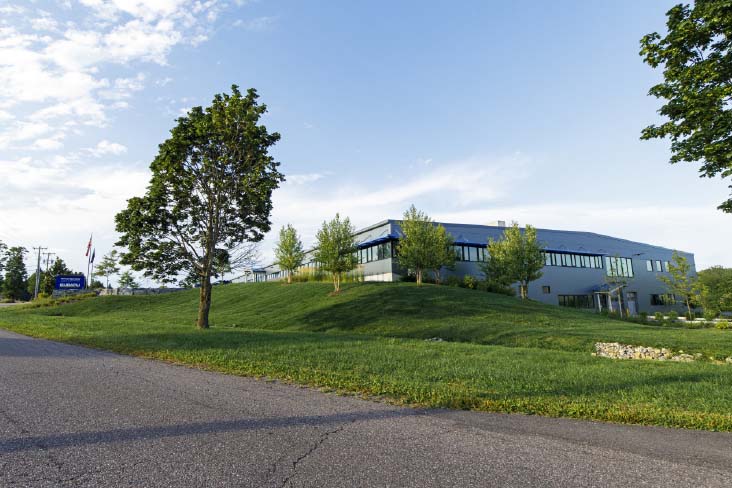 Nestled by Lake Champlain just 30 miles south of the Canadian border, VSC is tucked into one of the most remote locations possible for a major racing team. While only an hour from the luxury ski resorts in Stowe or a half-hour from Burlington's hippy-centric downtown, beautiful Milton is not exactly a bustling place. It's a four-hour trek from Boston, four and a half from Portland, or six from New York. Anywhere farther, and your easiest option is flying into Montreal to drive the hour and a half down. However you do it, get there. Rallycross event manager Dan Anctil wouldn't go anywhere else.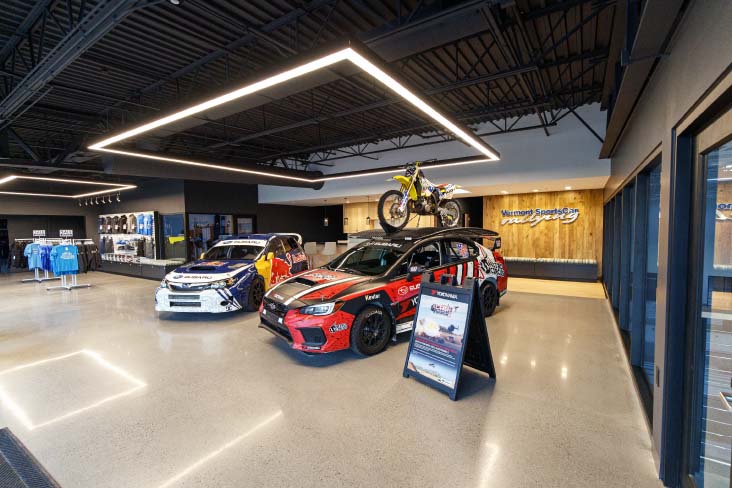 "Essentially, we can do more, do it faster and do it better." – Chris Yandell, VSC Vice President of Marketing
"It's stunning when you walk in," Anctil says. "I've worked for other teams, and VSC is so high level and building rally cars as well as anyone in the world. This is as nice as it gets."
VSC spreads its 50 employees over 75,000 square feet. The lobby greets visitors with expansive white walls displaying dramatic photography of VSC's winning cars, and beneath your feet, a massive concrete floor gleams with polish. It's a template for VSC's ultimate creations that, we might add, are unlocked. Retired rally cars, stunt cars, frames, exhaust headers – there's no telling what you may find and sit inside of on your first (or third) visit to VSC. Offices overlook the lobby and a gift shop stocked with team apparel, car models and Subaru accessories.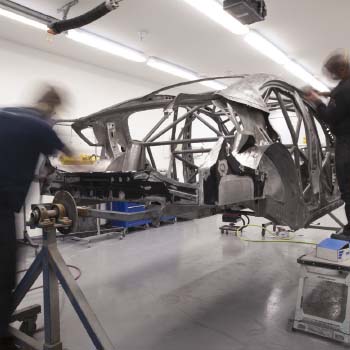 75,000 square feet offers a lot of room for rotisserie work on a rally car unibody.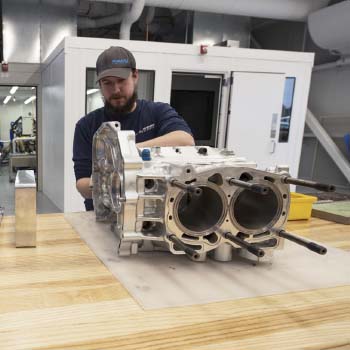 Rally engines turn out roughly 300 hp. Rallycross engines allow up to 600 hp.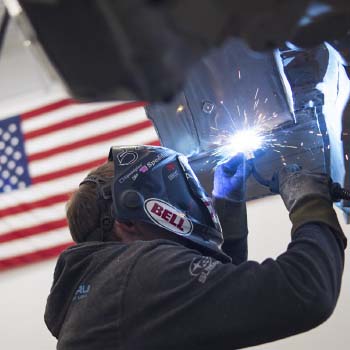 The new shop allows for highly technical engineering and building.
Wide windows within the lobby invite visitors to peer down at the main shop floor, which begs you to go on a tour. Schedule your tour in advance, and VSC will treat you to an insider's view of building the American Rally Association® (ARA) and Americas Rallycross (ARX) cars. You'll see where the famous 2.0-liter SUBARU BOXER® engines are torn down and rebuilt. There's another station for rebuilding transmissions and two engine dyno rigs. Move on for a view of the custom wiring harnesses VSC cuts in-house. You'll get a chance to watch the metal fabricators seam-weld the ARA cars or shape the Kevlar® composite panels for ARX. The parts department is exactly that – a Subaru tuner's dream of reliable, high-performance hardware stocked for the team at a moment's notice. VSC also runs 3D printers for custom parts they can't fabricate or supply elsewhere. The paint booth and graphics team can always be found applying the Subaru Motorsports USA livery to perfection. And don't forget the enclosed racing trailers. At the old facility, during Vermont's harsh winters, they'd be buried in several feet of snow.
"Essentially, we can do more, do it faster and do it better," says Yandell, who points to the 600 solar panels that offset all of the shop's energy draw. "The facility allows us more capacity to do the sophisticated, highly technical motorsports engineering and car-build operations we excel at."
After a summer of victories on rally courses around the country and a star turn at the Goodwood Festival of Speed, the VSC team is too busy to dwell on the new shop's improvements. But you can, and should, see it for yourself.
Read about the history of Catamount Stadium, a New England racing powerhouse that's within sight of Vermont SportsCar's new facility.