When then-college student C.J. Synak walked off the lot with his first STI in the mid-2000s, he hardly could have imagined that, one day, he would build – and race – one of the fastest Subaru vehicles in the country. But over the decade-plus that's followed, that's exactly what's happened – and he's not done yet.
These days, Synak's life is in his car. To be honest, in many ways, his life is his car. This small sedan is the project that's consumed much of his time, energy, and often, his sleeping hours over the last 12 years.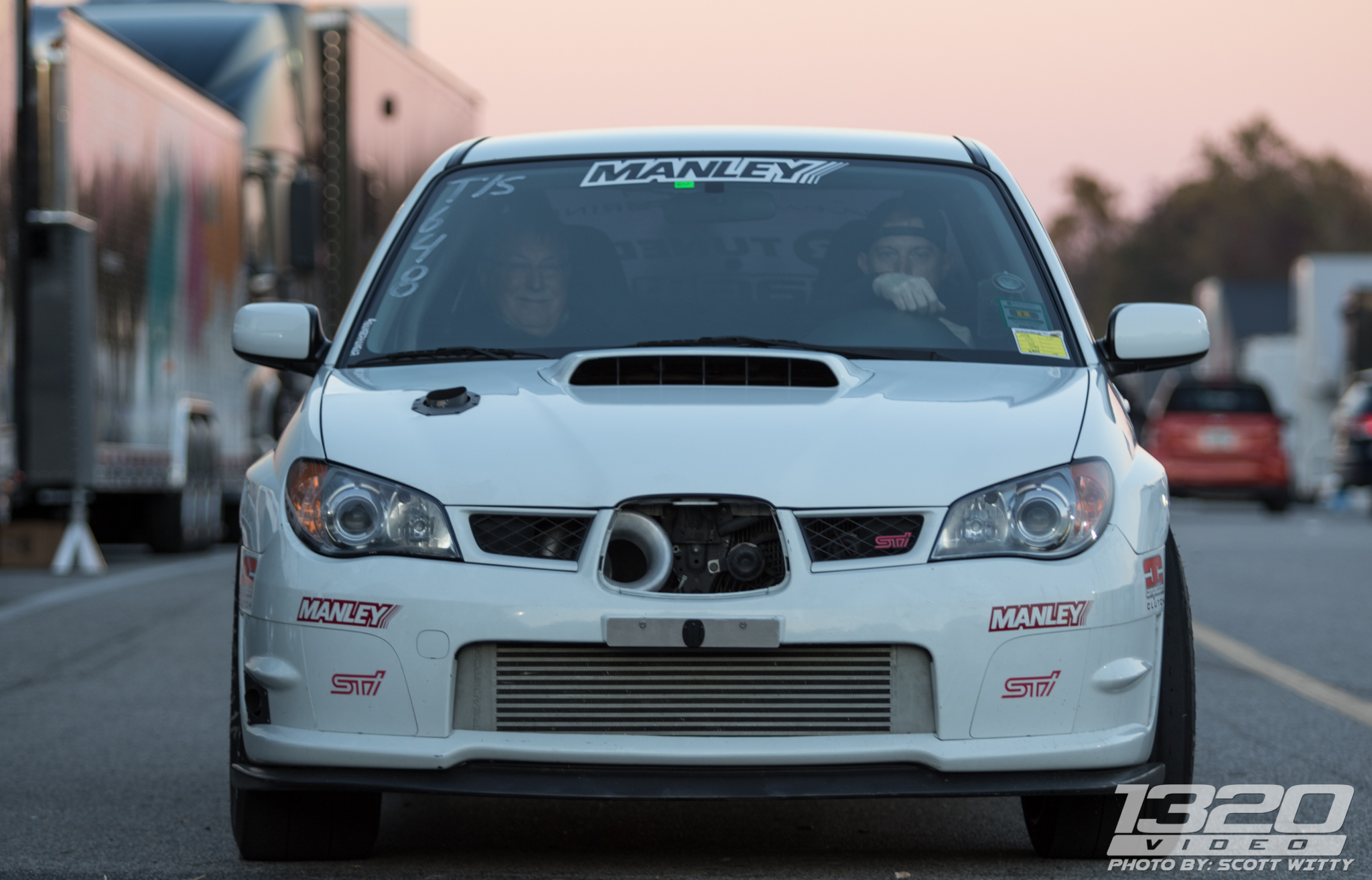 Synak is a 33-year-old farm engineer who, when not commanding a giant grain elevator, tows a race car 20,000 miles across the country just to laugh with friends and scorch quarter miles in less than nine seconds. His license plate taunts in confirmation: V8 BAIT.
"I love to chase records," he says. "That's what I love to do more than anything."
Synak's 2006 WRX STI holds several, thanks in no small part to the durable Subaru factory parts that helped escalate his racing career at relatively modest costs. In 2009, his was the first Subaru to run consecutive 11-second passes on a stock turbo. In 2015, he ran the fastest time with a stock engine. Just this spring, he hit an 8.79 with the original 6-speed transmission. Until recently upgrading to a non-synchro, straight-cut PPG dog box, he'd take apart his transmission only once a year after dozens of dramatic launches.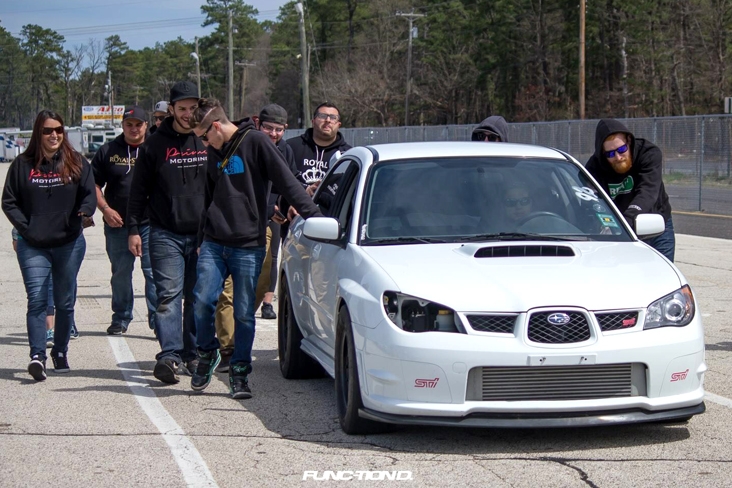 The story begins when so many formative tales do – in college
In 2006, three years after Subaru introduced the STI to the U.S. market, Synak plucked a white-and-gold one fresh off the showroom floor of DuTeau Subaru in Lincoln, Nebraska. It was brand new, and he was 21. Within months, he'd installed a catless downpipe and open exhaust. He added a Stage 2 ECU remap from Cobb Tuning, which, in so many words, made him self-aware. "It was pretty loud," he says. "You're driving around in a new car, and it sounds like a tractor."
He was still practical, though. Instead of the sport coupe he'd rocked in high school, the STI packed everything he needed into a single car: All-wheel drive to get him to class at snowy Western Washington University, a usable back seat for road trips, and – when he wasn't racing the 2.5-liter Boxer 4 to redline on his local drag strip – good fuel economy.
As he finished college back in Nebraska, Synak converted his car to run on E85, the octane-rich mix of 85-percent ethanol that's plentiful in the Corn Belt. Reaching the quarter mile in 11.89 seconds at 115 mph was a welcome trade-off.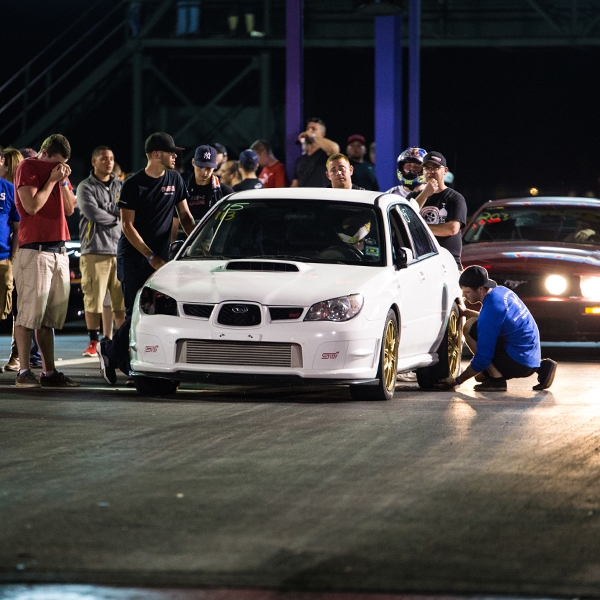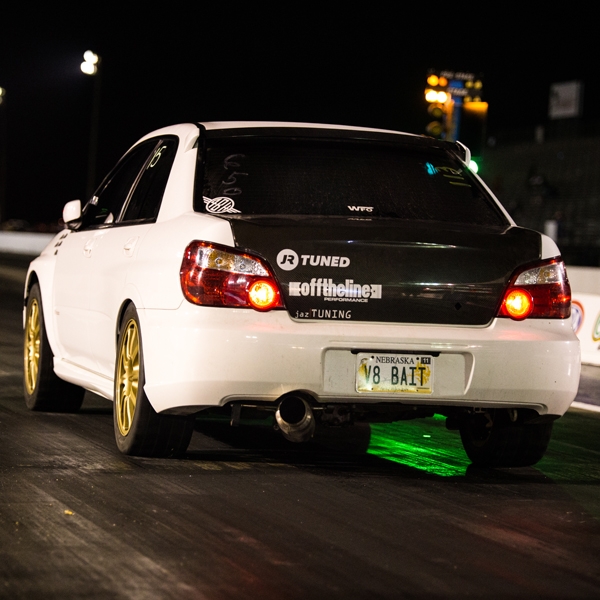 Things heated up in 2011. Wrenching in his parents' garage, he swapped the factory VF39 turbo for a larger Garrett GT35R. But he couldn't get the car to respond. Turning to the North American Subaru Impreza Owners Club forum, he caught the attention of Junior Barrios, a renowned Subaru tuner who flies to garages all over the country. Once Barrios sent an email attachment and Synak flashed his ECU with fresh code, the car "immediately" settled into place. Synak's times dropped. He burned through his clutch while hitting an 11-second time in Kansas. Barrios, curious how far he could push Synak's factory engine, made a wager: Slip into the 10s, get free tuning for life. The two met at TX2K at Houston Raceway Park in 2013. Synak tore down the strip in the 10.80s. A bet was a bet.
"It put me into a player's club at that point," says Synak. "Before, I was just some guy from Nebraska."
Breaking into the nine-second club, an elite zone typically reserved for big-budget tuner shops rather than privateers, was next. In early 2015 in Texas, he ran 10 passes, each only hundredths over the mark. Frustrated, he trailered his Subaru for 24 hours straight to Prime Motoring in Wallington, New Jersey, and came home with a new turbo compressor. The result? An insane 9.77 seconds at 147 mph, with 589 hp at the wheels. Sponsors started lining up and sticking decals to his trunk lid.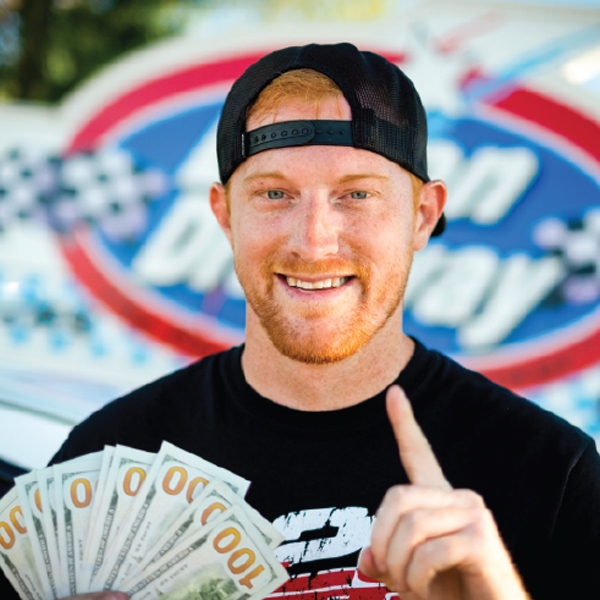 Photo: Downforce Photography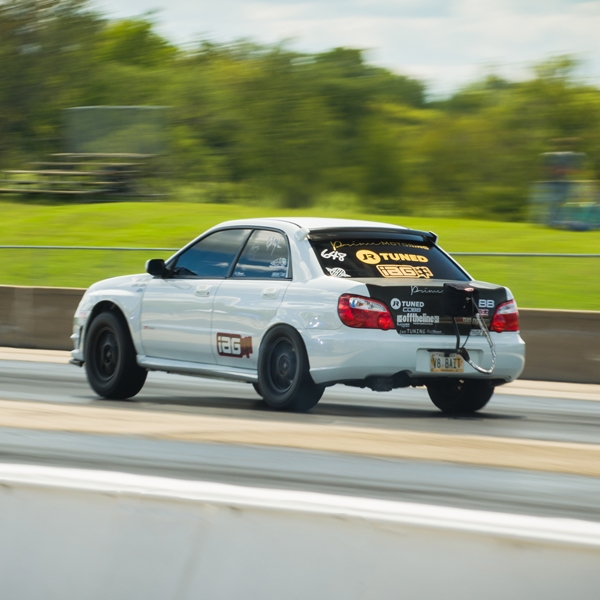 For reference, C.J.'s 8.69 sec. ¼-mile time beats the fastest stock production cars in the world to the quarter mile by a full second.
Even with a cage and Hoosier slicks, Synak would drive the drag car to a Mexican restaurant and wolf down a burrito after every tuneup. Later that same year, with a Beanfab turbo kit, a reworked engine from IAG Performance in Westminster, Maryland (yes, he drove there, too), a PPG dog box, and more than 1,000 horsepower, Synak put down an 8.69-second run at 164 mph. A year later, he won the unlimited class in the first Subaru Nationals. In the U.S., he's one of just a handful of Subaru drag racers running in the eights.
Only now, with close to $100,000 in mods – including fender-mounted, flame-shooting exhaust pipes – his car is becoming too difficult to drive on the street. And sometimes his day job gets in the way of drag racing. As motivated as he is to keep breaking records, however, it's hardly the only reason he continues putting more – and more – into his car.
"I've created lifelong friendships, all through Subaru," he says.