Subaru is an acknowledged leader in the automotive industry for many reasons, but its support for environmental causes rises to the top.
From the company's commitment to zero-landfill production facilities and its support of national parks to working with retailers on the construction of eco-friendly retail locations, both the company and Subaru owners have demonstrated a commitment to making a positive difference in the world.
With that history, it's no surprise that Subaru owners show up every year for the Gambler 500 rally, headquartered this past summer in Redmond, Oregon, from June 10-12.
The event was founded in 2014 by Tate Morgan, who originally envisioned it as a fairly simple off-road navigation rally. Morgan told The Oregonian that his dad found a spoiler for his car with the name "Gambler" emblazoned across it, and the name just stuck. "It's a gamble if you're going to make it, it's a gamble which way you're going to go," Morgan explained.
Since its humble beginning, this pop-up public lands cleanup event has gone viral, growing from a crazy idea into a nationwide series of efforts in just eight years.
The Gambler combines creativity, environmental stewardship and an offbeat sense of humor. This summer, the "OG500" Gambler event had amateur rally drivers careering through the high desert of Deschutes County in central Oregon.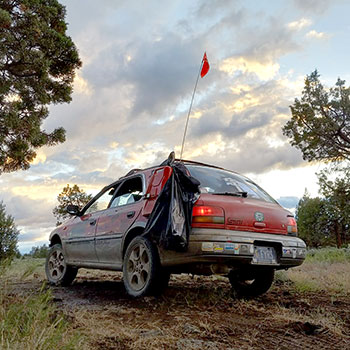 Ray Little's Subaru Impreza Outback Sport. Photos: Ray Little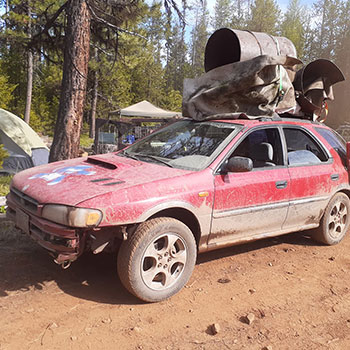 "I Gamble because it's a perfect opportunity to explore new areas while helping clean up our forests with other people," says Ray Little of Eugene, Oregon. "I chose my Impreza Outback Sport because it's capable, repairable and for the shock factor on 4x4 drivers' faces."
The mission of the Gambler 500 is simple: clean up litter and abandoned vehicles on public lands using cars that most people would expect to find in a junkyard and have a giant weekend campout with several hundred friends.
Originally, the Gambler guidelines suggested not to spend more than $500 on a vehicle. Today, participants simply adhere to the notion of building an off-road vehicle as cheaply as possible.
"Always Be Gambling," the organization's tagline, serves two purposes. First, there's always a chance that a resurrected car will need some help to get back to the finish line, and that kind of spirit is what the event is all about. It also encourages participants and spectators to always be on the lookout for ways to improve their environment, cleaning along the way of their everyday lives and not just for this event.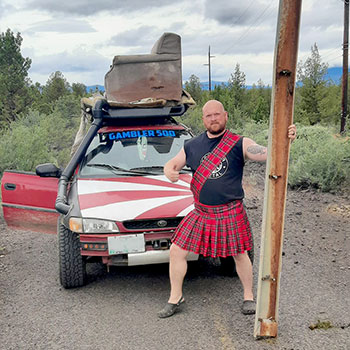 Brent Burbank with the Subaru he modified for the Gambler 500. Photos: Brent Burbank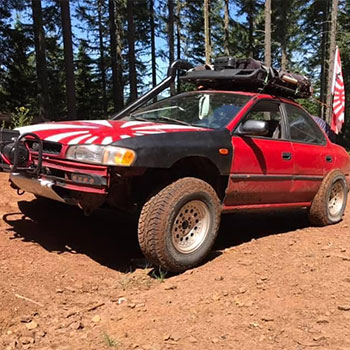 "I chose this Subaru because it was truly a $500 car that I was commuting to work in," says Brent Burbank of Salem, Oregon.
"[The Subaru] parts' interchangeability between models is great and keeps costs down. This Impreza is packed with Outback, Legacy and Forester parts. I Gamble because I belong outdoors, and I want to take care of what I love – which is cars and the wilderness and doing it all at full send."
With an army of vehicles that could stand in the background of the latest Mad Max sequel, Gamblers assembled at the Deschutes County Fair & Expo Center for the annual cleanup.
This year, the target area was the Crooked River National Grassland, managed by the U.S. Forest Service.
Bob Keeton of Washington state brought his 1991 Subaru XT6 to pitch in. "[The reason] the Gambler is special to me is because it draws in people from all backgrounds, abilities, skill levels and creative means. We come together as equals and have fun with whatever we've built. Nobody is here trying to have 'the best' Gambler rig."
Gambler organizers selected the grassland in partnership with the Forest Service, who had rangers out on the trails to help and direct cleanup efforts. Using GPS smartphone apps, participants could find known dump sites or log new ones that they discovered along the way.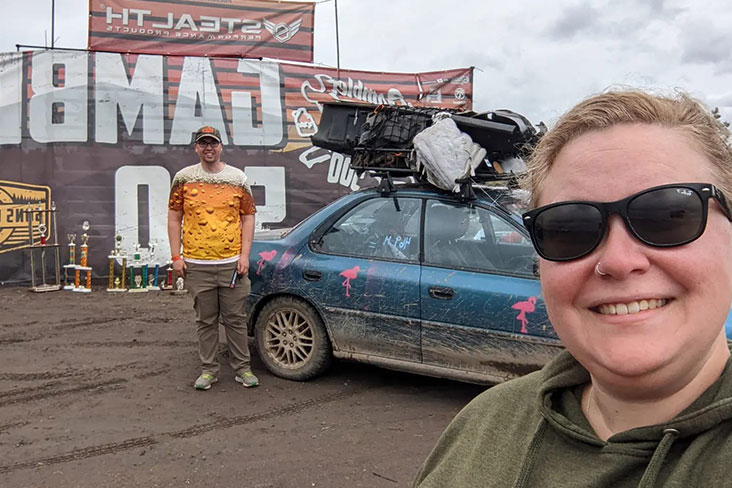 "This year was my first time Gambling," says Leslie Boro of Portland, Oregon. "I really enjoyed cleaning public lands while off-roading with cool folks. We chose a Subaru for these events because they're reliable and easy to work on when things do go wrong."
By the end of the three-day weekend, hundreds of Gamblers had collected more trash than could fit into the dumpsters, so the organizers designated the "Gamblertown" parking lot behind the fairgrounds to pile up the excess.
All weekend long, a steady stream of Gamblers hauled in abandoned cars, RVs, appliances, furniture and even boats. They filled their cars with bags of loose trash and tires, strapped even more onto the roofs of their cars and brought it all in. By Sunday afternoon, participants had removed over 1,000 cubic yards of waste from the grassland and taken it all to Gamblertown for proper disposal.
The original Gambler 500 takes place in Oregon, but the organizers want others to replicate the idea anywhere in the world. Gambler rallies now take place from coast to coast and in Canada and Mexico.
The annual Gambler 500 returns to Oregon from July 7-9, 2023.