The mythic Subaru BRAT (Bi-drive Recreational All-terrain Transporter) is like a Sasquatch. Entire generations have never seen one on the street. But they're out there.
Philadelphia-based photographer Anthony Caggiano managed to score an original 1980 BRAT that he found on Craigslist, of all places. "I just kept clicking on it every couple of weeks, and I found this one," he says.
At first he was underwhelmed. There had been some aftermarket add-ons, and the classic 1980 decals weren't in place. "It didn't really look like a BRAT," Caggiano says. He asked for more pictures. "[The seller] sent a picture of the interior, which was immaculate and included all the original seats. Other photos showed the original bumpers and the original wheels." That sealed the deal.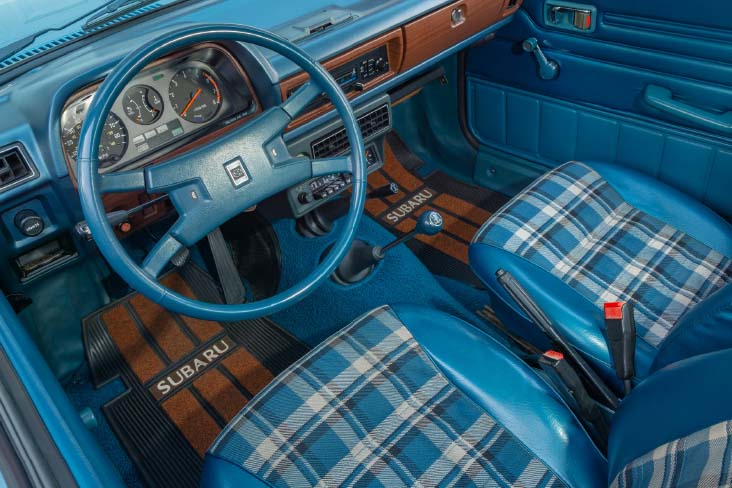 Who would sell such a nice vehicle? "The original owner lost his sight in one eye, so he decided to get rid of the car," Caggiano says. It wound up at a family-run lot in Texas, and no one thought there would ever be a buyer. They were shocked when Caggiano put in a bid all the way from Pennsylvania.
The son of the lot owner had been driving the BRAT around town for a couple of weeks, so it was already limber. When Caggiano mentioned where he was from, the lot owner said, "Give me a couple of weeks. I'm going to do the brakes for you." That's all the preparation the car got before the drive home from Texas to Philadelphia. "I was like, 'I'm just going to go for it. It's a Subaru. It'll make it,'" Caggiano says.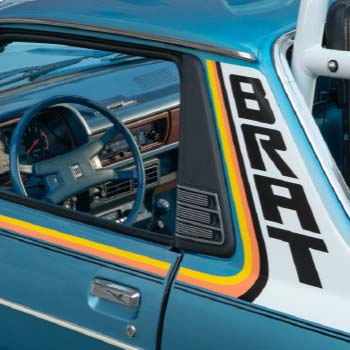 The BRAT name was an acronym for Bi-drive Recreational All-terrain Transporter.
Photos: Anthony Caggiano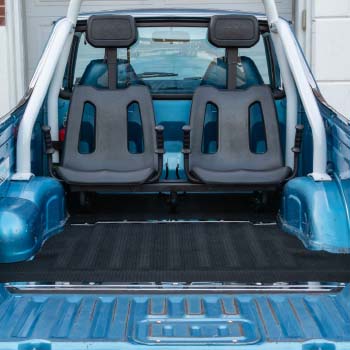 You could drive to your favorite tailgating location and have a comfy seat when you got there.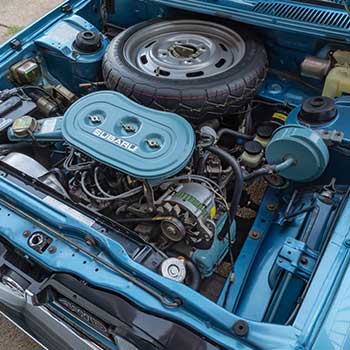 A 1.6-liter EA-71 powers Caggiano's 1980 BRAT.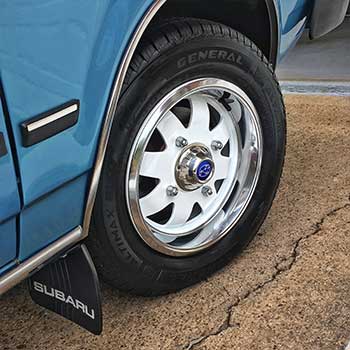 General AltiMAX™ tires are one of the few available in 13-inch sizes.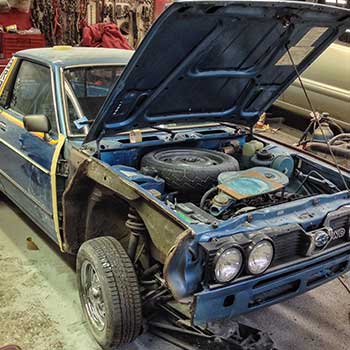 While the BRAT was in great condition to start, Anthony Caggiano went the extra mile making it perfect.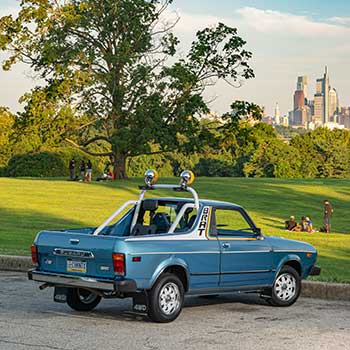 Rear seats, roll bar and KC Hilites are all part of the vehicle's charm.
Just 48 hours later, he was home and work began. "There was some paint peeling on the fenders," he says, and the body shop also found some rust. "The hood had a little bit of hail damage that we took out." The original wheels were refinished and reinstalled, and a high roll bar was sourced from a Colorado salvage yard.
As he was doing the fenders and hood, the Simeone Foundation Automotive Museum contacted him. The automotive museum is in Caggiano's home city of Philadelphia and has a collection of more than 75 rare, historically significant racing sports cars. It also hosts special events throughout the year. Caggiano was invited to show the BRAT in the 2016 special exhibit Subaru: The Beauty of All-Wheel Drive. "I dished out way too much extra money just to get the car looking, you know, perfect," he says.
At this and other Subaru events, Caggiano's BRAT has generated high praise and attention from one specific Subaru fan: Tom Doll, president and chief executive officer of Subaru of America. At the exhibit in 2016, Caggiano's BRAT was displayed alongside an example from the Subaru collection. The BRAT from the Subaru collection is a stunning example of a purely stock BRAT, while Caggiano's BRAT showcased period-correct accessories such as the roll bar and KC Hilites auxiliary lighting.
Caggiano isn't shy about driving his BRAT anywhere, and as he does, you can be sure there's a happy face and a story shared for every new mile it clicks off. The way he shows the car, it's a lot easier to catch than Sasquatch in a photo.