Financing a new Subaru is easier than it's ever been. You've got a lot of options, the biggest of which is the decision whether to lease or finance the purchase of a new Subaru vehicle. We'll cover the big questions and get the clearest answers from the experts so you can make your most informed decision.
Leasing vs. Buying a Subaru
Leasing a car has been popular for decades, but there are still a lot of questions about the process, particularly from people who have traditionally financed their new car purchases. In today's auto market, leasing can be a smart financial decision, provided you're able to live with some of the restrictions that are a common part of leasing a new Subaru.
In comparing leasing vs. buying a car, traditional auto financing is the simplest to describe. An auto financing has six basic components that will influence your purchase decision:
Vehicle Price – the negotiated price which you agree to pay for the vehicle
Down Payment – the amount of cash you can put toward the purchase of a new Subaru
Principal – the amount of money you will finance to purchase your new Subaru
APR – the annual percentage rate of interest on the financing for your new Subaru
Term – the length of the financing in months
Credit Score – Your credit score is evaluated by the three major credit reporting agencies (Equifax®, Experian®, TransUnion®). Credit scores generally range between 300 and 850, with 850 being more creditworthy. A higher credit score will typically allow you to take advantage of the lowest possible APR available.
The other major means of lowering your monthly payment is by trading in your current vehicle. The trade-in value works the same way as a cash down payment, directly lowering the amount of money you need to finance.
You can trade a car whether you plan to finance or lease a new Subaru. And depending upon your state, there may be sales tax advantages to trading versus selling the vehicle privately.
The variables of a lease are similar to those of a financing, but they have different terminology:
Capitalized Cost – This is similar to "vehicle price." It's the selling price of the vehicle before any down payments, trade-ins or anything else is calculated into the lease.
Capitalized Cost Reduction – anything that lowers the capitalized cost, including cash down payments or trade-in value
Residual Value – the amount the lessor predicts the vehicle will be worth at the end of the lease
Depreciation – the amount of value the lessor predicts the vehicle will lose over the term of the lease
Money Factor – The money factor is a different means of calculating the interest rate. To understand the interest rate of the lease, multiply the money factor by 2,400. If the money factor is 0.0025, it's roughly equivalent to an annual percentage rate of 6.0% on a financing.
Lease Term – Similar to a financing, this is the length of the lease, described in months. Leases are typically shorter terms than financings, usually in the 24- to 36-month range.
A lease is different than a financing in one significant way: In a lease, you don't "own" the vehicle. You're essentially paying for the use of it for the time that you're going to drive it. The lessor predicts the value of what that vehicle will be worth at the end of the lease term and subtracts that from the total cost of the vehicle.
The best way to understand how each of these variables will impact a monthly payment is to visit the Subaru Payment Calculator. With the Payment Calculator, you can input the Subaru model and trim level you're interested in to see how all of these factors will impact the monthly payment of both a Subaru financing and a lease.
How To Get Preapproved for an Auto Financing or Lease
One of the best ways to understand how a new Subaru fits into your finances is to get preapproved for a lease or a financing. Preapproval allows you to visit a Subaru retailer and have a good understanding of which vehicles may fit into your budget.
The best place to start is to understand your credit score. Three major credit reporting agencies provide lenders with information on your credit health: Equifax, Experian and TransUnion.
You are entitled to one free credit report from AnnualCreditReport.com every year. This is the one site that's authorized by federal law to provide you with your annual credit report. You can also reach out to the three credit reporting agencies individually, and you can obtain credit reports from each of them.
Once you have your credit report in hand, reach out to lenders and begin the preapproval process. It's easy and only requires some basic personal and financial data. Most lenders and lessors can preapprove you for a financing or a lease within a business day, and sometimes within minutes.
What Are the Options at the End of a Lease or a Financing?
We'll tackle the simpler question first: At the end of a car financing, you simply make your last payment (or pay off the vehicle early) and the vehicle is yours. Depending on where you live, your state may allow you to receive the title when the vehicle is registered. These seven "non-holding states" are:

Kentucky
Maryland
Minnesota
Missouri
Montana
New York
Wyoming
In all other states, the lender holds the title and will send it to you when the vehicle is fully paid off. It typically takes 30 days to receive a title from your lender after the Subaru is paid off.
The end of a lease is different. After you've made your final payment, you are required to return your Subaru to your local retailer.
Approximately five months before the end of your lease, you should receive a message that highlights your lease-end options along with a QR code that links you directly to specific forms and more information about the end of your lease.
At the end of the lease, you have four basic options:

Subaru Incentives
Buying or leasing a new Subaru vehicle can be more financially advantageous with any incentives available on Subaru models.
The easiest consideration is the Lease Loyalty program. If you leased a vehicle through Subaru Motors Finance, the Subaru of America Lease Loyalty Program can offer significant advantages. If you qualify, Subaru of America will make the first monthly payment on your new Subaru for up to $550 when you lease through the same lessor.1
In addition, whether you lease or purchase through this program, Subaru of America will pay any disposition fee owed on your current leased Subaru as well as up to $200 for key replacement and $300 for tire replacement if your tires are determined to need replacement during the lease turn-in pre-inspection. (NOTE: Offer subject to program rules and customer eligibility requirements. Ask your Subaru retailer for Lease Loyalty Program details.)
The other major incentive to Subaru ownership is the Subaru Guaranteed Trade-In Program. It's only available for Subaru owners, and the program guarantees the amount you'll receive for your qualified Subaru vehicle when you purchase a new Subaru vehicle. For more information on the program, visit the landing page at Subaru.com.
Be sure to check for special financing and other incentives on various eligible models.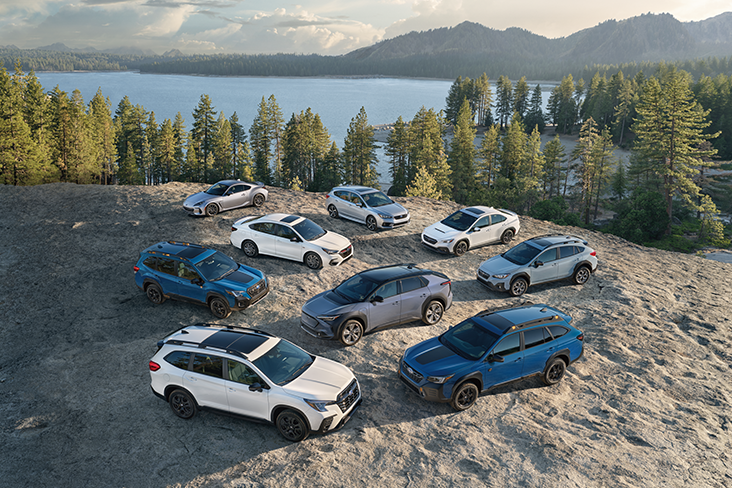 *The tradename Subaru Motors Finance (SMF) and the Subaru logo are owned by Subaru of America, Inc. (Subaru) or its affiliates and are licensed to JPMorgan Chase Bank, N.A. (Chase). Subaru is solely responsible for its products and services and for promotional statements about them, and is not affiliated with Chase or its affiliates. Auto finance accounts are owned by Chase and are subject to credit approval, terms and conditions.
1 Offer is valid for all current Subaru Motors Finance (SMF) lessees who: (a) Return the leased vehicle no earlier than 180 days prior to the originally contracted maturity date and no later than the originally contracted maturity date, or if extended, no later than the extended maturity date, and (b) Within 180 days of vehicle return, finance or lease a new Subaru vehicle through SMF. Verification of current SMF lease may be required. This is an ongoing offer, but the program may be discontinued by SMF at any time without notice. Disposition fees are not charged on leases originated in Wisconsin. By contacting your Subaru retailer about this offer, they will know that you are a valued Chase customer. Please contact your financial advisor for tax implications. New leases and financing through SMF are subject to credit approval. Additional terms and conditions apply.