The isolated desert valley landscape is pierced by the angry buzz of engines. Billowing roostertails of dust rise into the dawn air, chasing two fast-moving objects along a parched riverbed – a pair of Baja race buggies. Were it not for the eye-catching race livery on the scarred body panels, they could be military-spec Fast Attack Vehicles. These Subaru-powered rigs attack the mountains and desert expanses of Baja California, Mexico, all year long.
This action movie scene is Wide Open Baja's stock in trade. The company runs adventure tours with a fleet of these race buggies, designed to survive the rigors of racing up and down the Baja peninsula. At times, the adventure tour includes the legendary Baja 1000, one of the most grueling endurance races in the world.
Guide and instructor Darrin Graham picks me up from San Diego International Airport and shuttles me to Wide Open Baja's home base in Ensenada. Graham is an energetic free spirit with a surfer vibe, exactly the kind of character you'd expect to be careening through the desert at full throttle. Graham probably knows more about the trails, rigs, racers and people that make up the Baja 1000 than anyone I've ever met (or may meet, for that matter).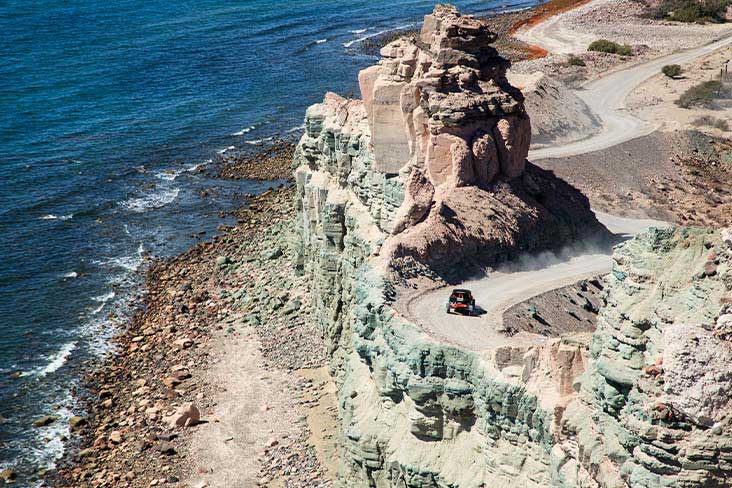 In the afternoon, Graham drives us to Horsepower Ranch, located in the hills on the highway to San Felipe. That's where we meet our off-road rigs, a network of day-glo orange tube-frame chassis, wrapped in a plastic body that's set up to be easily tossed aside in the event of damage. The nose narrows, providing plenty of suspension travel for chunky off-road tires.
The first driving experience comes that night, after dinner. Graham hops into the driver's seat, and I sit shotgun as we work through the five-point harnesses and two-way radios, including learning comms protocols. Out on the trail, drivers need to signal one another when they've reached waypoints and must keep each other abreast of any potential hazards on the trail ahead. (I'd later find this could include anything from cattle to members of the Mexican National Guard.)
After a few laps around Horsepower Ranch, we switch seats. I'm in another country about to operate this off-road racing machine for the first time. It's dark, the shifter fights me and the on/off feel of the throttle seems foreign.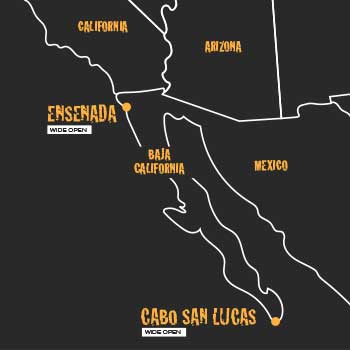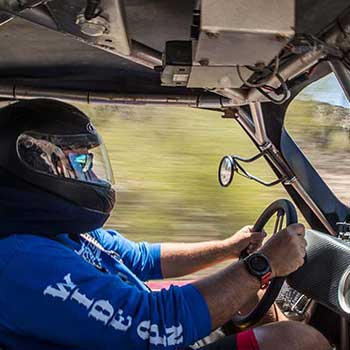 Photo: Andrew Grimshaw
In the light of a new morning, though, I quickly grow accustomed to the feel of the gated shifter, and I figure out how to select gears in a transmission that absolutely demands rev matching. The sound of the "in-out" throttle – which was so intimidating the night before – becomes my new favorite song.
The SUBARU BOXER® engine is a perfect match for these buggies because they're so ridiculously light. Essentially unmodified from a stock Impreza, the Boxer 4 provides enough torque to snake the buggy through a set of turns without multiple shifts.
2003 – The Subaru Baja
Sold from 2003 to 2006, the Baja was the funky 4-door truck/utility, inspired by Baja 1000 race trucks. It featured a pass-through hatch to extend the bed and was even powered by a variant of the EJ25 engine. It's no wonder the Baja has a cult following.
Our first daylong trek leads us out to Mike's Sky Ranch, a remote haven for riders accessible only by trail. It's steeped in history; the windows of each room are plastered with decades of race team stickers, to the point where light barely shines through. Landmarks such as these and the trails around them are important not just to those who come from the world over to race, but also to the people who live here. In the rest of Mexico, soccer is the national sport. Here, it's desert racing.
Lyn Woodward, an accomplished automotive journalist, experienced Wide Open for herself in 2017 during the Baja 1000. "The prestige about this event for [the Mexican people] is very real," explains Woodward. "You realize this is a reverential and very respectful thing."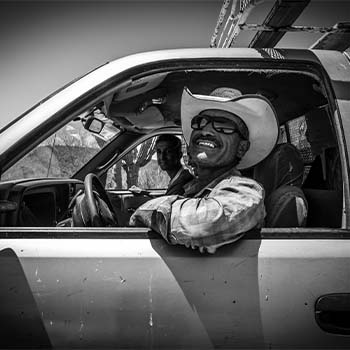 Photos: Andrew Grimshaw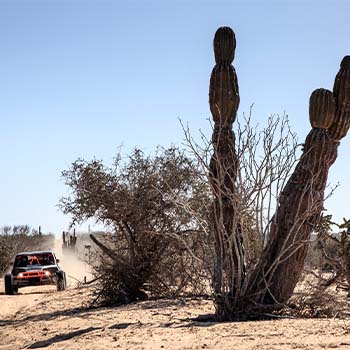 Wide Open does a lot of community outreach as well. On Christmas, they take one of the rigs, with the driver dressed as Santa Claus, to local orphanages to hand out gifts. In the past, they have worked with a local orphanage for older kids to build a trade school, refurbishing the workshop and bringing in new equipment. It's all part of a relationship between the race and the local people that spans generations. "You have kids whose parents and grandparents on both sides were pro drivers," says Graham. "Imagine what they can do in a truck or bike." Some of the best racing drivers in the world – including names from Indy, NASCAR®1 and Formula One – have come out to Baja and struggled. "Formula One drivers aspire to race the Baja 1000," says Graham.
Woodward sees the Baja in a similar vein. "You start looking at the rigors of the 500 and 1000," she says, "and … those guys and girls are truly made of armor." Still, there's more to the race than the grit of its drivers; it has a vibe like no other. "You can feel the history out here. The race. The drivers. It's palpable."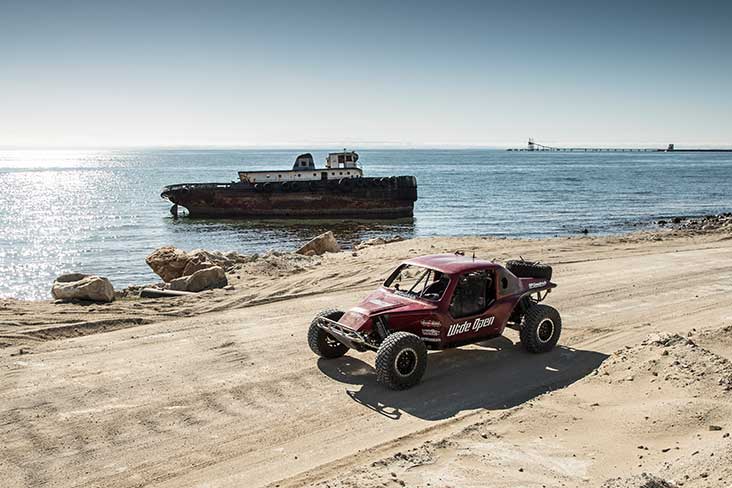 But when you're rocketing along a desiccated riverbed at 60 mph, barely making out cattle and slower ATV drivers in the clouds of dust, you don't have time to think about the history. Hours in, though, you put on more miles, your white-knuckle grip on the wheel begins to ease, you start to develop confidence, and your speed starts to climb.
"All this equipment can make you super bold," says Woodward. "There's no being contemplative. Just go over it [you're thinking]. But those trails are not groomed. No guardrails. If you screw up, you're on your own." She summarizes her experience this way: "It was the closest to how it was like to be a cowboy. But a cowboy in a crazy vehicle."
By the final afternoon, I've mastered the clutch, brakes and gated shifter, but coming out of the corners still feels like a dark art. At one point, Graham likens the steering to rally driving, and it all clicks. I reduce the number of steering inputs and point the vehicle where I want to go. It feels right.
2019 – Crosstrek Desert Racer
In June 2019, the Subaru of America-sponsored Crosstrek Desert Racer – piloted by father/son team of Neal and Dusty Grabowski – was the only vehicle in its class to finish the grueling Baja 500, winning Class 5 in a time just over 16 hours.
At another point, Graham says calmly, "This next part you're going to be airborne for a sec. Just make sure to let off the throttle when you get that air."
I've done plenty of off-roading, driven plenty of sports cars and even raced open-wheel formula cars, but here in long stretches across the desert floor, where I can see for a mile ahead and there is no danger in keeping the throttle pinned, I find my automotive nirvana.
1 NASCAR® and its marks are trademarks of the National Association for Stock Car Auto Racing, Inc.