Subaru unleashes the ultra-responsive 2018 WRX STI.
Setting a record lap on Germany's Nürburgring racetrack has become the ultimate bragging point for premium sports cars. Impressive as those feats of speed may be, however, they are test laps, with a professionally driven car racing only against the clock, not other cars, for perhaps seven to eight minutes.
Think about the performance, durability and quality required to push the car when racing flat out against 200 or so cars for 24 hours on a 14-mile, 73-turn track. And then think about what it takes to win a 24-hour race at Nürburgring. The Subaru WRX STI, entered by the company's own Subaru Tecnica International (STI) team, has won its class (SP3T) four times: 2011, 2012, 2015 and 2016. Combine those road racing victories with the rally trophies the WRX STI continues to rack up, and you have a racing pedigree that puts this iconic Subaru model in a league of its own.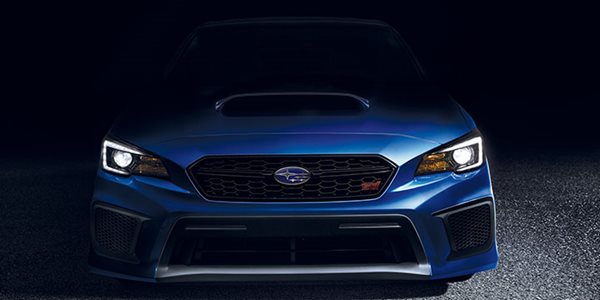 New for 2018
That winning soul shines through in the 2018 WRX STI, a race-proven car that's just as perfect as a daily driver or back roads thrill-seeker.
You know Subaru did something special the moment you see the redesigned, more aggressive-looking front end with standard LED Steering Responsive Headlights, which aim into the curves as you steer. But that's just the beginning: Subaru engineers went through the WRX STI, from bumper to bumper and tires to roof, to make the 2018 model the best-performing version ever. Upgraded technology, comfort and versatility complete the package. "A lot of what we did to the 2018 WRX STI was inspired by customer feedback," says Todd Hill, car line planning manager at Subaru of America.
"STI owners are a passionate group with very high expectations. They're going to like the upgrades on the 2018 model."
— Todd Hill, car line planning manager at Subaru of America
Hotter Handler, Cooler Brakes
When the current generation STI debuted in 2015, it took top honors over two more expensive European performance cars in a Motor Trend magazine comparison test. But that didn't stop Subaru from turning up the heat in the 2018 model.
Two key chassis changes are immediately visible: the first-ever 19-inch alloy wheels, wrapped in lower-profile and stickier-compound 245/35R19 tires. The sparks of yellow behind the exclusive spokes are the new Brembo® brake calipers, but this is no mere color change. What you're seeing are new lighter, stronger monoblock 6-piston calipers in front and monoblock 2-piston calipers in the rear, gripping drilled rotors that are larger. The brakes bite harder and run cooler, with pads that provide greater surface area for improved braking feel and fade resistance. "This is a significant brake upgrade," says Hill.
To take full advantage of the new 19-inch wheels, Subaru retuned the suspension in the 2018 WRX STI for superior cornering grip and greater steering precision while preserving ride comfort. Specifically, engineers altered spring and damper rates and swapped out the 20mm rear stabilizer bar for a 19mm bar.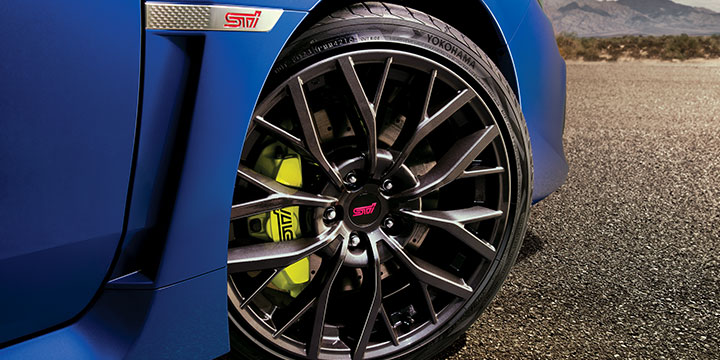 Center (Differential) of Attention
The 2.5-liter turbocharged and intercooled 4-cylinder SUBARU BOXER engine, exclusive to the WRX STI, returns with its rousing 305 horsepower at 6,000 rpm and 290 lb-ft of peak torque at 4,000 rpm.
The centerpiece of the handling prowess, the Driver Controlled Center Differential (DCCD) Symmetrical All-Wheel Drive (AWD), gets an engineering transformation for the 2018 WRX STI. The new version uses electronic center limited-slip differential control, replacing the previous combination of mechanical and electronic control. The result is even quicker and smoother torque distribution response, which means better cornering and sharper turn-in.
Remaining on the WRX STI all-star performance roster for 2018 are the Subaru Intelligent Drive (SI-DRIVE) powertrain management system, Active Torque Vectoring, TORSEN®1 torque-sensing limited-slip rear differential and Multi-Mode Vehicle Dynamics Control. "When you add up the 19-inch wheels and tires, suspension enhancements and new DCCD, it's a combination for better track performance and lower lap times," says Hill.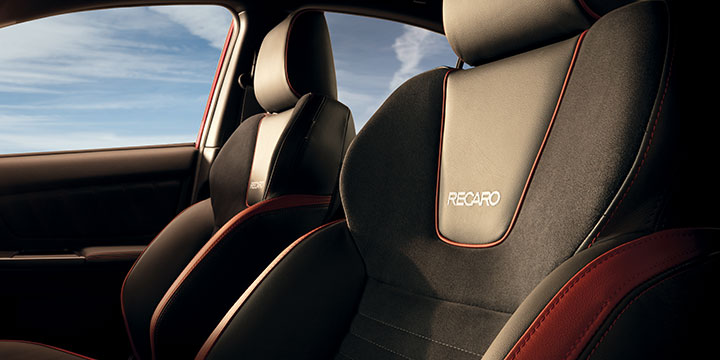 Everyday Thrills
You're not always on a track, though, which is why Subaru also gave the WRX STI cabin a comfort and tech makeover. The first thing you'll notice is a biggie: less outside noise coming in, thanks to thicker door glass, new door seals and other measures. The sleek interior serves up gloss-black trim, a new gauge cluster design, a larger high-definition multi-function display and redesigned interior door grips. And, up top on the roof, brackets have been added for cargo-carrying versatility.
Hill says that owners asked for Recaro seats. The Limited model features them as standard equipment, and they are guaranteed to hold you and your front passenger snugly through the curves. And the red seat belts have a very important function: looking sporty. In the case of the 2018 WRX STI, looks definitely aren't deceiving.
1 Torsen is a registered trademark of JTEKT TORSEN North America, Inc.