Everyone remembers the moment they first saw the car of their dreams. For Jamie Salley of Lubbock, Texas, that moment happened at work. "I started working at a Subaru retailer when I went to college," she recalls. "There was a Series.HyperBlue STI sitting in front of me every day." Keep in mind that only 700 of the 2016 WRX STI Series.HyperBlue models were available in the United States.
On top of the unique color, this special WRX STI came with Alcantara®1 seats, blue interior stitching accents and black 18-inch BBS®2 wheels. All 2016 WRX STI models came with a nine-speaker Harman Kardon®3 audio system, but the Series.HyperBlue also included the blind-spot warning system and backup camera normally restricted to the WRX STI Limited trim level.
One day, Salley arrived at work and the blue WRX STI had been sold. At that moment, she knew she had to have one of her own. She ran a nationwide search and learned there were only 12 left unsold, with the closest 530 miles away in Corpus Christi. She immediately left to buy it and was happy to have the beauty in her driveway not long after.
For a few days, anyway. "I planned on keeping it stock, and that lasted maybe a week," she says.
As a college student working part time, Salley doesn't have a lot of money to spend, so her mods4 have been carefully selected for value. A set of Varrstoen ES2 wheels came first. "I liked them because they weren't crazy expensive, but they looked really nice," she says. "They were dark silver, but from the beginning I knew I wanted a fun color that goes with my car."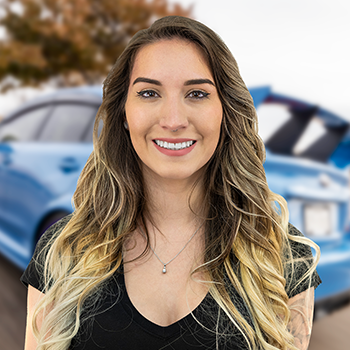 Photos: Tony Maples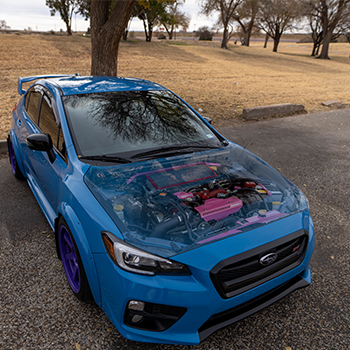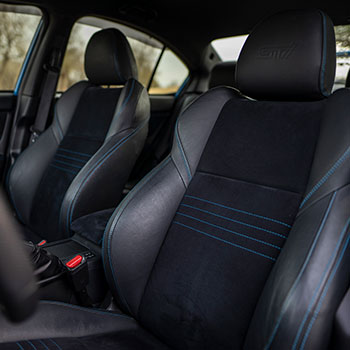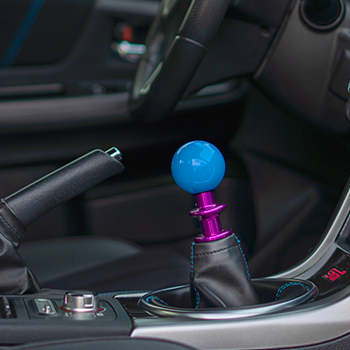 Salley loves Disney, so she picked a shade to remind her of a favorite animated character. "It's the Stitch from Lilo & Stitch!" she says. "Stitch has purple ears, so my wheels had to be purple. It took me forever to figure out the correct shade."
"I got the Rally Armor® mud flaps next," she says. "After that, I wanted fender flares. Honestly, I wanted a wide body kit, but I can't afford that. I have a friend who works in a body shop, so I had him paint match the flares and help me put them on."
Visual cues quickly gave way to performance mods. "If you can't hear me from two blocks away, it's not loud enough," Salley says. "So I found a local shop to make me a straight pipe. I bought TEIN® coilovers because I had heard good things about them, and they're cheaper. I'm cool with that."
Salley has challenged herself to learn as much as she can about working on her vehicle. She says she was new to cars and how they work when she owned her first car, but she wanted to install a set of coilovers.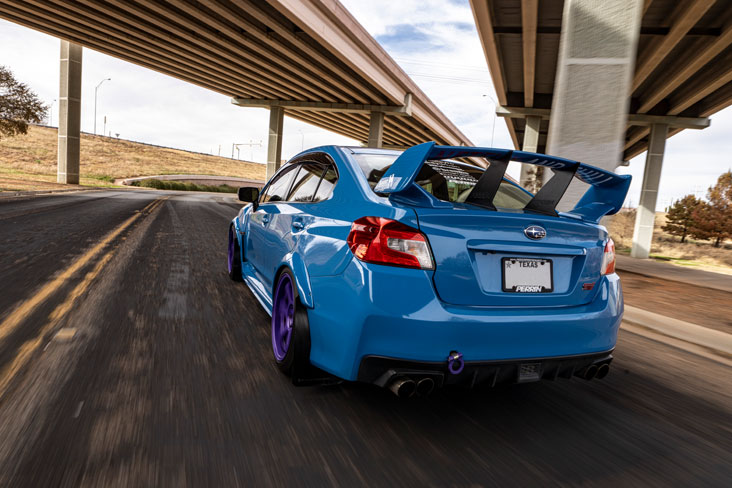 "It was such a great feeling to be able to say, 'Yes, I did that myself,'" she says. "Anytime I got a new [component], I wanted to know everything about that part and I wanted to be the one to put it on."
She says she's a hands-on, visual learner. "When I'm doing something new that I haven't [watched] someone else do, I feel a little lost and worry I'm doing it wrong," she says. "After I've installed something once, I'm more than confident to do it again."
When it came to power upgrades, Salley has been precise with her beloved Stitch. "I like to do some research before throwing things on the car," she says. "I finally pulled the trigger on a PERRIN intake and a COBB Accessport with the MAPerformance Stage 1 tune. I also got a GFB blow-off valve and trumpet. This is all just a couple weeks ago."
Driving Stitch has turned Salley into a celebrity in Lubbock. "People say, 'Hey, I don't know you, but I've seen your car all over town,'" she says. "They always know it's me because the car is so outrageous. I really enjoy it. I'm glad my car stands out."
2016 Subaru WRX STI Series.HyperBlue Mods
PERRIN Upper Radiator Bracket
Ikon Motorsports Front Bumper Lip Spoiler
Custom Wrap Hood Scoop, Front Grille, Lip on Bumper
Varrstoen ES2 18-x-9-Inch Wheels
InterTek Top Mount Intercooler Grille
Rally Armor XL Mud Flaps
Custom Headlight and Taillight Tint
PRO Design Side Window Visors
HELLA Horns
HT Autos Fender Flares
PERRIN Wing Stabilizers
TEIN Coilovers
PERRIN Intake
GFB Blow-Off Valve and Trumpet
COBB Accessport
MAPerformance Stage 1 Tune for 93 Octane Fuel
PERRIN Limited-Edition Breast Cancer Strut Tower Brace, Radiator Shroud, Pulley Cover, Boost Solenoid Cover, Battery Tie Down and Oil Fill Cap
1 Alcantara® is a registered trademark of Alcantara S.p.A., and Alcantara® is produced by the Toray Group. 2 BBS® is a registered trademark of BBS Kraftfahrzeugtechnik, AG. 3 Harman Kardon® is a registered trademark of Harman International Industries, Incorporated. 4 All Subaru vehicles sold by Subaru of America are designed and built for normal driving conditions. The Subaru Limited Warranty, as well as the Subaru Added Security® program, may exclude damage or failure resulting from modifications or participation in competition or racing events. See the Subaru Warranty and Maintenance booklet for further details.