The first thing I must confess is that when we planned our Route 66 road trip, it was while also planning an interstate move from Illinois to California, so I didn't give it a lot of thought. I had read The Grapes of Wrath in high school, but my immediate association with the Mother Road moniker was to plan stops to breastfeed my 6-month-old son, Kirby, along the way.
The second thing I'll confess is that thanks to a previous broken leg, pregnancy, recovery and a second surgery on the same leg, I couldn't renew my expired driver's license, and my husband, Tim, was behind the wheel for every one of the 2,141 miles from Chicago to Los Angeles. I was in charge of wrangling our pooch, Arthur, a 13-pound Chihuahua-Maltese mix with separation anxiety, as well as the baby, the snacks, the hotel bookings and the navigation.
This was not just a road trip for us; it was a one-way ticket West. After seven years in Chicago, we were moving to LA for my husband's new job, and I had never even been there before.
We talked about flying out – which would have been much faster – but ultimately chose to drive for practical reasons. It turned out to be a necessary buffer, though, between the place we were leaving and our new home, allowing us to adjust to the time differences, the distance, the landscape changes.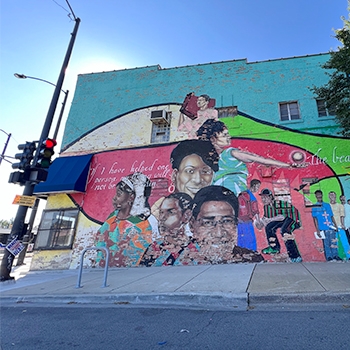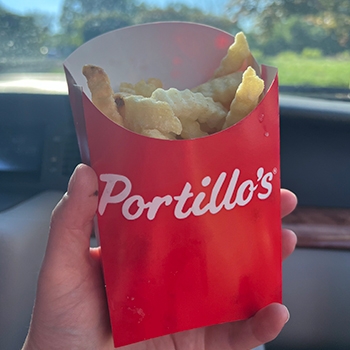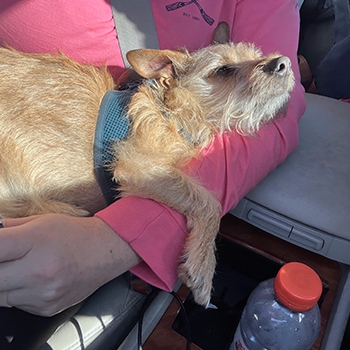 A Tearful Goodbye
On a sunny day at the end of September 2022, we leave from our vacated apartment on the North Side of Chicago, tearfully waving goodbye to our elm-tree-lined street, our favorite sourdough bagel shop and the first neighborhood our son called home.
Driving south through the heart of the city, we zip down Lake Shore Drive with its skyline view ahead and Lake Michigan on the left, passing the big landmarks like the Art Institute of Chicago, Grant Park, Soldier Field where the Bears play.
We also get a tour of the everyday landmarks of Chicago – weathered signs for Italian beef shops, vibrant murals covering old brick walls on the South Side, blocks lined with classic bungalows. We make our first stop of the trip in the southwest suburbs – Portillo's®, the classic Windy City hot dog chain.
We munch on sandwiches and fries in the parking lot while we review our upcoming itinerary. That night we have a hotel reservation in St. Louis. But for the rest of the trip, we'll go as far as we can each day and find a decent place to stop with help from the BringFido app to flag pup-friendly establishments.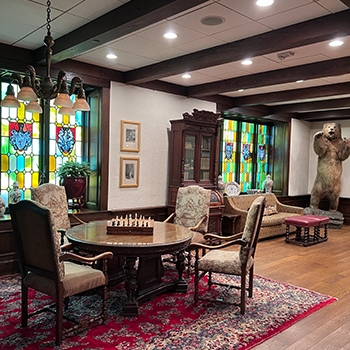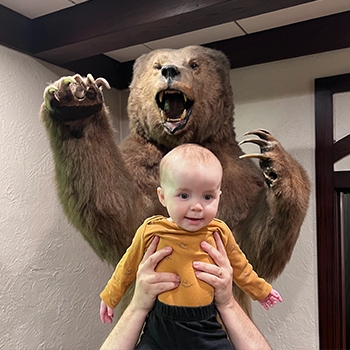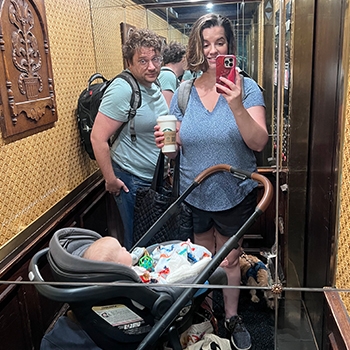 Missouri or Bust
After a few hours of driving, we pull into The Cheshire hotel on the outskirts of St. Louis, apropos for the cozy English-inspired interior and every detail of the Tudor-style lodgings. We arrive too late to dip into the Fox & Hounds Restaurant & Tavern, but it would be a perfect spot for a bite of British comfort food (shepherd's pie, bangers and mashed potatoes, and fish and chips are all on the menu) and a themed cocktail with names like The Clash and Minus the Crumpets.
Each hotel room at The Cheshire is named for a British writer, with novelty suites dedicated to the likes of Ian Fleming's James Bond or Agatha Christie's Death on the Nile. We sleep in the John Bunyan room, a copy of The Pilgrim's Progress laid out on a side table. 
We wake up early (no other option when you're sharing a room with an infant) for our first full day on the road. After taking a few photos of Kirby with the giant taxidermied bear in the lobby, we grab coffees and set out on Interstate 44, which crisscrosses with the old Route 66.
If you want to stay on the original route as much as possible, you have to pay close attention to the navigation. Some sections of the historic road run parallel to the highway; some veer off quite a bit; and some are simply replaced by the current highway. We decide to take the longer route to Tulsa, Oklahoma, so we can stay on the old Route 66.
After a few hours of driving through the fields and woods of Missouri countryside, we're ready for a lunch break. I Google "lunch restaurants near me" and find the downtown area of Bourbon, population 1,524, a few miles ahead of us. My highest hope is for a passable burger and a cold Diet Coke®.
We park in front of a florist and peer into the windows of Bourbon Bread and Coffee Saloon, now called the Bourbon Café and Coffee Saloon. I venture inside and am greeted by a friendly dog, my first pleasant surprise. The woman behind the counter quickly realizes we have a dog of our own waiting outside and assures us that he is allowed inside.
While we consider the menu of freshly prepared salads, soups and baked goods, the owner, Michelle Reynolds Gray, offers to hold Kirby, and he spends half the time there happily being passed around between staff members.
A woman playing guitar on a small stage cajoles me into singing "Landslide" for the smattering of afternoon guests – they regularly host local musicians and open mic nights, Gray tells me. I order a pasta salad and their specialty drink, a latte made with a bourbon syrup from a local distillery that's topped with fresh whipped cream and a crumbled bourbon walnut cookie – one of the best coffee drinks I've ever had.
We reluctantly leave to continue our journey and hit up some of the kitschiest roadside attractions of Route 66, including the Fanning 66 Outpost, featuring dozens of different types of bottled sodas and the former World's Largest Rocking Chair, and the unfortunately named Uranus Fudge Factory and surrounding attractions and playground. Finally, we cruise into Springfield, exhausted and impressed with what we've found in Missouri by taking the slow route.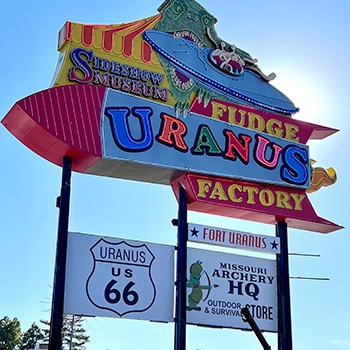 Next Stop, Oklahoma
The next morning, we're ready to put some miles on the odometer. Tim and I pass the time playing our version of 20 Questions (we don't count questions and the answer is always something weird that we've witnessed together), looking up vintage furniture stores in LA to furnish our new apartment, and gaping at the wide-open landscapes we're zooming past.
Road trips with a dog and infant mean we sometimes have to stop unexpectedly, and one of those times comes when Kirby won't stop screaming no matter how many toys I dangle in front of him or made-up songs I sing.
Tim pulls off the highway in the middle of Oklahoma, nowhere close to anywhere, and parks at the end of a long driveway so I can hoist Kirby out of the car seat to feed him. I look down at my squawking son and then up through the windshield at the giant cinnamon-roll-shaped bales of hay across the road underneath the bright-blue Midwest sky, and I marvel at where I am – not just in the middle of the country but the middle of such a big life change.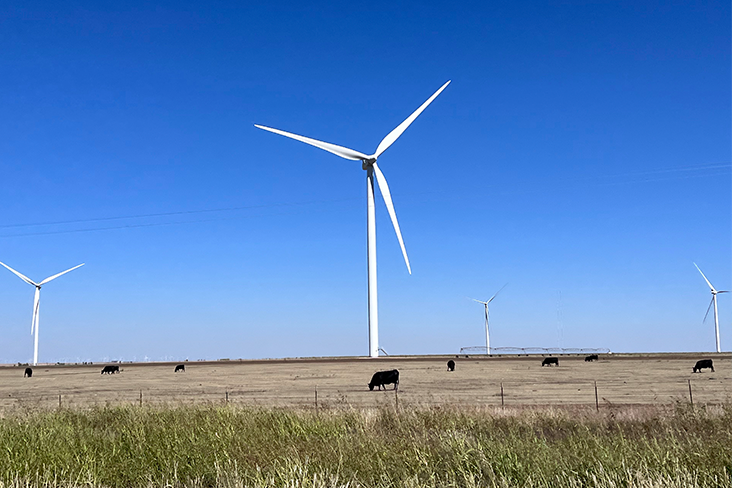 I'm an East Coast girl who had grown to love Chicago, but I never saw myself moving to Southern California. And suddenly I get the point of the nostalgia for this route: It's not about the neon signs or the old, abandoned roadside motels – it's about the people who have come before us on this same journey. I am not the first person to wonder about my life's direction in the middle of Oklahoma and will not be the last.
After Kirby calms down and Arthur gets to frolic on the side of the road, we hop back in the car and drive until we reach Lucille's Roadhouse in Weatherford, Oklahoma, another Route 66 landmark. The original diner and filling station was built in 1927 and still stands, but the Lucille's you eat at today is closer to an Applebee's® with Route 66 memorabilia than an authentic diner. There's a plaque honoring the late Lucille and explaining the history of the spot, though it feels disconnected to the massive restaurant that serves fried sushi and something called a "Phillydilla" (cheesesteak meat in a quesadilla, of course).
With a long wait time ahead, we get our dinner to go and check into a hotel across the highway just in time to watch the sun set, windmills and oil rigs dotting the expansive horizon.
Texas Hospitality
The next day, we cross into the top hat of Texas and head to Amarillo, which doesn't disappoint. The downtown is studded with art deco-style buildings, retro light-up signs and colorful modern murals. We get an outdoor table at Six Car Pub & Brewery and enjoy the gorgeous sunny weather among other families with kids and dogs.
The short rib grilled cheese is way too good and makes me wish we had time to stay in Texas for a proper barbecue dinner. We toast with nonalcoholic beers (a much-appreciated option for those of us breastfeeding or driving) but the on-tap selection looks fun and delicious.
After a spin around downtown to check out the architecture, we stop at Palace Coffee Company, where the barista cheerfully accommodates my half-caf, half-sweet, iced oat-milk specialty latte order. Palace supports local nonprofits by donating $1 from each drink on their specialty menu, and the coffee is out-of-this-world good.
Right outside Amarillo, we stop at the iconic Cadillac Ranch, the art installation created in the 1970s by burying 10 cars in the middle of the desert, which has morphed over the decades into a graffiti attraction. The cars are crusted in hundreds of layers of old spray paint, and it strikes me as the most American thing I've seen so far on this trip – people of all ages admiring something and then grabbing a can of paint to make their mark on it.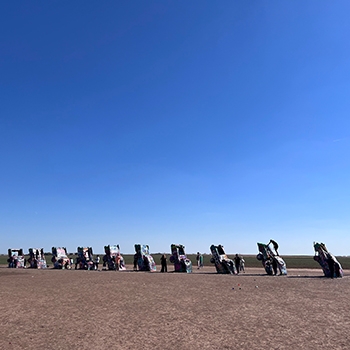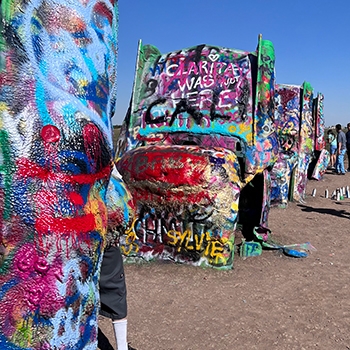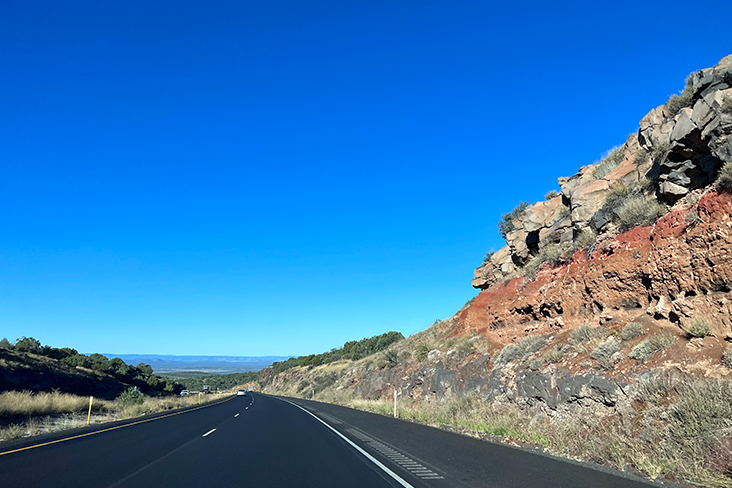 Welcome to the West
The landscape starts to shift when we cross into New Mexico, fields giving way to desert mesas and mountains in the distance, reminding us that we're truly heading to a whole different part of the country from our flatland origins.
We stop to marvel at a visitor center on the border, a giant American flag flapping against the bright sky, and spend the night at an Albuquerque motel. The next day we drive with purpose, stopping only for a visit to the Teepee Trading Post in Lupton, Arizona, set into the red-rocked mountain and selling Native American tchotchkes, Navajo jewelry and buffalo elk-jerky.
That night, we get to Flagstaff where we've booked a Courtyard® by Marriott hotel to make up for the prior night's tiny room with the cockroach in the bed. Kirby and I splash around in the indoor pool, and we order enchiladas from Agave Mexican Restaurant before crashing in the extremely comfortable (and bug-free) bed.
California Bound
A more ambitious and less tired version of ourselves had planned to spend the next day at the Grand Canyon, just 90 minutes north of Flagstaff. And for those travelers without a baby and a dog and cross-country move logistics weighing on your mind, that detour is highly recommended. But we are finally a day away from our new home, and we decide to push through. We dress Kirby in his Led Zeppelin PJs and take off for California.
Right at the border is a restaurant called Topock 66, which boasts beautiful views of the Colorado River and bar stools shaped like butts. The well-stocked bar, pool area and soundstage foretell a rowdier weekend scene, but they also have highchairs and macaroni and cheese, and our lovely waitress is happy to take a family photo of us against the picturesque backdrop.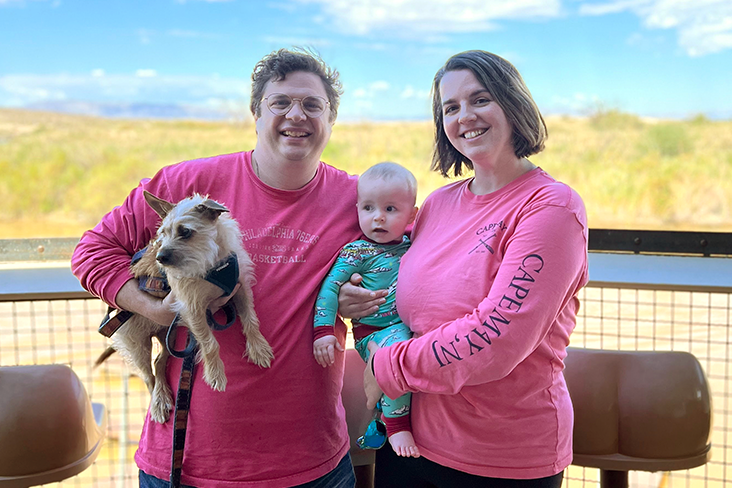 We're an hour outside our new home when we catch our first glimpse of the ocean, past the downtown LA skyline. When we get to our street, I can't believe that it's lined with palm trees. After collecting our keys, we put Kirby in the stroller and Arthur on the leash and walk a few blocks, and soon we're eating fancy tacos amid tables full of beautiful people, the most LA thing we can imagine.
A few weeks later, we visit the actual end of Route 66 in Santa Monica. You can stand at the marker and see the fabulous restaurants and hotels, the manicured parks, the famous pier, the waves crashing onto rocks and the wide beach full of sunbathers and surfers, and the Santa Monica Mountains, all from one spot.
Everything about where we live now is different from where we've been, I think, looking over the landscape. It's a little scary, until I remember that this must have been what everyone else who's taken the same route must have thought, staring at the Pacific Ocean after a long journey and realizing you can't go any farther so you might as well be home.