"Remember when we were in Utah and we …" is the start of magical reminiscing around my house. Our family road trip through Utah's gorgeous red rock landscape was truly epic. We had all kinds of adventures — off-roading, sand sledding, hiking through slot canyons, and shimmying down lava tubes. But the most surprising? The time we spent volunteering at an animal sanctuary.
My family loves animals, and as someone who plans vacations for other people, I'm always on the hunt for quirky, one-of-a-kind experiences. What could be more unusual than putting a cat or bunny in a stroller and taking it for a walk in the middle of the desert? Which is exactly what we did for one afternoon at Best Friends® Animal Sanctuary.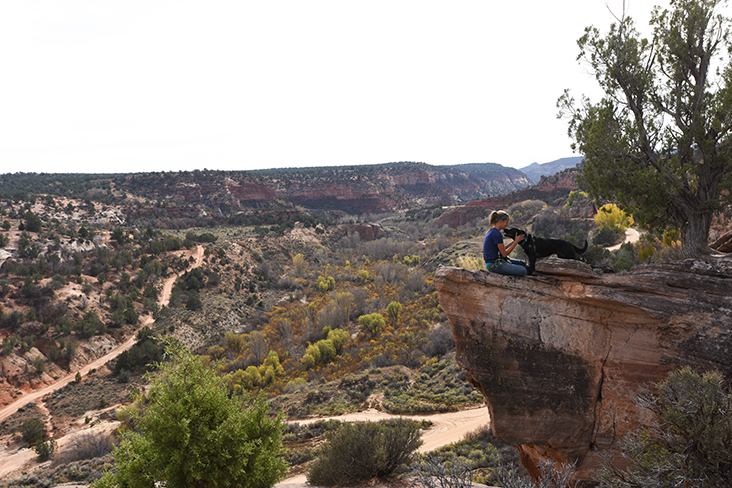 The massive shelter in small-town Kanab, Utah, is home to about 1,600 critters — from dogs and cats to birds, pigs, horses, and bunnies. The animals are spread out over 6,000 owned acres plus another 30,000 leased from the Bureau of Land Management, making Best Friends the largest sanctuary of its kind.
It's so big that they offer free 90-minute tours in a passenger van for visitors who want to see the grounds. It also has its own vegan café overlooking a canyon and trails you can hike with a shelter dog by your side.
A Purr-fect Afternoon
The Sanctuary is in a gorgeous, albeit remote, location. But what really draws the 5,000-plus volunteers they get each year are the animals. My kids and I volunteered in Cat World, a complex of 11 buildings with more than 600 rescued cats.  
We sat on catios (enclosed patios for cats) and stroked the kitties that came sauntering up to us, rubbing up against our backs. Since my husband is allergic to cats, our kids hadn't really interacted with them before. So it was a treat for my daughters, then 8 and 9, to make friends with felines that day.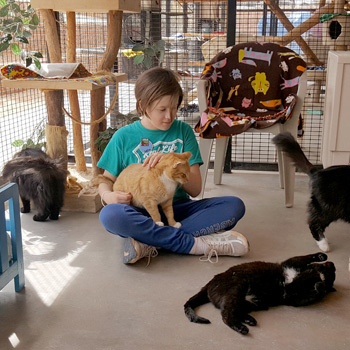 Sophia Valentini, age 10, socializing cats.
Photos: Kristi Valentini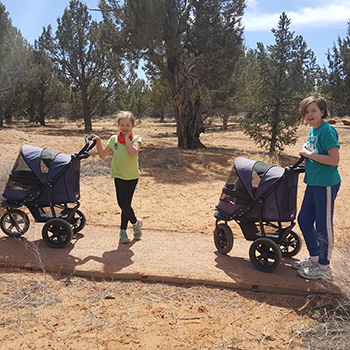 Sophia Valentini and Marissa Valentini, age 8, walking cats in strollers.
A Rewarding Vacation
Our three-hour shift hanging out with kitties and walking a few in strollers went by fast, which is probably the reason that many people choose to make volunteering at the Sanctuary their entire vacation.
Guests who want to spend more time helping out can overnight at on-site cabins and cottages or book a room at the nonprofit's hotel in town, the Best Friends Roadhouse and Mercantile. That's what Susan Damos from San Antonio does four times a year. Half the time she volunteers with her best friend and the other times she goes with her husband.
"Being at the Sanctuary is just so calming," Damos says. "I can disconnect from everything — heavy traffic, family obligations, the stuff we have to deal with at home. I do a lot of walking and hiking and also cleaning and sanitizing," she says. "Working with the dogs can be hard work, but it's very rewarding."
That's a sentiment that David Glazer, a volunteer from Los Angeles, seconds. His wife started volunteering at Best Friends' lifesaving center in LA (a no-kill shelter), and they took their first trip to the Sanctuary in 2018. "We stayed in one of the cabins, cleaned kennels and visited with some of the dogs. It ended up being a lot of fun," he says.
But it wasn't until a couple years later that he realized the impact he was having on the animals he cared for. "While volunteering at the Los Angeles center, I bonded with Ricky. He's a dog that's very selective in who he lets handle him. Best Friends was relocating him to the Sanctuary, and they asked me to go because of my connection with Ricky."
Fast forward two years later, and Glazer got to check in with Ricky again on a visit to the Sanctuary. "He remembered me, and it seemed like the other dogs from LA did too," says Glazer. "Every dog is an individual. And it's so fulfilling to know that if you take time to get to know them, you'll make a connection that could last forever."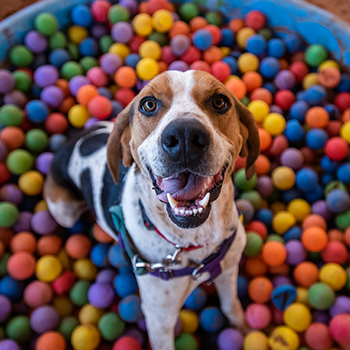 Photos: Best Friends Animal Sanctuary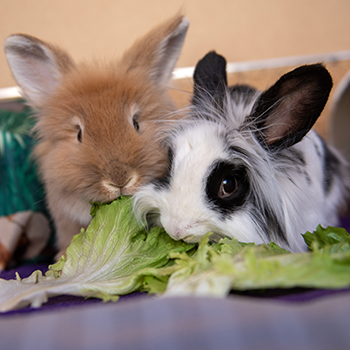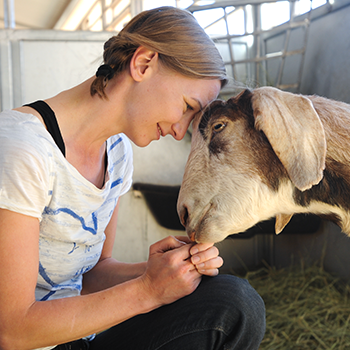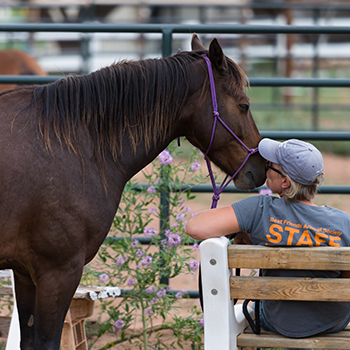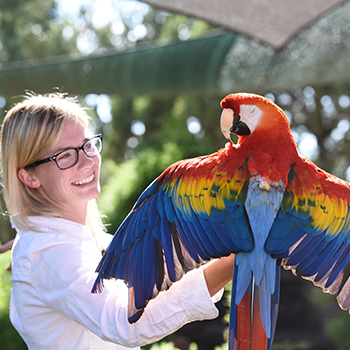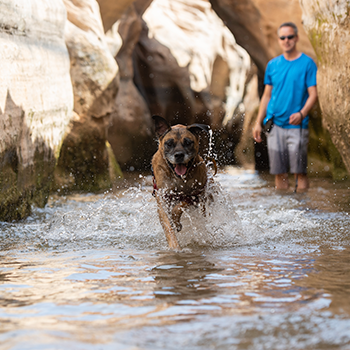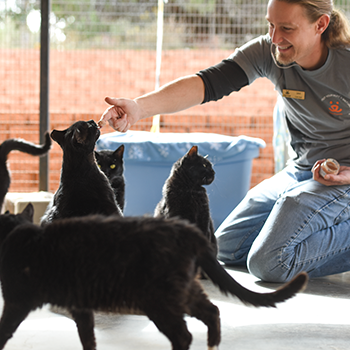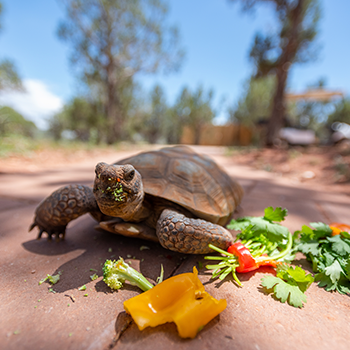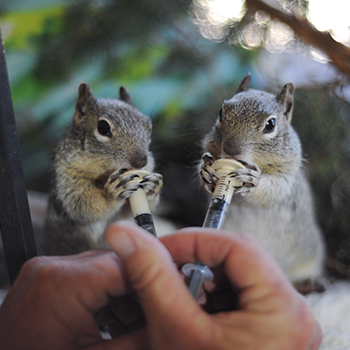 Being Part of a Community
Volunteers don't just make feathered and furry friends at the Sanctuary. "It's cool to interact with all these different kinds of animals, especially ones you don't get to at home. But it's also great to meet a lot of like-minded people," says Kira Ikeda, once a volunteer who visited from San Jose, California, and now the Sanctuary's volunteer engagement manager. When she decided to take the job and move to the Utah desert, her friends and family thought she was crazy. But Ikeda found her sense of place among a community of equally passionate animal lovers.
Damos agrees that there's something special about the people at the Sanctuary. She's gotten to know other volunteers who return the same time each year as she does. They keep in touch afterward by swapping stories and photos on social media. And she's become such good friends with a Sanctuary staff member that they go on horse-riding trips together.
How To Be a Voluntourist
It's easy to register online for an afternoon, day or week of volunteering at the Sanctuary. But booking ahead is key, says Ikeda. Out of the seven different animal care areas, the ones that fill the fastest are Piggy Paradise, Horse Haven and Dogtown.
"People love taking the pigs for walks. You don't need a leash or harness," Ikeda says. "They just follow you as long as you drop an almond on the ground every now and then." Volunteers also get to feed them lettuce, give them belly rubs and fill their mud baths.
Dogs, cats and bunnies can go for walks, too, and even have sleepovers at pet-friendly accommodations. Love birds? Give a cockatoo a shower with a spritz from a spray bottle or chat up the parrots. There's no end to things you can do to make life better for the animals there.
Indeed, volunteers and staff are essential for turning the Sanctuary into a Shangri-La for thousands of outcast animals. But it's an amazing place for people as well, says Glazer: "Volunteering at the Sanctuary is a privilege. You're giving back, but you're getting a lot in return. It's the best thing for your soul."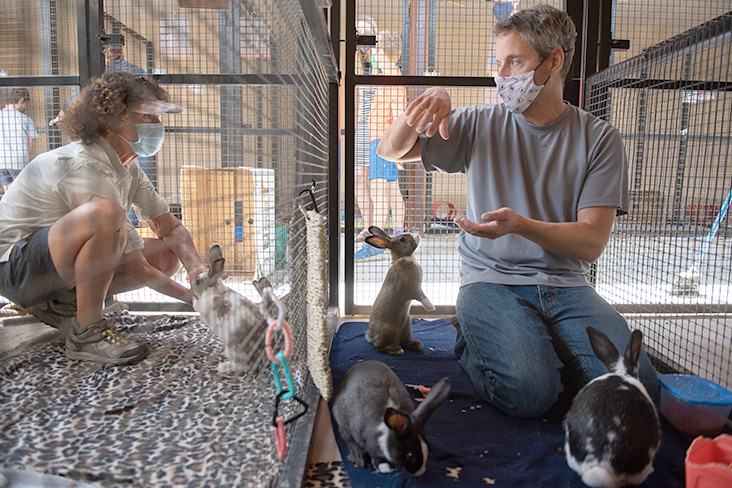 Trip-Worthy Sanctuaries
Want to volunteer on your next vacation? Check out these incredible animal sanctuaries that welcome volunteers, many with on-site accommodations. Just be sure to check the age requirements if you're traveling with kids.  
Ironwood Pig Sanctuary, Marana, Arizona
This hog heaven about 40 minutes outside of Tucson is home to more than 600 pot-bellied pigs. Ironwood needs help with daily chores like socializing the animals, doing repairs and cleaning up. A small guest house is available for volunteers who want to pitch in for a week or more.  
Farm Sanctuary, Acton, California, and Watkins Glen, New York
Nearly a thousand barnyard animals have found safe haven at the Farm Sanctuary's two locations. New York is the biggest and has tiny cottages you can rent if you become a member. It's perfect for a pastoral vacation, nestled among the rolling hills of the Finger Lakes region.  
Rooterville Animal Sanctuary, Melrose, Florida
Located between Jacksonville and Gainesville, this refuge cares for more than 100 rescued farm animals. Help is needed with everything from feeding and bathing the animals to gardening and beekeeping. Overnight in one of their covered wagons or set up a tent at their on-site campground.  
Sara Sanctuary, Seguin, Texas  
Located on a former cattle ranch less than an hour from San Antonio, this sanctuary now cares for about 700 rescued animals. Volunteers help with the daily chores like feeding and watering cows, horses, cats, and dogs. Guests can book a stay in their barn loft.
Kindness Ranch Animal Sanctuary, Hartville, Wyoming
Former lab and research animals, such as beagles and rabbits, call this wide-open ranch home until they're adopted out. Children ages 13 and up and adults are welcome to volunteer and stay in their rental cabins. Volunteers care for dogs, cats and barnyard animals.