From the intro of the FF-1 to Travis Pastrana's standout victories, Subaru and rally go hand in hand.
1971
A year after the model FF-1 is introduced in Japan, it races in the Baja 500, sponsored by a California dealership and co-built by Noriyuki Koseki. The FF-1 is the marque's first front-wheel drive car and also the first with a SUBARU BOXER engine.
1972
Koseki, who worked for Subaru parent company Fuji Heavy Industries, Inc., returned to compete in the Baja 500 in a Subaru GL Coupe built for rallies.
1973
Koseki races once again in the Baja 500, then returns to Japan to further develop Subaru rally presence, eventually founding Subaru Rally Team Japan. This also marks the year that the FF-1 last ran the Baja 500.
1978
California rally driver Chad DiMarco enters his first rally race.
1980
Subaru of America introduces Turbo Traction.
1980s
Koseki continues to race in Japan, his primary vehicle being a Subaru Leone RX Turbo, which was not available in the U.S. market. Chad DiMarco continues to notch success for Subaru in U.S. rallies.
1986
DiMarco leads Subaru to the rally podium six times and, finishing second in the Pikes Peak International Hill Climb, lands Rookie of the Year honors.
1990
DiMarco enters a Subaru RX in Michigan's Press on Regardless (POR) Rally, finishing 9th, while Subaru fields its first entry in the World Rally Championship (WRC) in Kenya.
1991
Driving a Legacy, DiMarco wins the POR Rally.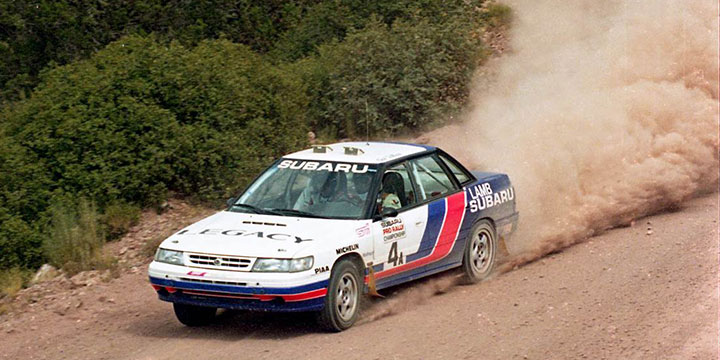 1995
Seattle-area driver Paul Eklund creates his famous Impreza USX, the first of its kind in the country with a turbocharged engine. (He dropped a Legacy turbo into an Impreza.) Eklund becomes a grassroots Subaru racing hero, and he races to this day.
2000
Subaru Rally Team USA (SRTUSA) launches, and – just a year later – captures the Sports Car Club of America (SCCA) ProRally Championship.
2004
Motorsports legend and multiple X Games® gold medalist Travis Pastrana begins his rally career with SRTUSA-backed Vermont SportsCar.
2006
Pastrana wins first of four consecutive national rally titles.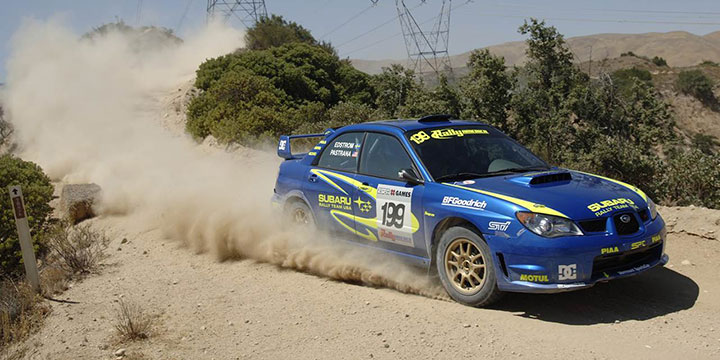 2009
Subaru Rally Team USA claims its fifth championship
2014
After a brief hiatus, Pastrana returns to rally full-time.
2017
Subaru enters its first factory-backed car at the Baja 500; Pastrana and co-driver Robbie Durant edge SRTUSA teammates David Higgins and co-driver Craig Drew to win American Rally Association (ARA) Championship Title.