There's no better feeling than jumping in the driver's seat of a freshly cleaned vehicle, with a streak-free windshield and dust-free dashboard. We're big fans of detailing at Drive, and sometimes it's great to have a professional detailer tackle the job. But for a few bucks and a bit of hard labor, you can get your Subaru back to factory fresh and keep it that way through spring, summer and fall.
Environmentally Friendly Washing
Everybody knows how to wash a car, right?
Not quite.
Water is a vital and often limited resource, and communities are working hard to preserve it. Dumping soapy water into the street isn't environmentally conscious, either.
Waterless wash is a good option, and products are becoming more available in auto parts stores. We tried Eco Wash from Jay Leno's Garage, which works great as long as your vehicle doesn't look like it just climbed out of a mud bog. It comes in a 16-ounce spray bottle (good for two washes) or a 1-gallon jug and contains advanced emulsifiers and lubricants to remove all kinds of gunk off a lightly contaminated surface.
For dirtier vehicles, rather than dragging out the bucket and hose and blasting gallons of soapy water into the storm drain, you're better off visiting a car wash. When car washes participate in the WaterSavers® program from the International Carwash Association®, they must route all water to either water treatment facilities or leech/septic fields, inspect nozzles for optimal operation, reuse any spot-free reverse osmosis concentrates, and use a prescribed volume of water in both automatic and self-serve wash bays.
Car washes also offer the benefit of an undercarriage wash, a huge perk to Subaru drivers who have explored the back country a bit.
Problem Areas Outside
Once you've washed the vehicle, you're just getting started.
Inspect the exterior completely to find any areas that require additional attention. Bird droppings usually get washed away in a proper wash, but any remaining residue can be cleaned off with a solution such as Meguiar's® Quik Detailer®, which is available just about anywhere. Keep the bottle in your console to clean up any future gifts from our avian friends.
Pine sap is a problem in the spring. You can use a bug and tar remover or WD-40®, but isopropyl alcohol is just as effective, super cheap and available in any drug store. Just be aware that using either solution is going to strip any wax off the paint, so you'll want to reapply.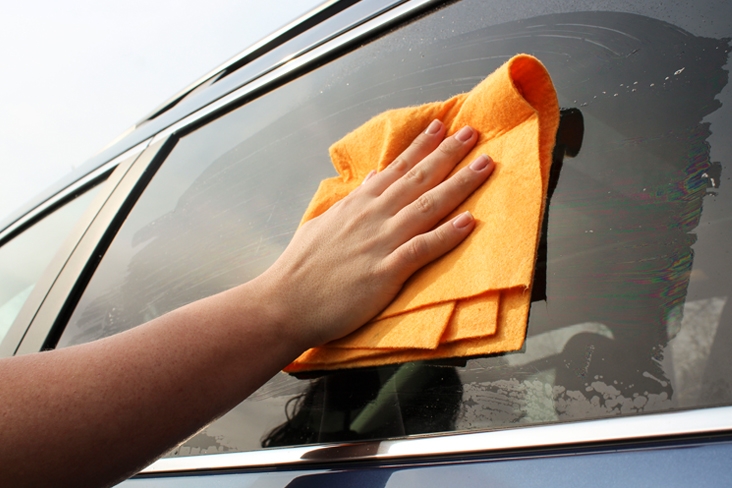 The Detailer's Secret Weapon
There's one tool at your disposal that's going to make the difference between a decent detail and one you can really show off.
Clay bars have been the secret weapon of pro detailers and body shops for years, but they're everywhere wax is sold now. They contain a very light abrasive embedded in a clay product, designed to further remove contaminants that a wash just can't.
Most clay bars come in a kit with a bottle of spray detailer. Spray the detailer on the paint and work the clay bar across the surface. Then look at the clay: It'll be black with the contaminants you took off the paint. You can feel the difference in smoothness when you run your hand across the surface, and smoothness equals a much higher quality shine when you apply wax in the next step.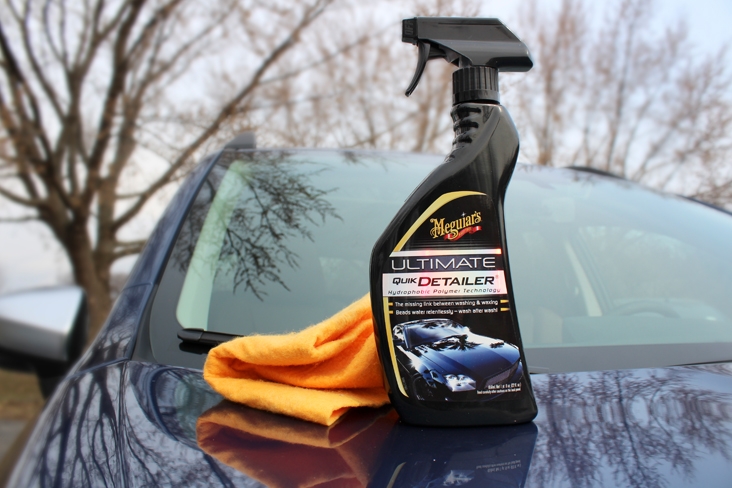 Wax On, Wax Off
From there, you can apply a wax, either in paste or liquid form. Just look for one that's free of petroleum products.
You want to apply wax to a cool surface, out of the sun. Work in one 2-foot square area at a time, applying wax in a circular motion with a foam applicator, letting it dry to a haze, and removing it with a clean microfiber towel.
Glass Cleaning
Old-school Sprayway® glass cleaner is where it's at. It leaves an absolutely streak-free shine on the glass and stays put, unlike most glass cleaners that dribble all over the place the second they leave the bottle. Best of all, scientists haven't invented a more pleasing scent since the damp mimeograph sheets they used to hand out in third grade.
A tip for glass cleaning: Wipe the windows horizontally on the outside and vertically on the inside. That way, if you have a streak on the glass, you can quickly figure out what side it's on.
Wheels
There are three levels of wheel cleaner on the market. You're best off starting with the least aggressive cleaner, which is typically for aluminum wheels, rather than a product made for polished chrome wheels. Spray the cleaner on and don't let it dry. Scrub with a wheel brush to get all the brake dust off and then rinse the solution away. If you're using a car wash, you can spray and scrub your wheels before entering the wash tunnel.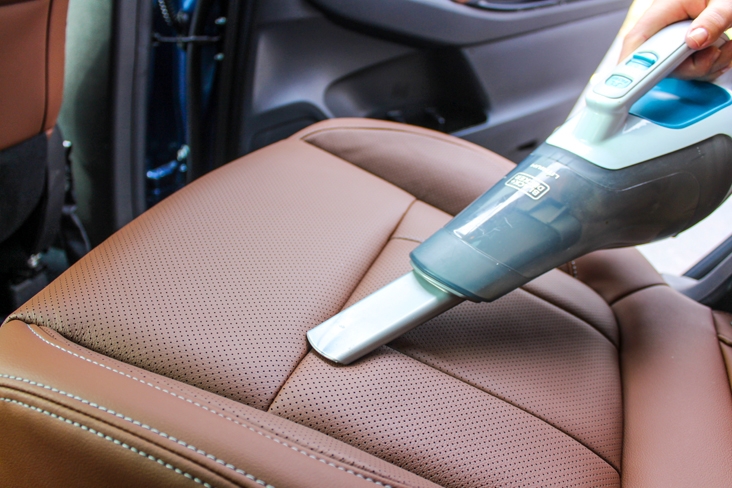 Mats and Carpet
Whether you've got a shop vac at home or you're using the vacuum at the car wash, get all your stuff out of the vehicle before you start, and remove the floor mats.
Mats are typically loaded with fine dirt after winter. Start by moving them away from the car and clapping the mats together to get most of the dirt out. Then you can vacuum the finer dirt.
Some mats have a tag with cleaning information. We've thrown mats in a laundromat washing machine for a deep cleaning with no issues. Dry them outside, though, rather than in a clothes dryer.
For problem areas on the mats and carpet, try a diluted solution of Woolite® Oxy Deep® on an inconspicuous area. We've cleaned ink stains out of carpets and floor mats with this product before, with no discoloration of the mats.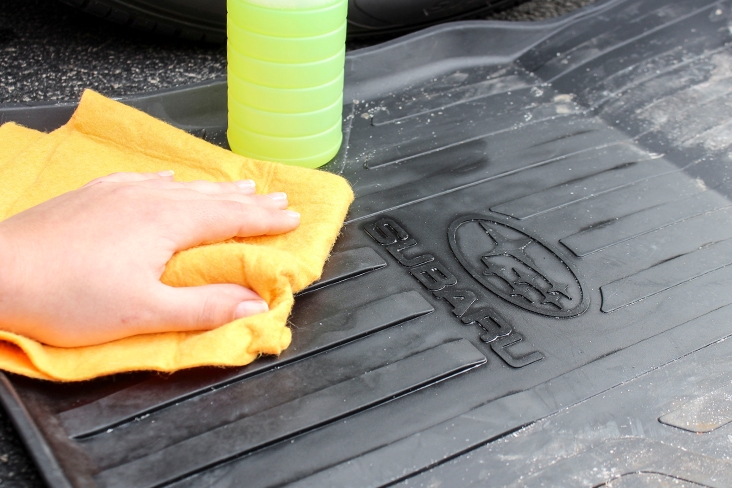 Dusting Inside
If you've got a shop vac or a range of tools on your household vacuum, use the brush tool to vacuum the entire dashboard. It'll help take dust out of the vents and off the instrument panel. Crevice tools help vacuum in the unreachable places between the seat and the console.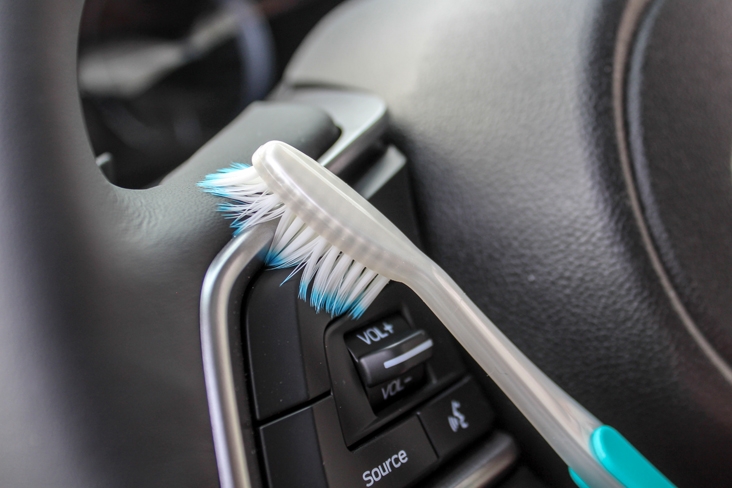 Heavy Cleaning Inside
Places such as window switches, gear shifters and steering wheels can get pretty disgusting over a winter. If your average household cleaner doesn't take care of it, we've used a heavy-duty interior cleaner, such as Meguiar's #39, and scrubbed the surface lightly with a toothbrush. Whenever you use a harsh (usually marked "heavy duty") interior cleaner, be sure to apply something afterward that has some UV protection.