Life is definitely not a day at the beach when a blackout of indefinite length forces the evacuation of the island where you planned to put your feet in the sand. But though I was admittedly a little bummed on the day that fateful news (and the power supply) broke, I did nevertheless find myself behind the wheel of a beautiful 2018 Crosstrek Limited. With my vacation plans on hold, the road beckoned.
After all, I was sitting at the controls of a specimen of an automobile, its 2.0-liter engine generating 152 hp and 145 lb-ft of thrust. This was a vehicle that had plenty of giddyup – not to mention, a sweet leather interior – and there was nothing but open road and a clear calendar ahead of me. For the epic trip I was about to undertake, I would need the power.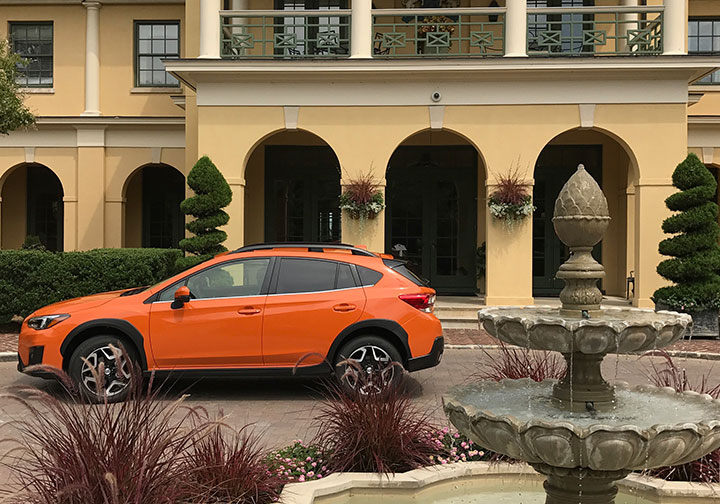 Happiness Is a Crosstrek on the Beach
My sister Julie and I had made plans to meet up and head to the beach. We chose as our destination the tiny town of Rodanthe, NC, in the beautiful Outer Banks, those famous barrier islands that include the Cape Hatteras National Seashore. I imagined putting the Crosstrek to the test and seeing how it handled on the beach, but first I had to pick up my sister in Charlottesville, VA, where she's a professor at the University of Virginia. Highway pavement and city streets would come before sand for the Crosstrek.
I headed south from southern New Jersey to Charlottesville, and it was during that leg of my journey on I-95 that I felt the power and surreal precision of the Crosstrek Lane Keep Assist feature. I thought of it as a "third hand" because that's what it felt like – an invisible extremity that nudges the steering wheel to keep the car centered between the lines. It made me feel safe – and amazed – and admittedly a little unnerved by its intelligence.
As a reward, I took the Crosstrek to the car wash, then headed out for a quick visit to the five-star Keswick Hall & Golf Club. In the rarefied environment she held her own, her blazing orange body standing out brightly and proudly against the muted tones of the tasteful Tuscan-style setting.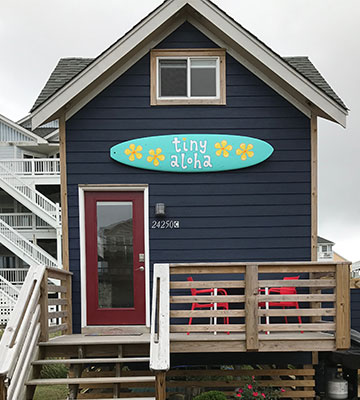 Tiny Aloha, a 250-square-foot vacation home on Hatteras Island, NC.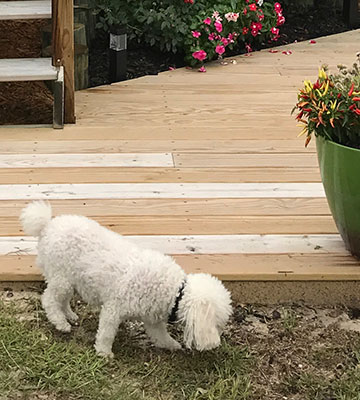 The writer and his sister's traveling companion, Blanche the Poodle.
Change of Plans!
We would have a dog with us at the beach, a little white poodle named Blanche, and we had searched long and hard to find a beach house that allowed pets. It was high season, the end of July, and it had been a challenge. Finally, though, we landed a place called Tiny Aloha, a 250-square-foot house that would be our home – the three of us – for four nights and five days of rest and relaxation. Ahhhhh.
But then, well, things don't always go the way you expect them to, do they? Here's the part about not crossing the bridge until you come to it – or in our case, not being able to cross the bridge even if you were to come to it. Let me explain.
Julie and I had packed our bags and set them by the front door, ready for loading the next day into the Crosstrek, with its ample 76 cubic feet of cargo space (21 cubic feet behind the rear seats, 55 more cubic feet with the seats folded down). We wouldn't have been able to use even half of that space – but we didn't get the chance to try, at least not that next day. During construction of the new bridge to Hatteras Island, the power lines were damaged, knocking out the island's electricity. It made national headlines, and to Julie and me it was heartbreaking. We had planned for this trip and were looking forward to it, and now the whole thing was in jeopardy.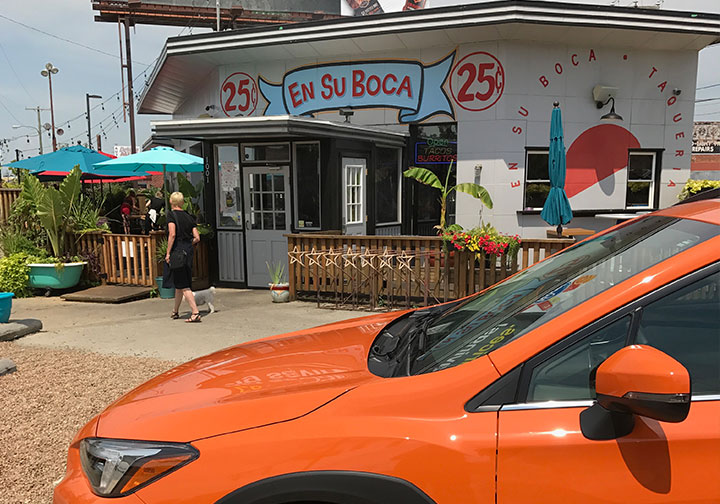 Feeling Hot, Hot, Hot
When the forecast called for temperatures of 100 degrees in Richmond – perfect beach weather! – we set out from Charlottesville and headed for the ocean. (It wasn't "our" beach but it was "a" beach.) We'd agreed to stay in touch with the owner of the Tiny Aloha and wait for updates, but we didn't want to sit on our hands while we did so. Repair crews worked feverishly to restore power on Hatteras Island, and the best estimate they could offer was two weeks. Julie and I hoped that the job would be wrapped up sooner, but nonetheless, we had time on our hands. Oh, and that beautiful, versatile, fuel-efficient orange vehicle.
As we headed east on I-64 to Richmond it was a sauna outside, but inside our Subaru the air conditioner kept us cool – even frigid when we asked it to. We visited a favorite store of ours, West End Antiques Mall, and scored a funky lamp and a ceramic clock from the '50s. At hipster Mexican-food joint En Su Boca we both noshed on nachos, and on the highway back to Charlottesville we cranked surf music (Dick Dale, anyone?) and talked about our time at the beach. Hope was alive! Life was clicking on other fronts, too. Never underestimate the power of a positive mental attitude. I scored an interview for a job that was too good to pass up, so there I was, back at the wheel again for 350 miles of driving pleasure, from Charlottesville to Brooklyn.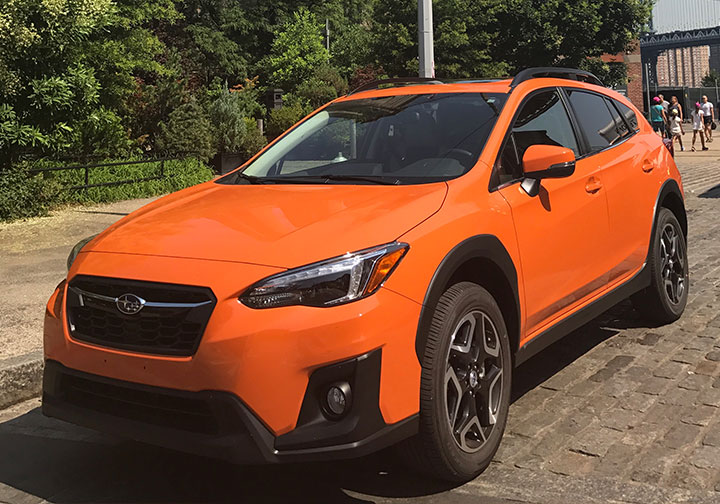 Brooklyn Bound
Don't feel bad, but I didn't get the job. On that trip, though, I did discover more of the Crosstrek model's charms. One was its ability to hum along the highway, adaptive cruise control engaged, and clock nearly 35 mpg. Another was the pre-collision braking system, which saved me from a potential wreck when traffic suddenly bottlenecked on northbound I-95. I had felt the stopping power engage, and then I mashed the brake pedal, slowing from 65 mph to 25 mph in about two seconds. After a heavy sigh of relief, I motored into Brooklyn, where the Crosstrek bounded merrily, and smoothly, along the borough's classic cobblestone streets.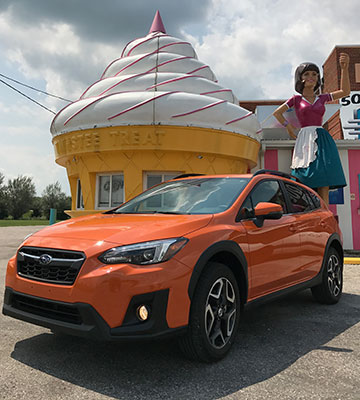 Big attractions at Pink Elephant Antique Mall in Livingston, IL.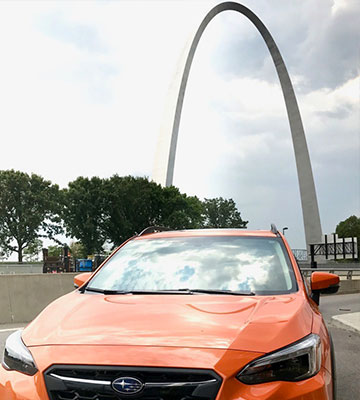 The iconic Gateway Arch in St. Louis.
We're Gonna Make it After All!
The window of opportunity was closing on our chance to get to the beach – the beach we had planned for – but I wasn't going to let that stop me from giving the Crosstrek a full-fledged test. A friend of mine had driven from Washington, D.C. to St. Louis to attend to family matters, and he told me he was planning to fly back. "No problem," I said. "I've got this great Subaru. I'll pick you up." It sounded a little crazy, and perhaps it was. But I logged more than 1,500 miles round-trip, and I really got a feel for the Crosstrek model's talent as a comfortable, long-haul vehicle. I made it to the St. Louis Gateway Arch and dined at one of the most notable restaurants in town, Vicia. I also stopped at the Pink Elephant Antique Mall in nearby Livingston, IL, to see one of the finest collections of iron cookware on the face of the earth. Of course, I also saw the famous giant ice cream cones and waitresses, and a spaceship in need of a little repair, too.
Speaking of repairs, lo and behold, the bridge crew managed to splice the power lines together and get electricity flowing on Hatteras Island again. Our would-be host at Tiny Aloha urged us to get down there, and quick. Most tourists were slow to respond to the unexpectedly quick repair, but Julie and I did not delay. After dashing three-and-a-half hours from Charlottesville down to the coast, we pretty much had the beach to ourselves. Finally, our beach. Never give up hope – I guess that's the moral of this road trip story. And keep moving. Especially if you're lucky enough to be at the wheel of a 2018 Crosstrek. It really can take you anywhere.