"Left six 40 into right three!"
Chris Heier shouts those words while being at once excited and calm. He's sitting in the passenger seat of Joel Cates' 2000 Subaru Impreza 2.5 RS as Cates races through the mountainous terrain of Kananaskis, Alberta, Canada.
While it may seem contradictory to feel excitement and calm simultaneously, being able to do so is key to rally driving. Excitement stimulates adrenaline – needed to drive as fast as possible – while calm is necessary to deftly maneuver the car around sharp bends.
Heier is co-driving a practice run and learning the physical and emotional skills needed to someday race his own car.
By day, Heier is president and brewmaster of Half Hitch Brewing Company, a craft brewery located in his hometown of Cochrane, Alberta. He makes his own chocolate from cacao beans he roasts himself, and he is also an electronic music producer and songwriter, performing under the stage name PinPoin7.
Heier loves to drive his heavily modified 2008 Subaru Impreza WRX on rally courses before races. "It's one of the fun parts of volunteering," he laughs. "The roads are closed, so we have a bit of fun." But co-driving Cates' practice is the closest Heier has come to racing outside of a mini time-speed-distance (TSD) rally in 2020.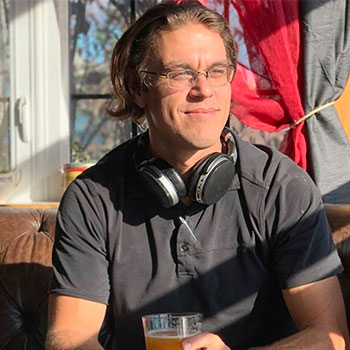 Subaru owner Chris Heier
Chris Heier performing original music live at the East Village Gazebo in Calgary, Alberta, Canada.
In rally racing, a co-driver shouts navigational "pace notes" to help the driver. Unlike track racing where drivers have ample practice time to drive and learn the track, even racing it at full speed during qualification runs, rally racers get only two passes of a course before race day. This constraint is one of the things Heier loves about the sport.
"When you think about what a driver has to do – they're racing the course and making very precise turns where a small mistake means disaster – having only driven the course twice and only once at race speed. It's just mind-blowing," says Heier.
The driver's success is dependent on trusting the co-driver, who has made notes of the course during the two practice runs and gives instructions on the twists and turns ahead. "Left six" is a wide, sweeping turn to the left, one that could be done in sixth gear, and "40" means there is 40 meters of straight road before "right three," a fairly tight right turn that may require downshifting to third gear.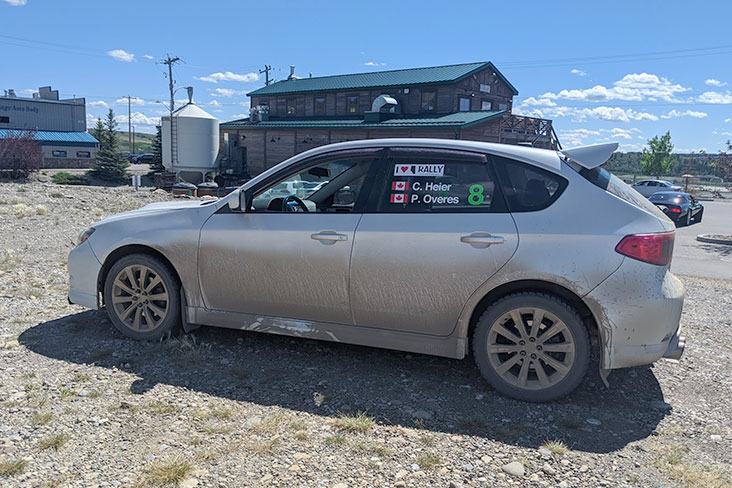 "I've always been interested in motorsports," Heier says. "My dad was a stock car racer on oval tracks, but I like the more technical driving of rally. There is a lot of neat complexity to it."
As with all motorsports, cost is a significant barrier to entry. Costs include the car itself along with thousands of dollars for spare parts, travel and hotel stays for the driver and support team, in addition to race entry fees, which vary from hundreds to thousands of dollars.
While Heier earns his way into the rally circuit, he keeps himself busy building – and rebuilding – his WRX.
"Rally driving is so hard on the car. Everything should be considered a consumable," he says. "I rebuilt the entire engine after spinning a rod bearing. It wasn't the easiest thing to do, but it's 30 to 40,000 kilometers later and it still runs!"
The engine rebuild took him six months, but Heier enjoys the respite of the garage. "It's very Zen time. I enjoy those moments. They are kind of meditative … until you accidentally smack your hand into a strut bar," he says with a laugh.
Heier has also replaced the car's suspension to make it better for off-road rally and swapped the original 5-speed transmission (after he broke the first gear) for a 6-speed transmission from a 2012 Subaru WRX STI, a process that also required replacing the drive shaft and rear differential to match the different drive ratios.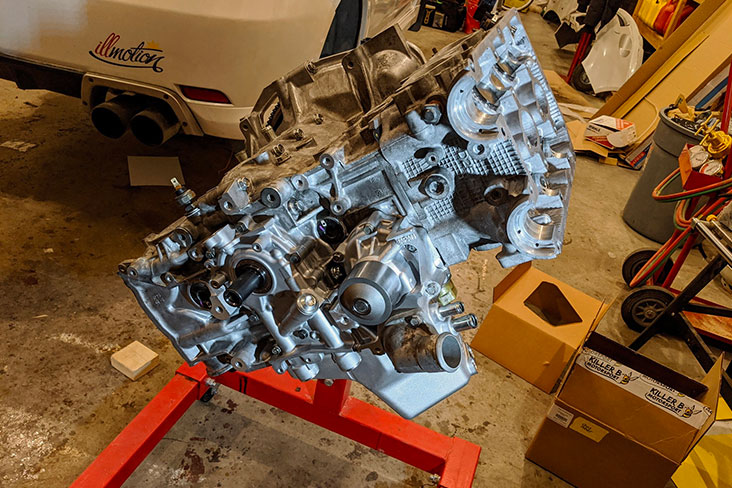 His WRX is also used for practical purposes, such as driving to gigs and delivering beer. This necessitates other modifications to the car; he once had to replace a broken rear window when he closed it on a keg in the back.
Heier advises people interested in rally to help at races. "Volunteering is the first step to learning about what you're doing and how everything works," he says. That involves everything from helping with signage, checking in on racers and handing out maps.
Having volunteered at several races, Heier then organized the 2019 Kananaskis Rally, managing all the people, arranging road closures and getting required permits. Having done it all, Heier is now in the expensive process of acquiring gear: race suit, head and neck restraints, gloves and the various things required to safely occupy the racing driver's seat.
In the meantime, you may find Heier driving down the street, with or without the stereo on. "I like trance, deep house and melodic techno music," he says. "But I also like the sound of the engine and exhaust."