Julia Bainbridge remembers the first time she had a nonalcoholic cocktail that was sophisticated and not too sweet. It was 2014, and a bartender at Atera, a restaurant in the Tribeca neighborhood of New York City, served her a drink called Champine, made with pine needles that had been steeped into a tea-like drink and carbonated. "It stayed on my mind," she says.
Bainbridge, a food and beverage writer who has worked at Bon Appétit and Food & Wine, began to look at menus of other restaurants and bars in New York and noticed that quite a few bartenders were offering cocktails created without alcohol.
"In some cases, people were playing with placement on the menu and you would see these alcohol-free drinks up next to the cocktails, which makes sense," she says. "They're all mixed drinks."
She wondered if this trend was taking hold elsewhere – a thought that culminated in the publication of her first book. Good Drinks: Alcohol-Free Recipes for When You're Not Drinking for Whatever Reason, published in 2020 by Ten Speed Press, is Bainbridge's account of the best nonalcoholic cocktails being served in locations across the United States, with recipes for readers to make each drink at home.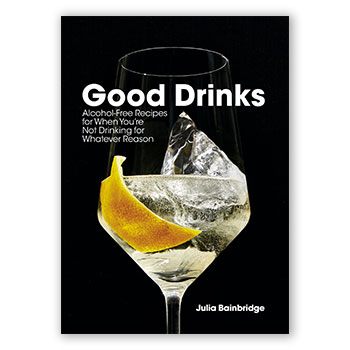 Cover photo © Alex Lau 2020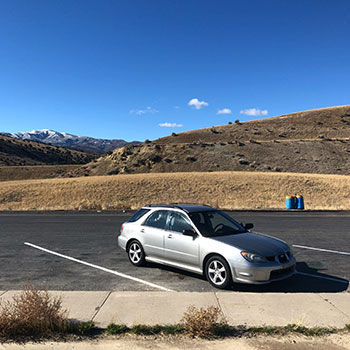 Julia Bainbridge's 2006 Subaru Impreza, Greta, on the author's research road trip. Photo: Julia Bainbridge
Book Research Road Trip
In 2018, Bainbridge set off on a four-month-long road trip to do book research, driving her silver 2006 Subaru Impreza, which she named Greta, from the East Coast to California and back. Along the way, she stopped in as many cities as she could to taste nonalcoholic cocktails.
"I wanted to hit the pavement. This was about capturing what was going on," she says. "There's talent all over the place. It's not just concentrated in New York and Los Angeles and Chicago."
Bainbridge chose her destinations based on recommendations from bartenders, chefs and other food writers as well as "lots of reading and scanning social media," she says.
In Healdsburg, California, Bainbridge met Kyle Connaughton, head chef and co-owner of SingleThread, a restaurant and inn where dinner may start with a complementary nonalcoholic drink, such as Connaughton's pear cider, made with Bosc pears, lime juice, vanilla bean and agar (a plant-based gelatin).
In Bloomington, Indiana, Nicholas Matio, bar manager at C3, shared his recipe for The Bicycle Gang, a drink made with freshly squeezed orange juice, heavy whipping cream, simple syrup and soda water.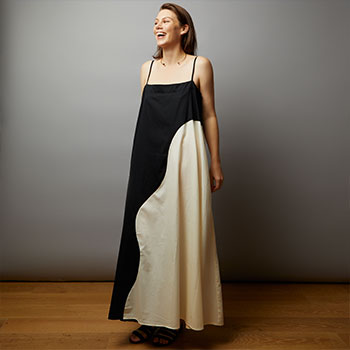 Julia Bainbridge. Photo: Sam Ortiz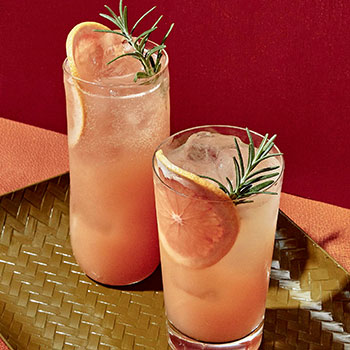 Nonalcoholic Salted Rosemary Paloma.
Try the recipe
.
Photo:
©
Alex Lau 2020
Distilling Good Drinks
After visiting a city, Bainbridge would drive to her next destination, often traveling for hours in silence. The radio in her Impreza worked just fine, but Bainbridge needed the quiet to consider which cocktails were truly bookworthy.
"What drink did I have in that city that I'm thinking about now?" she says. "And could I really see people making this at home?"
One of the first beverages that Bainbridge decided to include in Good Drinks was one she sampled in a home kitchen. Gabriella Mlynarczyk, author of the book Clean + Dirty Drinking: 100+ Recipes for Making Delicious Elixirs, With or Without Booze, invited Bainbridge to her home in Los Angeles and presented her a drink she called U-Me & Everyone We Know, a mix of tomato, watermelon and lemon juices along with umeboshi vinegar and simple syrup.
As Bainbridge wrote in her book: "It was one of the first drinks I tasted during my trip that made me think, 'We have a winner!'"
Good Drinks isn't just for those who never drink alcohol, Bainbridge says. Many social drinkers also like to have a break, whether for a month, a week "or for that night," she says. The book features 52 drink recipes and a guide to where travelers can find these drinks if they're on the road. She lists bars and restaurants from 25 states and Washington, D.C.
Know someone who'd make a great fit for an Owner Spotlight? Submit with the story title "Owner Spotlight."