Months after her second leg was amputated below the knee, Morgan Stickney began swimming again in the heart of a blustery New Hampshire winter. 
It was early 2020, and COVID-19 pandemic restrictions had closed indoor lap pools. So the one-time Olympic hopeful, then 22, convinced her neighbor to fill and heat the kidney-bean-shaped pool in his backyard. There, she tethered herself to a pole and began swimming in place as the snow fell. She was training for the Tokyo Paralympic Games.
"I remember being in the hospital after losing my legs and just learning to walk as a bilateral amputee, not thinking I'd ever get back in the pool," Stickney says. "Then the whole world shut down with COVID, and I heard the Olympics were delayed a year."
The Olympics had been rescheduled from 2020 to 2021 due to the pandemic. Morgan realized, with the extra time to train, she had a chance to make the U.S. Paralympic team traveling to Tokyo. When pools opened back up that summer, she and her family moved to Cary, North Carolina, so she could swim with a top coach there.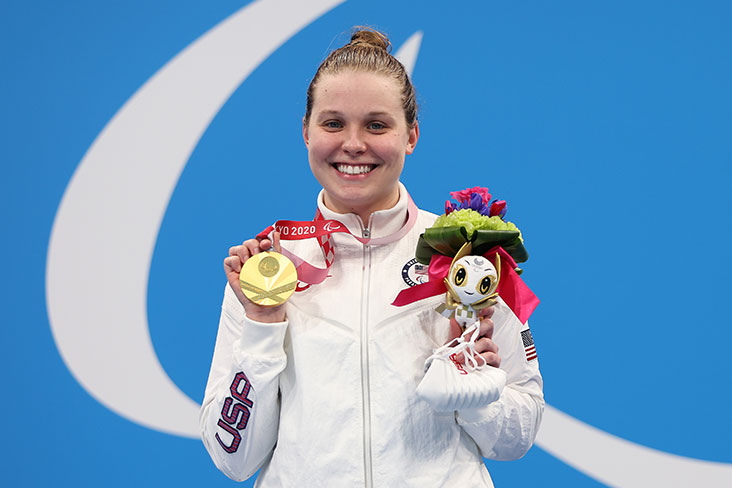 Going for the Gold
In 2021, she won gold in two events for Team USA in the Tokyo Paralympic Games: the women's 400-meter freestyle and the women's 4x100-meter medley relay, where she swam in the anchor position.
Now she's training to compete again at the Paris Paralympic Games in 2024.
"When you're in the pool, nothing else in life matters. You can forget about any stress you have," Stickney says. "It's so nice to take my prosthetics off and just be me and be free in the water."
Rare Vascular Disease Strikes
As a young teenager, Stickney was ranked in the United States' top 20 for the women's 1,500-meter freestyle, according to her biography on the Team USA website.  
But at age 15, walking on the pool deck one morning at practice, "I felt something snap in my foot. One of the bones broke," Stickney says.
It turned out Stickney had a rare vascular disease that restricted blood flowing to her foot and ankle, instead stopping at mid-calf, she says. This left her foot bones brittle and easy to break. 
She wore a walking boot. She had surgery. Then, a couple of months later, it happened again. 
Five years later, after a string of broken bones, surgeries and staph infections, doctors amputated her left leg below the knee. She was 20. Then the same thing happened with her right foot. That leg was amputated when she was 22.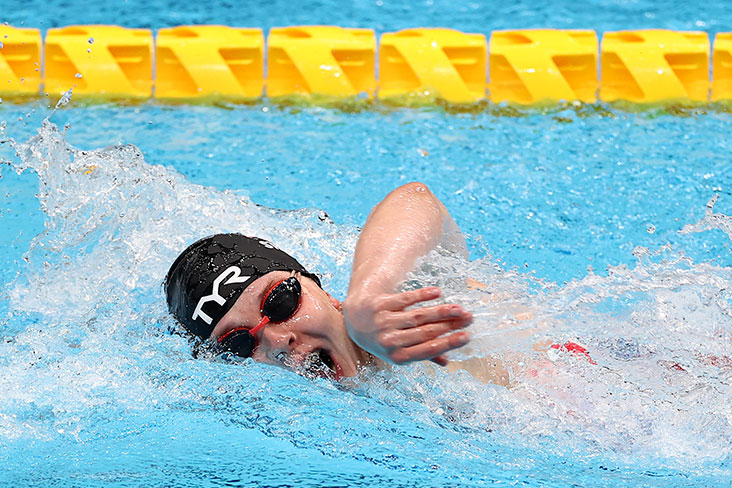 Training with the Titans
Stickney's surgeon heard about her success in the pool prior to her amputation and recommended she look into Paralympic swimming, she says. In the summer of 2020, she and her family left New Hampshire so she could train with Coach John Payne and the Titans swim team at Triangle Aquatic Center in Cary. 
Payne had experience coaching Olympic swimmers, but Stickney was his first Paralympic athlete, he says. She initially visited for a week and attended some practices to make sure the two could work together. They immediately clicked.
Most days, the differences between coaching Stickney, a Paralympic swimmer, and an Olympic qualifier living without a disability aren't huge, Payne says. They often swim in the same lanes.
"It puts into stark relief what she's capable of doing, despite all the challenges that have come her way and continue to come her way," Payne says. "She is able to perform at a very, very high level. Able-bodied, disabled, whatever – I'd put her up against anybody."
How She Does It
The biggest difference between Stickney and swimmers living without a disability, Payne says, is her turns. Most freestyle swimmers perform flip turns when they get to the end of the lane and need to head back in the other direction. That involves flipping into a summersault just before reaching the wall, landing one's feet on the wall, then pushing off the wall and twisting back onto one's stomach to head back in the other direction. 
Stickney's flip turns involve slamming her knees onto the wall after her flip and levering off with her remaining shins, Payne says. It's a painful move that she typically doesn't do in practice to spare her legs.
Her dive into the pool is different too. Instead of diving off the blocks from a standing position, Stickney sits on the block with her legs bent at the knee, off to the side. She grabs the front of the block and, when the gun goes off, pulls herself off the block and into the water. 
Payne also has learned when to push Stickney in practice and when to hold back, according to how her disease is progressing that day. 
"That's been the biggest change from somebody who has a consistent physiological level as opposed to somebody who's a little more inconsistent," Payne says. It's "more about reading and understanding when she's going to have good days and when days are going to be a little bit more of a struggle, and both of us being flexible."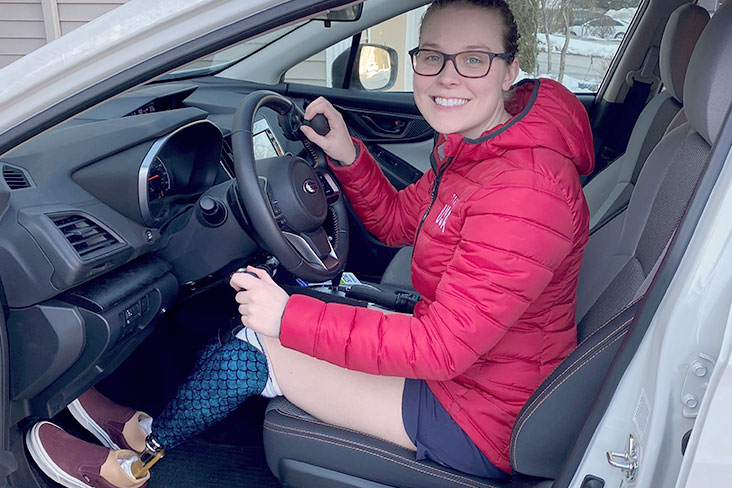 Stickney's Subaru Crosstrek Sport
Stickney says she appreciates her Subaru Crosstrek – she's on her second now – to accommodate her disability. 
Stickney bought her first white Crosstrek in 2019 when she still had both legs, she says. After losing her second leg, she had hand controls installed so she could drive without her feet. A knob on the steering wheel makes it easier to turn with one hand, while a lever below the steering wheel allows her to pull it toward her to accelerate and push it away to brake. 
"Subarus are some of the easiest cars to install hand controls. They're very accessible vehicles," Stickney says. 
After the lease on her first Crosstrek ran out in 2023, Stickney bought a second one to replace it – a white Sport model this time because she liked the gold accent on the steering wheel. She took her gold medals with her to the retailer when she bought it.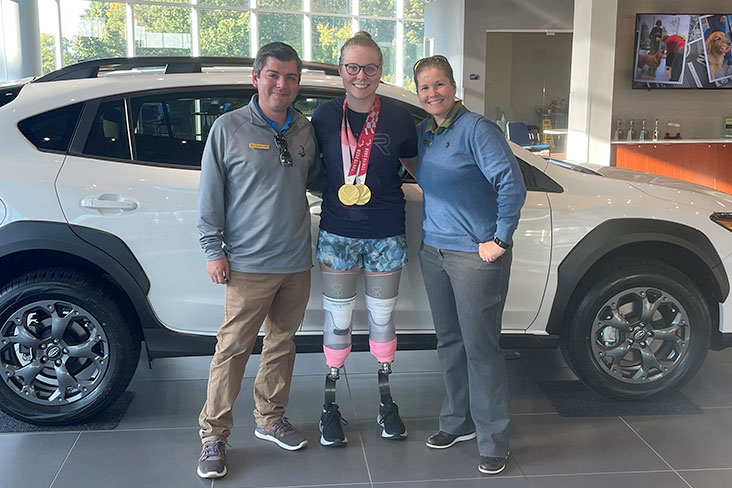 Positivity Drives Her
Despite Stickney's struggles, her best friend, Calista Barbowski, says her personality hasn't changed much since they met in high school, before the bones in her feet started breaking. She's still the upbeat, caring friend who Barbowski used to drive around and listen to music with. 
"She always asks how my day is, randomly. She's very much caring in that way," Barbowski says. Even as Stickney faced losing both legs, "she would always look at the positive and say, 'I could have it worse.' She always would somehow say she could have it worse."
Barbowski says she was thrilled to surprise her best friend at the airport and celebrate her two gold medals after Stickney flew home from Tokyo.  
"I wish I had her positivity," Barbowski says. 
Payne says coaching Stickney has changed his life perspective. 
"Her circumstances changed, but she found a goal that was worthy and she continued to pursue that worthy goal," Payne says. "So, we're going to a higher level, but it's not necessarily 'Are you pursuing the highest goal of anyone?' It's more 'Are you pursuing the highest worthy goal that you're capable of achieving? Given your situation and circumstances, what's the hardest thing that you can reach for?'"