Maine has almost 3,500 miles of rocky tidal coastline, and about 90% of the state is covered in deciduous and boreal forests. For experienced hikers and seafarers, these wild lands are troves to be gleefully explored. For novices, they can seem remote and impassable.
The key to conserving Maine's natural bounty is in helping Mainers and vacationers alike to form an emotional connection with the outdoors – and that starts in childhood. Up and down the Maine coast, entrepreneurs are opening shops that encourage kids to get outside and fall in love with their surroundings. By providing high-quality gear, offering accessible education, and using sustainable materials, a trio of stores opened by Subaru owners are urging families to overcome their hesitation and engross themselves fully in the splendor of the state.  
Kit Supply + Co., Kittery
The moment you cross the Piscataqua River Bridge and enter Kittery, you are fully, undeniably, in Maine. The quaint Navy town greets you with a sign that reads "Welcome Home / The Way Life Should Be," as highways yield to the town's signature trading post. Kittery, the first town in the state, was once a stop for hunters, trappers and all manner of seafarers to gather provisions – things made to last through rough weather. 
Holly Curtis and Suzie Glover's mission when opening Kit Supply + Co. in June 2021 was to embody that spirit of Maine – to empower families to get outside, whatever the weather, by supplying them with the gear that will last a lifetime of adventure. The white clapboard shop in Wallingford Square stocks wetsuits, parkas, snorkels, base layers, hiking shoes and canteens that offer Kittery residents and vacationers alike the value of well-made, sustainable gear.   
"We're the first stop before you get into downtown Wallingford Square, and a lot of people come in and ask us about the town, ask us about the neighborhood," says Glover, who drives a 2017 Subaru Impreza and co-founded the store but has since rejoined the footwear industry. "We're able to recommend the best beaches for kids, the best playgrounds, local hikes, and give them a short little download of what Kittery and the surrounding area has to offer in terms of outdoor play."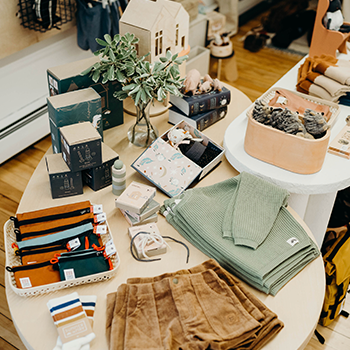 Photos: Lindsay Fairchild Photography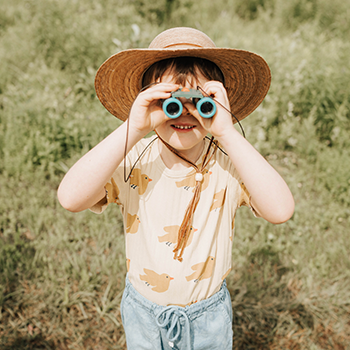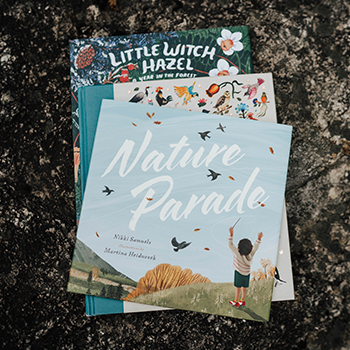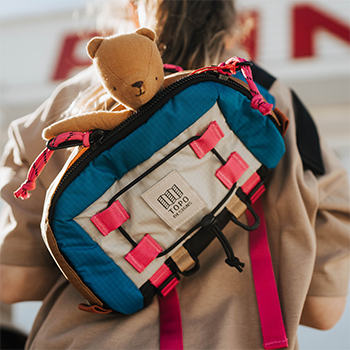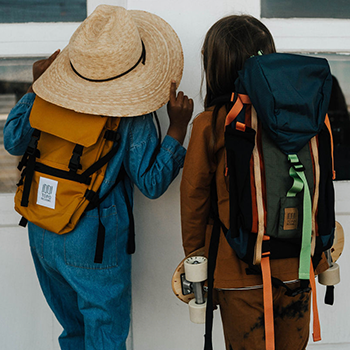 Curtis had lived in Kittery and nearby Portsmouth, New Hampshire, for nearly a decade before a small artist studio on Government Street vacated. Curtis, a mother of two adventurous kids, pitched Glover on opening an outdoor-centric kids store in the space. She envisioned books about conservation on a shelf next to racks of technical gear made from eco-friendly fabrics. Playfulness and joy are feelings that permeate Kit's showroom. The colors are bright without being overwhelming.   
Kit outfits local elementary schools, like Brixham Montessori Friends School in nearby York, where gear is provided along with tuition. This helps students make an emotional connection with nature at an early age, with the hope that they'll grow to fight for its conservation. 
Making the outdoors more accessible was important to the co-founders, and so was doing it sustainably.  
They converted a closet into a consignment shop called Kit Circle, which helps keep used clothing and toys from going to waste. Sustainability is about much more than wooden fixtures and organic wool stuffies. It's about providing goods that, even though they retail at a higher price point, will last longer before needing to be replaced. It's about working with vendors that have ethical production standards and use recycled materials.   
"I've always been interested in learning more about sustainability, and being in more corporate roles, it can be hard to implement some of those practices," Glover says. "This gave me an opportunity to just full-heartedly accept sustainability as a practice and a fundamental building from the beginning."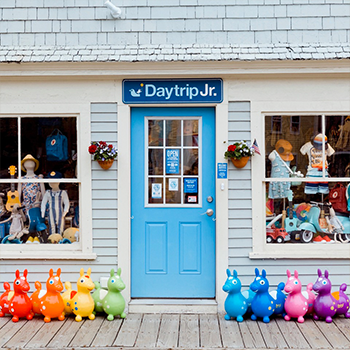 Photos courtesy of Daytrip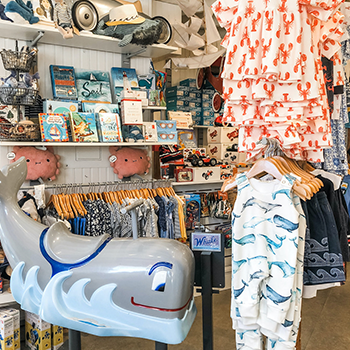 Daytrip Society and Daytrip Jr., Kennebunkport
In 2007, Jessica Jenkins and Andy West's wanderlust reached a head. The two Manhattan music executives were sick of saving their sojourns to nature for long weekends, so they fled the city, back to their hometown of Kennebunkport, to inspire others to break away and lose themselves outside.
Daytrip Society is as much a call to action as it is a boutique. Located a half hour north of Kittery just off the docks of the Kennebunk River, the unassuming colonial building gives way to a bevy of goods that spark wonder. A rubber-coated monocular dares a glance at the horizon. A Jacquard-woven blanket promises to deter spray during a whale watch. In either case, it's all about the adventure being planted in your mind.
"Daytrip Society is inspired by our escapes from the city and our love of Maine," Jenkins says. "If you're an adult walking into our store, we want you to remember how it feels to be a kid venturing out on a Maine road trip to discover new things."
In 2011, Jenkins and West acquired another storefront just around the corner on Ocean Avenue. At the time, they'd just had a child, and they wanted to devote this new space to sharing that same spark of adventure into other children who visited their seaside town. They called it Daytrip Jr.
Like its parent store, Daytrip Jr. sells goods that are heavy on the whimsy, but it does not patronize. By selling sun-safe beach gear and books by Robert McCloskey, the store brings together the magic nostalgia of nature and the practicality of adventure.
"So many families with kids come to Kennebunkport, and family day trips are such a part of the Vacationland experience that it felt like a natural way for our business to expand," Jenkins says. "Maine has so many different things to see – all the nooks and crannies of the Atlantic coast, the lakes and the mountains."
Daytrip Jr. encourages shoppers to lean into the moment, but Jenkins and West, who drive a 2013 Subaru Outback, wanted to imbue the store with a sense of legacy. It's located right next to Jenkins' parents' store, Good Earth Pottery, where the native Kennebunkporters have sold hand-hewn pottery since 1974. Growing up in retail, Jenkins knows how transactional and wasteful commerce can be. But her parents showed her that you can educate your customers about how long well-made goods can last.
Daytrip Jr. embodies that ethic in not only its catalog of locally made toys and racks of environmentally friendly clothes but in the classic, enduring feel. Dreamy but accessible. By ruminating on designs that stick through time, Jenkins and West make nature feel like home – a place that should be preserved so you may return again and again.
"So many toys and kids' clothing items sold today are disposable," Jenkins says. "We love focusing on toys and apparel that are heirloom quality and made to last."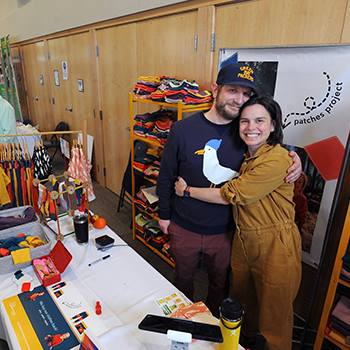 Founders Nick and Kate Bergmann of Peace House Studio in Bath, Maine. Photo: Fred Field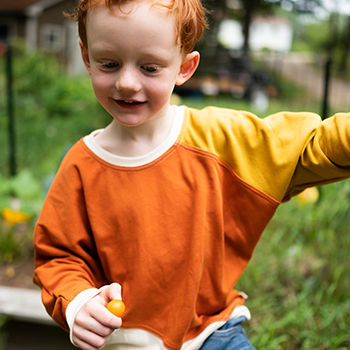 Peace House Studio's diagonal colorblock sweatshirt
Peace House Studio, Bath  
If you climb farther north, well past Portland and into Maine's glacial coves, you'll arrive in Bath. It's a city once known for building iron warships, but now it's where Kate and Nick Bergmann sew and sell cotton clothes meant to fare a generation of Mainers.
The Bergmanns had just moved back to Maine from Oakland, California, in 2015 when they got the bug to open their own business. Kate, a studio artist originally from Bangor, was working for her uncle's drapery business. But the high-end, decorative fabric work didn't gel with her outdoorsy aesthetic and her newfound love of being a mother. Nick, a full-time engineer in the biomedical industry, encouraged her to follow that thread.
Kate was already making clothes for their oldest child using patterns she'd purchased online, and friends had started requesting custom orders of the playful, colorblocked items she was producing. They liked how the clothing was oversized to last longer and that the soft, durable fabrics encouraged unencumbered play.
In 2020, Kate decided to formalize her operation and opened Peace House Studio, a made-to-last kid's brand that operated out of the space above her garage.
"It was just my own personal experience with my kids' clothes. I pay attention to the details, and I appreciate when it's made well," Kate says. "But when you make stuff, every single person says, 'Hey, you should sell this.' You say 'no' so many times, and eventually I just was like, 'Yeah, I can do this, people like my stuff.'"
Peace House Studio opened with a line of simple handmade sweatshirts, joggers, shorts and tanks. The Bergmanns, who recently bought a 2021 Outback, specialize in making clothes in sizes from 0 to 3 months up to 5T, some of the most playful, exploratory years in children's lives. The fabric, sourced from New York, is substantial, and Kate's designs reinforce the elbows and knees – areas that tend to wear and stretch, shortening a garment's life span, which Kate knows from years of mending clothes for her three daughters.
The Bergmann children (left to right) – Lola, 8, Percy, 2, and Harper, 5 – wearing Peace House Studio designs. Photos courtesy of Peace House Studio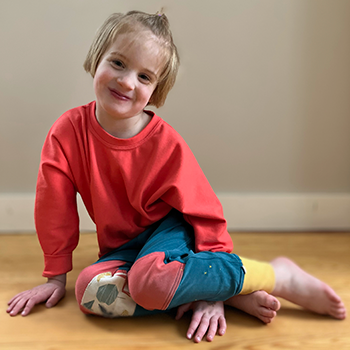 Because of all the special attention and small-scale production, small pieces can run $30 to $50. Kate knows this may turn people off from buying and using Peace House Studio's clothes, so that's why the Bergmanns launched the Patches Project, a unique buyback program that takes in previous purchases, which Kate then patches and mends for resale.
"You shouldn't be afraid to break these clothes," Kate says. "We're gonna buy it back from you and give you money, so even if you're spending $50 on a sweatshirt, you get some money back. We don't want people to be afraid of staining their nice clothes that we make."
Through the Patches Project, the Bergmanns are hoping to teach parents that even Target leggings and Zara T-shirts can be repurposed and given new life. Even if families aren't investing in a full wardrobe of Peace House's sturdy, hike-ready cottons, hopefully they can see how a more mindful approach to what their kids wear can result in many more years of unbridled joy in nature.
"I don't know if it's frugality or environmentalism," Kate says. "But I realized that I fit into a different category than that fast fashion consumer, and that's who I want to appeal to."