Vermont SportsCar (VSC), the iconic shop where Subaru Motorsports USA vehicles get their heart and soul, built its new facility in Milton, Vermont, because it had outgrown its original location. There's a perk in it for you: With the new space, VSC is, at last, open to visitors.
The old shop really wasn't setup for drop-ins. But as of mid-October, rally fans can stop by the new digs (85 Gonyeau Rd., Milton, Vermont, just 20 minutes north of Burlington) anytime Monday to Friday, 9 a.m. to 5 p.m., says Yuji Otsuiki, communications manager at VSC. The facility is generally too busy for private tours, but there's plenty to look at and a gift shop with more Subaru Motorsports USA gear than you could spend a paycheck on.
So, if you're headed to Lake Champlain or are driving through Vermont, build in time for a side trip to see the shop of one of the premier race teams in America. To help, we've put together a mini-tour of things to see, places to stay and food to eat along the way.
We'll start at the historic town of Bennington, the gateway to Vermont, on the southwestern border between Vermont, New York and Massachusetts. Just outside the center of town is the headquarters of Hemmings, publisher of Hemmings Motor News, Hemmings Muscle Machines and Hemmings Classic Car. Along with the editorial offices, Hemmings houses a vintage-style filling station with a staff of attendants who will check your oil and wash your windshield, plus a great gift shop with tons of automotive-themed books, neon signs and clothing. Under the main building is a workshop with a nifty car collection.
From Hemmings, take Route 7A north to Arlington. The Mount Equinox Skyline Drive is a 5.2-mile auto road to the 3,848-foot summit of the mountain. If you happen to be driving through town around the second weekend of August, keep an eye out for the Mount Equinox Hill Climb organized by the Vintage Sports Car Club of America. With 41 turns – 20 of them hairpin – it's a challenge that has brought out world-renowned racers such as Briggs Cunningham, Sam Posey and John Fitch.
Route 7A merges with Route 7 north of Manchester, and you can take that state highway all the way to Burlington. Stop in Rutland, Vermont's third largest city, to check out a few sights. The Rutland County Vietnam Veteran's Memorial, on the south side of downtown between Washington Street and Killington Avenue, has a unique history. According to RoadsideAmerica.com, the memorial sculpture of a soldier "half-in, half-out of a block of marble – like the carbonized Han solo at the end of The Empire Strikes Back" was started in 1981 by John Reno, a local Vietnam veteran. Sadly, the sculptor died in a boating accident in 1982, and another local veteran, John Bergeron, completed the memorial in 1995 after discovering it in a local gravel pit.
There's also Gill's Delicatessen, which has been turning out Vermont grinders on freshly baked rolls and bread since 1964. The Italian meat grinder here is outrageously good and well worth the side trip.
Forty-five minutes north of Rutland is Middlebury, a gorgeous little college town and home to the Henry Sheldon Museum of Vermont History. One of the museum's most famous artifacts, though, is located about half a mile away marked only by a tombstone. According to Atlas Obscura, the museum's eponymous founder purchased the mummy of Amum-Her-Khepesh-Ef, the 2-year-old son of an Egyptian pharaoh, sight unseen in the late 1800s, but it was in terrible condition and never displayed. Decades later, a museum curator named George Mead discovered the mummy in an attic. Mead decided that the mummy should be given a proper burial, and the remains were cremated and then buried in West Cemetery on South Main Street. The tombstone is carved with hieroglyphic symbols and shows Amum-Her-Khepesh-Ef's date of death as 1883 BC.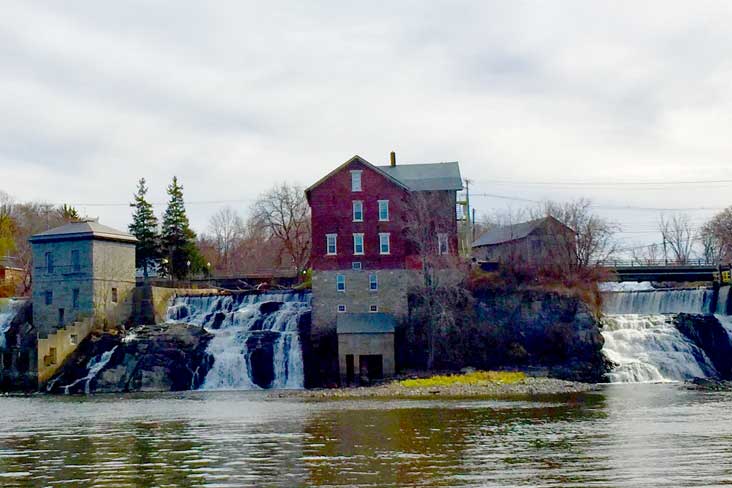 Just north of Middlebury in the sleepy town of Vergennes, you'll find one of the country's premier vintage European car restorers. Restoration & Performance Motorcars has an eclectic array of spectacular European and American cars for sale, as well as in various stages of restoration.
Vermont has a handful of authentic diners, and one of the best is in South Burlington. The Parkway Diner, one of the original diners built by the Worcester Lunch Car Company, is known for classic diner fare. Try the hot turkey sandwich, and note that the eatery closes at 3 p.m. most days.
If you're looking for something a little more upscale, why not sample the food turned out by some of New England's future celebrity chefs? The New England Culinary Institute is located in Montpelier, America's smallest state capital by population. The institute operates two restaurants on Main Street: European-style La Brioche Bakery & Café specializes in pastries, breads and sandwiches; and NECI on Main, open for dinner Tuesday through Saturday, offers the full farm-to-table experience that Vermont is known for.
When you're ready to call it a day, the Made INN Vermont is a high-design bed-and-breakfast in Burlington. While Vermont is packed with quaint B&Bs, Made INN Vermont is a different concept. Outside, it has the typical Victorian architecture, but inside it's a sleek, modernist space decked out with midcentury furnishings. Tuck in for a good night's sleep. In the morning, it's off to Vermont SportsCar — and wherever else your journey takes you.