Part of the appeal of camping is the absence of screens and pinging alerts – but in the weeks or months before you set off on your adventure, your smartphone could be indispensable. There's a growing field of apps that can help you find public campsites, detailed campground reviews and even "glamping" experiences on secluded private properties across the United States. Use the apps below to plan your next trip, then set that phone to airplane mode and enjoy.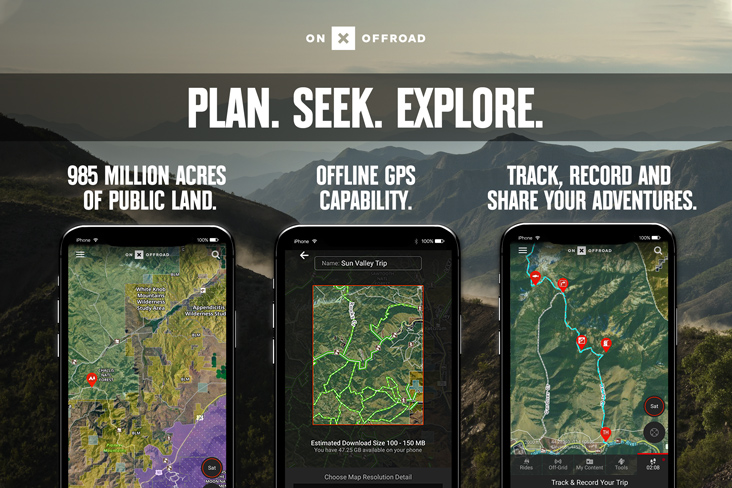 onX Offroad
A follow-up to its popular map app for hunters, onX Offroad offers the same detailed GPS satellite and topographic maps, but it's designed for fans of motorized recreation, such as overlanding, dirt biking and snowmobiling. The app is best used by experienced off-road enthusiasts looking for remote campsites near open trails well off the grid (saved maps are functional without cellular service). The app provides a free trial, then costs $3.99/month or $29.99/year.
Drive readers can save 20% on an onX Offroad Yearly Membership. Visit the website and use code ONXSUBARU20 at checkout, or tap here to pre-populate your promo code in the cart. Offer available through 12/31/20.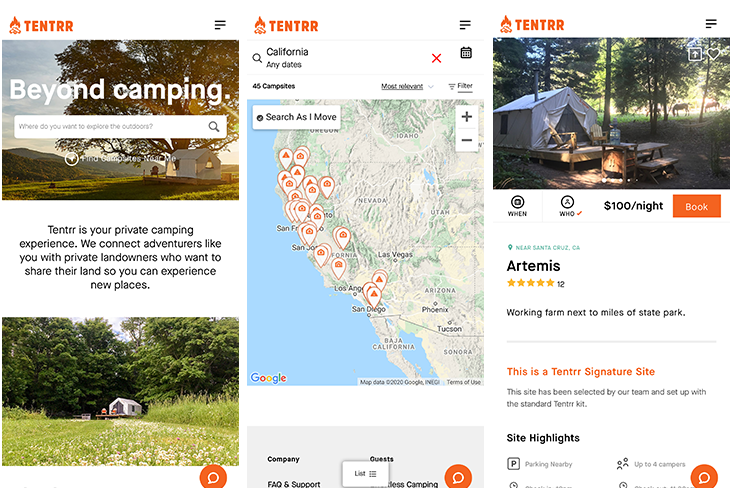 Tentrr
Ideal for campers annoyed by crowded public campsites, Tentrr is a free app through which private landowners rent their spacious properties as campgrounds, similar to the way an Airbnb host would rent a house, apartment or room.
Tentrr Signature is best for beginners and comfort-minded campers, offering sites that have tents or cabins ready on arrival. The most luxe of these setups can run hundreds of dollars per night and include roomy canvas tents with heaters and outdoor showers.
Tentrr Backcountry offers a more pared-down experience, with space to set up your own tent and gear and pricing as low as $20 a night.
Hipcamp
Catering to the camping as well as glamping side of the scale, Hipcamp acts as a search engine for campsites and lodging on private and public land. With more than 300,000 sites listed, the free app's filters are invaluable: Choose campsites, RV spots or lodging, then refine your results further to display, say, only sites that allow dogs, have picnic tables or are near fishing opportunities. Many of the private campsites are available for instant booking.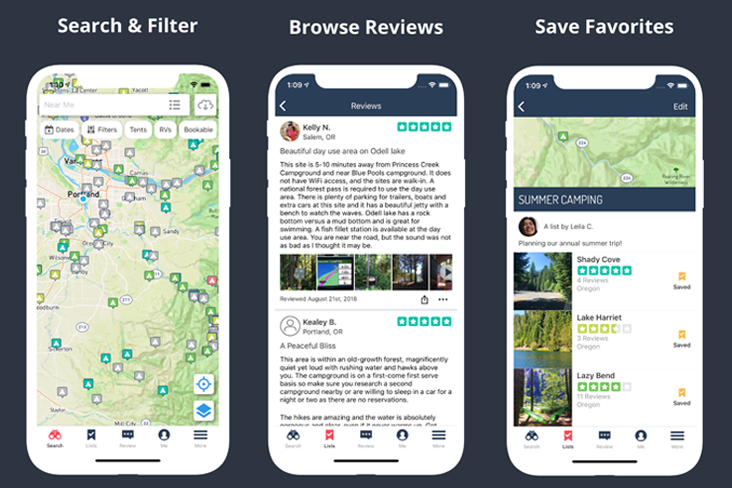 The Dyrt
Users can reserve campsites, lodgings and RV spots directly through this free app, but its thousands of reviews and detailed campground descriptions are useful even if you're not quite ready to book. Crowdsourced reviews and photos provide the details that so many campground listings leave out: Are the bathrooms clean? How much shade is there? Is this site a mud pit in the rain? The app rewards prolific reviewers through contests for gear gift cards.
Drive readers can save 30% on a Yearly Membership to The Dyrt PRO Offline — campsites, reviews and contact info when you need it most. Visit the website and use code SUBARU30 at checkout. Offer available through 12/31/20.
Recreation.gov
Much more user-friendly than its web counterpart, Recreation.gov's free app is a destination for all camping activities on public lands: finding and reserving campsites, accessing interactive maps and campsite photos, applying for select permit lotteries and even booking U.S. Forest Service fire lookouts. Explore camping and cabin rentals within a geographic area, or search for available campgrounds or lodging for specific dates, then easily share that campground with friends via text message. Only users with a Recreation.gov account can book directly through the app, but signing up is easy and free.