In the spring of 2018, best friends Lisa Watts and Deirdre Bird decided to take on the challenge of a lifetime: bike the entire 3,000 miles of the East Coast Greenway, a series of trails and roads that hug the Atlantic Ocean, connecting Key West, Florida, to Calais, Maine. From May to June, the pals cemented their 34 years of best friendship by pedaling dozens of miles a day – and finding plenty of adventure along the way. Read about their first legs of the journey through the trails in sunny Florida, here. Below, Watts, who serves as the communications manager for the East Coast Greenway Alliance (ECGA), shares more highlights of the trip.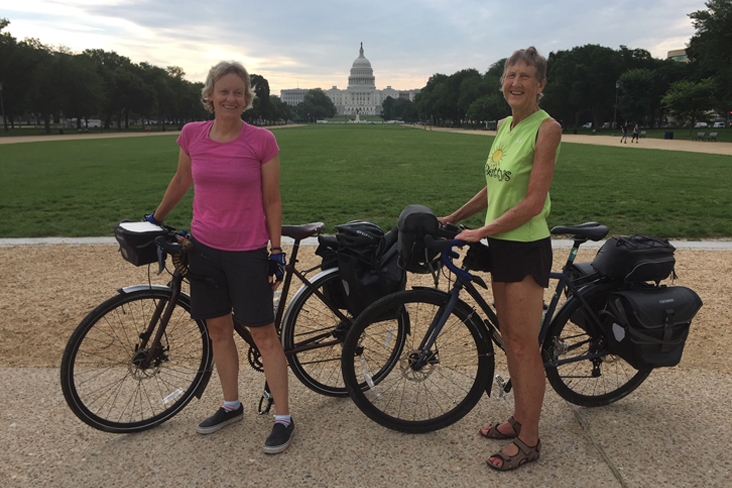 May 25, 2018
Today marks 11 days since Dee and I set off from Key West. We left Clayton, North Carolina, and rode into Durham, where I live with my husband, Bob, and our dogs. The day gave me a quick visit home and also showed us a great model of what the Greenway can be.
We started on the Neuse River Trail, riding over beautiful wetlands, and, before we knew it, we ended up in a bike lane right in downtown Raleigh. After riding through a tiny piece of the North Carolina State University campus, we hit the grounds of the North Carolina Museum of Art. It was so fun – the land is rolling and curvy. Then we rode through a bit of Umstead State Park, which gives the feeling of woods that just go on forever. It's hard to believe it's just a few miles outside of Raleigh! We then picked up the American Tobacco Trail, which takes you straight into Durham and also straight past ECGA's offices.
When we reached the office, we stopped by a nearby cafe for cold drinks and ice cream with my co-workers and my boss, ECGA executive director Dennis Markatos-Soriano. After our celebration, it was fun to say, "OK, I'm going now. I'm still not working!"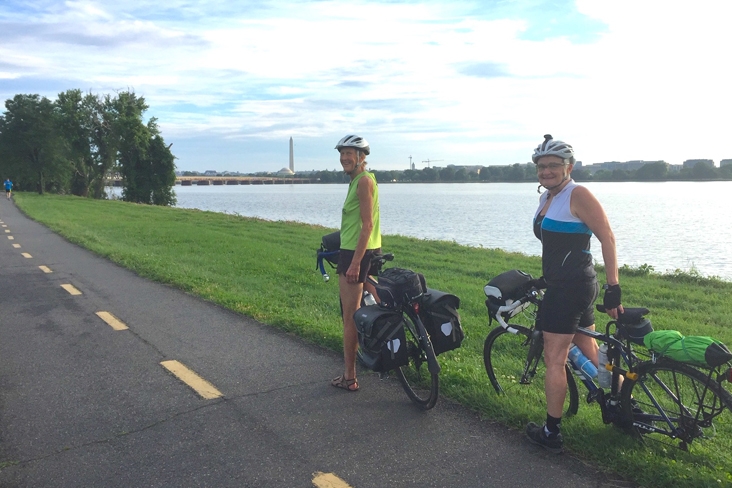 May 31, 2018–June 2, 2018
On May 31, Dee and I reached Alexandria, Virginia, the rough midpoint of the Greenway. We started in Occoquan and were met by a new friend, Deb, who'd been following the blog. Throughout our ride, we sometimes felt like Forrest Gump, picking up new company along the way.
We first rode through the Workhouse Arts Center, a former prison in Lorton that's been revived with artist studios and galleries. When we hit the Mount Vernon Trail – which starts on the grounds of what was once George Washington's home – we were like little kids, rolling and winding on the 10 miles into Alexandria's Old Town and along the Potomac River. It was really fun to have someone local ride with us, so we didn't have to look at our phones to navigate and could just follow.
Two days later, Deb led us through the rest of the Mount Vernon Trail, which took us across Arlington Memorial Bridge and right down the National Mall. Usually there are a ton of tourists and runners, but we had the area mostly to ourselves at the relatively early hour of 8 a.m. It's pretty awe-inspiring to ride past the Washington Monument and Lincoln Memorial. We discovered that riding our bikes through D.C. put us at the perfect pace – you can cover so much ground but still appreciate the scenery.
Deb offered to be our host for two nights, including our rest day on Friday. This happened a handful of times on our trip, which was incredible. She knew what her offer meant: having cold drinks and lots of food immediately available, as well as laundry and showers. Deb had originally intended to join us only on Thursday. But she was so sad that she couldn't keep going on our journey, she rode with us out of D.C. up the Anacostia Riverwalk Trail and then took the commuter rail back home. Deb was someone Dee and I would have otherwise never met, and we all became instant friends.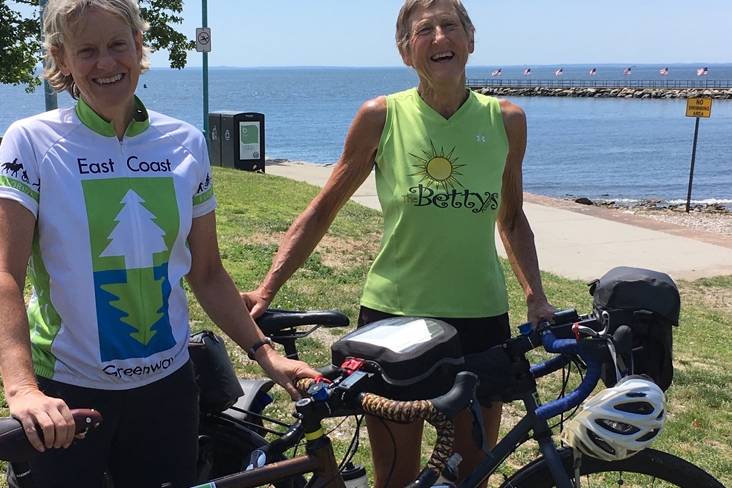 June 12, 2018
Riding from Stamford to New Haven, Connecticut, ended up being one of my favorite days of the trip, which I wasn't expecting. I've lived in New England and know that stretch on I-95 and the town names by exit signs, but the Greenway route was largely coastal with great views of the harbors and inlets along Long Island Sound. If you drive the interstate, the area looks really industrial and gritty, but our ride was filled with quiet streets, beautiful views and charming towns.
Since we started in Florida, we really saw how the eastern coastline changes. In Connecticut, you start to see the rocks and large islands. It starts to feel more like New England, with its tiny stretches of coast instead of big stretches of sand. The temperature was just about perfect, sunny and in the 70s with no headwinds. Since it was a workday and school was still in session, the trail wasn't busy.
After riding 57 miles, we stayed that night in New Haven with Sarah Hreha, an East Coast Greenway board member. She graciously made us dinner, which meant I could take a shower and put on my flannel pajamas. That was just about as good as it gets.
Having grown up in Georgia, Baltimore and Boston, New England feels like my home; it's where I spent my high school years and my 20s. Dee and her wife, Sally, live in Providence, Rhode Island. Hitting Connecticut meant getting closer to familiar terrain. It was exciting: Dee and I got there – on our own – from Key West. We kept being amazed by how one day we were in D.C. and then in a few amazingly short days we were near New York City. All of a sudden, it felt like the trip was going too fast.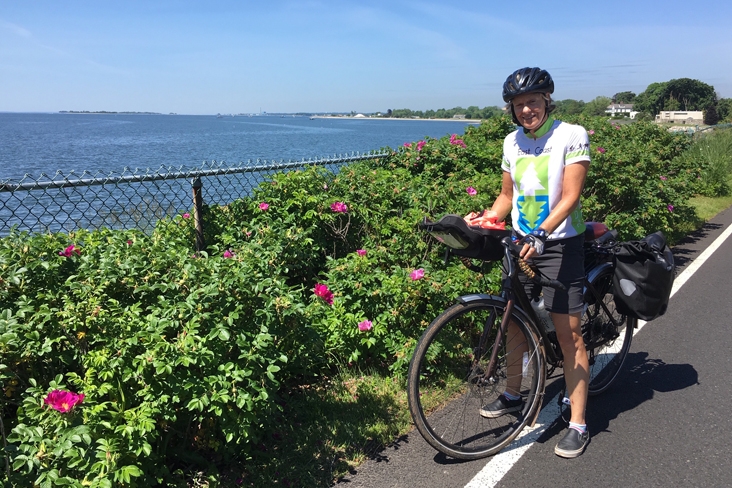 June 30, 2018
Neither Dee nor I slept very well the night before our last day, which would end in Calais, Maine, at the end of the East Coast Greenway trail. In the morning, I told Dee it was weird, but I felt nervous – why? Dee said it felt like the morning of a marathon. This was a big deal.
We'd stayed at the Blueberry Patch Motel & Cabins in Jonesboro, Maine, and the woman at the front desk told us that there was a big hill, Cooper Mountain, that'd be a doozy of a downhill. For the first 20 miles or so, I was worried that I'd go too fast and have an accident on our last day, but our route ended up turning before we got to the mountain.
We mostly had the road to ourselves and went through rolling hills, thick woods and pretty streams. The end of the East Coast Greenway is the Down East Sunrise Trail, which is heavy-duty gravel for 85 miles, so we stuck to the road instead.
During the last 10 miles or so, we rode through Moosehorn National Wildlife Refuge, which was the most remote part of our route. Dee and I were truly on our own for that last day, which was fitting because we'd been together for two intense months, riding two feet away from each other. When we got to the outskirts of town, we reached a sign that read "Welcome to Calais." I started crying and gave Dee a hug. We had made it.
We met Dee's wife, Sally, and a friend, M'lyn, who had an "East Coast Greenway Finish Line" banner hanging for us to ride through, and the tears started again. At that moment, I really missed my husband, Bob. I was so overwhelmed with emotion and didn't know how to express it, but Bob would've understood without me saying anything.
This trip left me feeling strong and confident. It was a one-time, bucket-list thing, and it made me realize: Bicycle riding is so accessible, to anybody. You just need the time to do longer rides (which can be tough).
I'm an avid runner, but there's nothing like being out and active for seven hours a day. As adults, we don't spend the bulk of our day outside, day after day; it's unheard of. I loved it. I didn't care if it was misting or a little rainy. We were outside; we smelled things; we heard things. I was okay with the trip being over and going back to my normal life, but I still crave that outdoor time.