Travelers who have explored, hiked or camped in public outdoor spaces over the last 30 years or so are likely familiar with Leave No Trace principles and sustainable tourism. But as travelers seek to be more thoughtful around the spaces they're visiting, the latest trend toward conscious traveling has been planning trips where vacationers aren't only focusing on leaving it as good as they found it but are investing in leaving it better.
A 2022 Sustainable Travel Report from Booking.com, including feedback from more than 30,000 travelers from 32 countries and territories, found that people were "traveling more thoughtfully, creatively and intentionally."
"With a growing respect for the world's local communities, the environment and biodiversity, a regenerative philosophy is starting to influence decision-making," the report noted. Within the survey, 59% of travelers "want to leave the places they visit better than when they arrived," and 29% "think that travelers are responsible for reducing negative impacts of travel and tourism."
But about one-third said they didn't know how or where to find activities or tours to ensure that they're giving back to the local community. Enter regenerative travel, a new idea garnering a buzz in the world of tourism. This travel philosophy could lead to greener, more culturally robust and less-crowded travel experiences for all – something visitors and locals are getting behind.
What Is Regenerative Travel?
"In the simplest of terms, regenerative tourism is about leaving a place better than you found it," says Kieron Wilde, founder of First Nature Tours, a Portland, Oregon, tour company.  While sustainable tourism encourages travelers to consider the economic, social and environmental impacts of a trip and to aim to leave places as they were found, regenerative tourism takes the concept one step further. 
At First Nature Tours, for example, a trip might include a mix of outdoor adventure, cultural education and restoration efforts. On the company's 2022 Willamette River trip, participants went kayaking as well as engaged in watershed restoration. "We keep the money in the community that we are visiting; we learn about local culture and sustainability initiatives," says Wilde. "We engage in a regenerative activity that leaves the destination better than we found it."
Wilde started the company in 2013, but he has only recently heard the tours described as regenerative tourism. "It's a trend in the industry right now, and one we're excited to be a part of."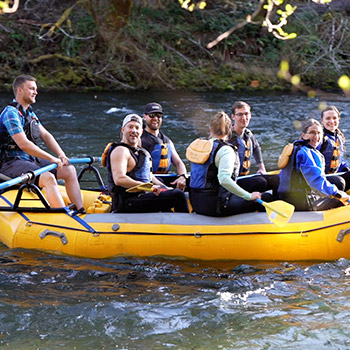 After a morning of trail restoration, a group experiences the McKenzie River via whitewater rafting with Horse Creek Lodge. Photo: Willamette Valley Visitors Association (WVVA)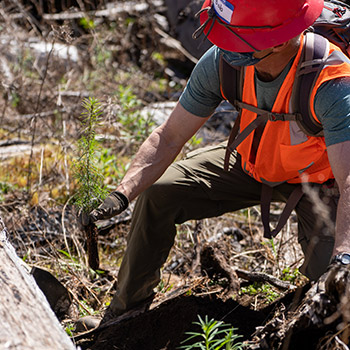 After the 2020 wildfires, travelers and the community came together to help restore national forest trails with Cascade Volunteers and Global Family Travels. Photo: Willamette Valley Visitors Association (WVVA)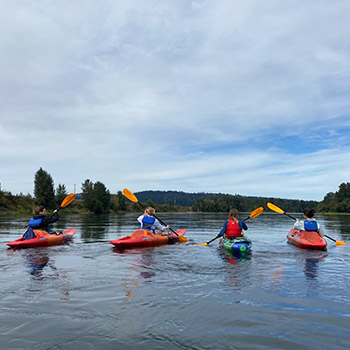 Travelers connect with the waterways and watershed of the Willamette River on a guided excursion with eNRG Kayaking. Photo: @harmke_traveler
New Name, Thriving Concept 
While new tours and events are being conceived worldwide, some have existed for a while without the label.  In many places, locals have long wished that those visiting their homeland would be more thoughtful about respecting local customs and giving back to the places they're enjoying.
In Hawaii, for example, new efforts to engage visitors in regenerative trips include letting the local efforts guide what can most help a place, whether that's planting trees or participating in beach cleanups.
Community leaders on the Hawaiian Island of Kauai are introducing more opportunities for regenerative travel after a University of Hawaii at Manoa research study based on a 2022 survey revealed nearly all Kauai residents were supportive of these activities and felt more favorable toward tourists who participated. Examples on Kauai include outings to replant native trees (offsetting the carbon footprint from flying to Hawaii), removing invasive plants from hiking trails and working in taro patches to experience Hawaiian culture firsthand.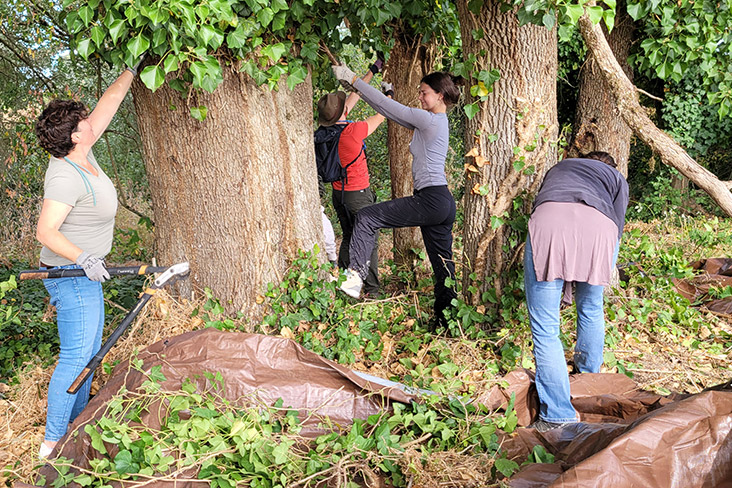 In rural southeast Alaska, the Sustainable Southeast Partnership (SSP) supports communities, in part, by introducing responsible, regenerative tourism opportunities.  "This supports local businesses and helps localize money," says Mary Goddard, regional catalyst for regenerative tourism for the SSP and creator of Forest Fresh Alaska, a cooking blog for forest-to-table delicacies that she produces with her husband, Lucas.
The Sustainable Southeast Partnership says regenerative tourism is rooted in Indigenous values and knowledge systems sharing a common belief that we are all stewards of land, animals and oceans. According to the group: "Indigenous knowledge states that everything is interconnected. Therefore the well-being of the environment is the well-being of the people."
In practice, this can look like trips that support restoration either through direct volunteer work or travelers' funds going directly toward these efforts. One experience supported by the partnership is an example of pescatourism, taking place in Sitka, Alaska.
Travelers spend a day with Finn Alley Fishing on a commercial fishing troller catching salmon, with a percentage of profits from the experience going toward stream restoration. These opportunities allow travelers to immerse themselves in local communities, support budding tourism economies and learn about Native cultures while also better positioning the destinations to flourish well into the future.