We're only a 32-mile easy drive from home, but it feels like another dimension.
Left behind are the manicured golf courses and landscaped yards of Palm Springs, California. Instead, my family is walking around indigenous stone pits once used by the Cahuilla people to trap fish. It's hard to believe that this dun-colored desert basin once held water, but tiny shells dotting the ground don't lie. Nearby, petroglyphs are etched on stony tufas.
Our son, Everest, is enchanted. He's 8 and has heard stories about our area's history. But standing here – immersed in an ancient campsite – makes the stories leap to life. This is hike number four on our family challenge, something to help get us out of the house, connect with nature and gain a new perspective.
The 52 Hike Challenge
We had already spent the majority of 2020 at home, my husband and I sharing a kitchen table as a home office and our son attending elementary school via Zoom in his room. Though I insisted on frequent outings to our favorite hiking trail, after a while, even that felt stale and stifling.
I couldn't ignore the metaphor walloping me over the head: We're stuck walking the same path. It was time for something new.
I don't remember how I stumbled upon the #52hikes hashtag on social media, only that it instantly appealed to me. Used by people around the world, the challenge seemed simple enough: complete 52 hikes in one year.
Not only could we do that, but it also felt necessary for my family's health and well-being during chaotic times. I figured even if we didn't travel far, it would offer some semblance of exploration and allow us to feel a sense of awe. Then I added another rule in a deliberate effort to cultivate adventure – every hike must be on a different trail.
My husband, Jason, was on board but skeptical.
"Are there even 52 trails in Palm Springs that we can hike with a kid?" he asked.
"We're about to find out."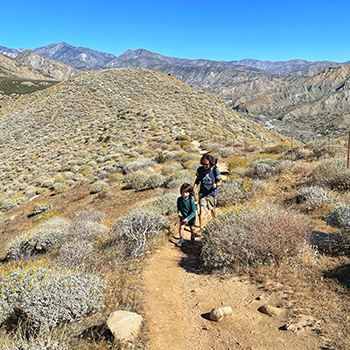 Jason Yasuda and son, Everest Yasuda, hiking a segment of the Pacific Crest Trail in Whitewater, California. Photos: Maggie Downs
Everest takes time to smell the poppies along a wildflower trail at Oak Glen Preserve in Yucaipa, California.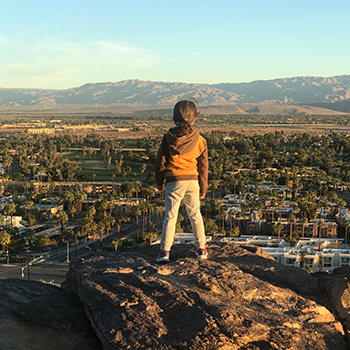 Everest looks over Palm Springs, California, from Rimrock Trail.
Happy Trails
We launched our challenge with a New Year's Day sunrise hike, a half-mile jaunt up a mountainside that we pass daily. We were delighted to find a tiny Christmas tree perched on the overlook, festooned with sun-bleached baubles and strings of beads. Above us, the sky was painted pink. Below, lights twinkled as the valley awoke.
Everest simply whispered, "Wow."
As our hiking challenge gained momentum, it gave our outings greater purpose. Jason and I scoured maps and wrote hiking wish lists; Everest eagerly tackled every summit. Our treks became longer and more strenuous while the sense of achievement grew.
Making Hiking A Priority
This is what makes hiking such a rewarding family activity, says Chris Emery, editor of Outdoor SoCal, who often hikes with his wife and young son.
"Moving through nature on foot is magical, especially for children. They get to experience the wild and have the space to express that wild energy that only kids have. It also builds grit, both physical and mental stamina," he says. "As a parent, you get to see the world through your child's eyes, which makes you appreciate it more."
Making hiking a priority dramatically shifted our weekends – our treks took on a starring role, no longer squeezed into the margins – and we became intimately acquainted with the area we call home. One dusty hike took us into a hidden oasis, thick with palm trees, less than a mile from the Target we frequent.
We learned where bighorn sheep graze and crossed paths with horned lizards. Hikes in remote areas of Joshua Tree National Park brought us to abandoned gold and silver mines that looked like the inspiration for Scooby Doo! mysteries.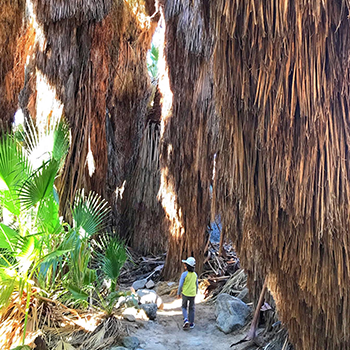 Lush palm trees loom tall at the end of the Hidden Palms Oasis Trail in Thousand Palms, California. Photos: Maggie Downs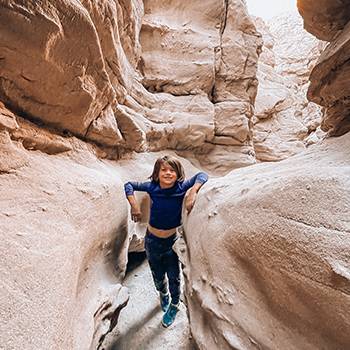 The Slot at Anza-Borrego Desert State Park is a natural playground with many twists and turns to explore.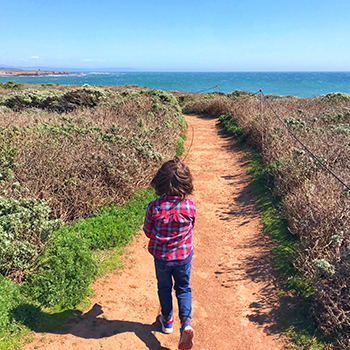 Everest walks the Boucher Trail in San Simeon, California.
The Desire to Connect With the Outdoors
Turns out my family isn't alone in the desire to connect with the outdoors. AllTrails.com, which offers trail maps and crowdsourced reviews, saw more than 100 million users on their website during 2021.
"More people are getting outdoors as a healthy and cathartic means of dealing with a lot of the new challenges in our world," says Meaghan Praznik, head of communications for AllTrails. "It's important that we don't forget how nature gives to us in times like these, and in turn, that we give back by protecting the outdoors."
If anyone knows how nature sustains us, it's Karla Amador of Aliso Viejo, California, who started the 52 Hike Challenge. Amador took up hiking when she met Phillip Stinis, an avid mountaineer, nearly a decade ago. At the time, Amador was coming out of a divorce and set a goal in January 2014 to hike once a week for a year. What she discovered was transformative.
"The feeling of accomplishment was so powerful," Amador says. "Hiking instilled a sense of worthiness and confidence in myself that had been missing."  
She remembered the overwhelming emotion when she reached the summit of Mount Whitney. "I wasn't crying because I was in physical pain; I was crying because I was released from emotional pain. And I suddenly had this intense desire to share that feeling with other people."
Amador and Stinis went on to create 52hikechallenge.com, now a thriving community of people heading outside.
Paths Forward
For my family, the more we discovered, the more we were driven to discover. Venturing beyond the desert in California, we found a preserve in Cambria that led us from evergreen forests to coastal bluffs. A ribbony San Simeon trail wound through fields of wildflowers, offering jaw-dropping overlooks of the Pacific Ocean and quiet viewing areas of elephant seals, far from the crowds. In Tucson, Arizona, we posed like saguaros.
By the end of the year, rather than feeling confined by a trail, the paths offered us possibilities. They became our way forward.
We finished our challenge with a backcountry loop in New Mexico's White Sands National Park, the largest gypsum dune field in the world. It was difficult, the fine sand tough to navigate as it swallowed our boots. When I glanced back, a gust of wind had already covered our footsteps, the dune as white and clean as a new sheet of paper.
It was a blank slate, ready for another hike.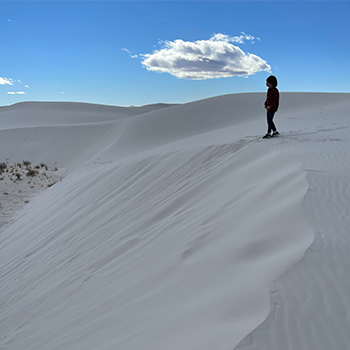 Maggie and Everest enjoying White Sands National Park
Photos: Maggie Downs