You may have a road trip planned for your Subaru, but it's probably not nearly as ambitious as what Jonny Walker intends to do in his 2005 Subaru Legacy GT Wagon. After purchasing his Legacy in showroom stock condition back in 2013, Walker added modifications and now plans to drive it up one of the most remote roads in the world: the Dalton Highway. He'll end his journey in Deadhorse, Alaska, about 300 miles north of the Arctic Circle.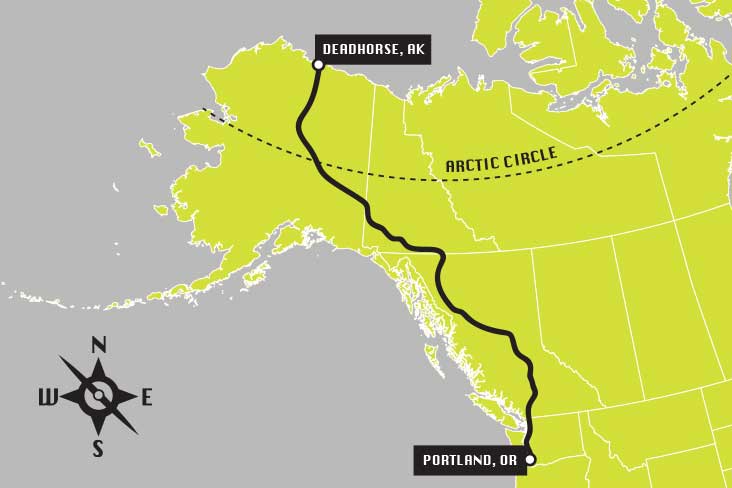 At first, Walker simply wanted to build a car that worked as both a daily driver and a show car. He converted it to right-hand drive with Japanese domestic market parts, including a new EJ20Y engine with a higher redline. A few years later, the inside of the Legacy got even more love with a full STI interior and custom black-suede headliner.
Mission accomplished, Walker drove his creation up and down the West Coast to shows but found himself wandering off the highway. A love for the outdoors and the Legacy's capability had him venturing off-road and gave him the notion of adding another layer to his build.
He set out to make it ideal for camping, too, with a Napier Sportz Cove for sleeping in the back and an ARB awning for relaxing after a long drive. A Road Shower 4S adds heated water for cleaning dishes and washing the car before the next show, and a custom roof rack ensures he has room for everything he needs.
In addition to those practical considerations, Walker upgraded the audio to make it a better show car and more fun on road trips. It now boasts an Audio Dynamics sound system with 3100 Series speakers, tweeters and crossovers for the front doors, 2000 Series coaxial speakers for the rear doors, an amplifier and a subwoofer.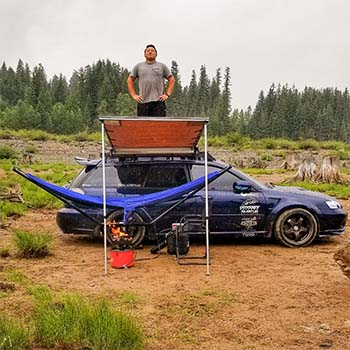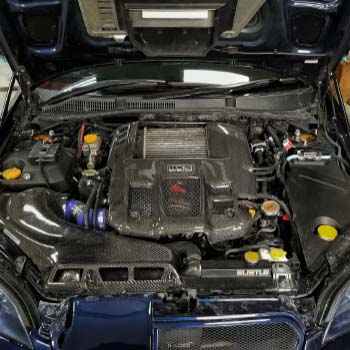 As with many builds, it's never really done. Additional modifications include custom vented fenders, a custom carbon-fiber adjustable wing, a rear diffuser, custom dual-projector headlights, skid plates and winter tires.
This got Walker, who is in the U.S. Coast Guard, thinking about something more adventurous. "For the past three years I was stationed on the Polar Star, [a ship] responsible for breaking an ice channel to McMurdo Station," a U.S. research center in Antarctica, to clear a path for resupply ships, he says. Once back in the States, "a mate and I had been traveling up and down the West Coast. One day, I got curious of how far north you could actually drive in North America. One thing led to another and I figured since I've been to the bottom of the world, I should visit the top of the world."
Walker plans to start in Oregon and include the Dalton Highway, a 414-mile ribbon of dirt and gravel that cuts through remote Alaskan wilderness, as part of his route. "From Portland, Oregon, to Prudhoe Bay it takes roughly two days and 10 hours of constant driving, according to Google maps," says Walker. He figures he can make it in about two weeks, accounting for a few stops along the way.
Walker is continuing to modify his Legacy to handle the trip and, if all goes as planned, he'll be above the Arctic Circle next summer.
Follow Walker's journey and see the rest of his wagon build-out via Instagram @rhd_adventures.