New Year's Eve 2019 was a high point for Mary Latham. In November, the 32-year-old Long Island native had completed a three-year road trip across America, logging 43,000 miles in her late mom's Outback to find stories of kindness in all 50 states.
To celebrate the year ahead, Latham joined a few friends at a restaurant, where the TV was tuned to Anderson Cooper and Andy Cohen's ball-drop coverage on CNN. Suddenly, she saw herself on the screen. Subaru was airing a commercial about her road trip project, More Good, which she had started to honor her mom, who died of cancer in 2013. "I freaked out," Latham says of seeing the ad. "I got up screaming."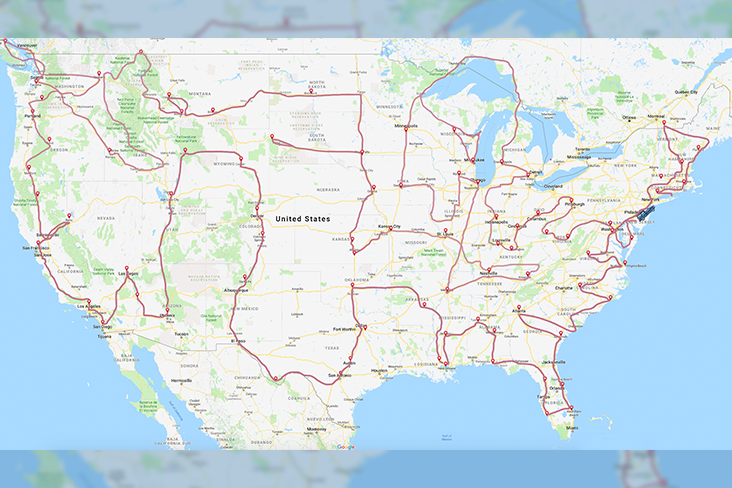 At the table next to them was a mom whose son had died at age 20 in an accident; she'd started an organization and a scholarship in his honor. The commercial got her and Latham talking. "This is how my trip was the whole time," Latham says. "Realizing you're always in the spot you're meant to be, which you never know unless you connect with the people around you."
In October 2016, Latham packed the Outback (nicknamed "Old Blue") with clothes, books, a Yeti® cooler and a road atlas and took off for Connecticut, her first stop. Originally, the idea was to "go out there, search for the good, document it, make a book for hospital waiting rooms," she says.
Latham thought she'd be on the road for a year. But as more people heard about her project, it grew in unexpected ways. A teacher in Sacramento reached out and asked her to speak to his class about storytelling, so she went. He spread the word, and she ended up visiting at least 30 schools.
Local papers began to cover her journey, and strangers reached out and offered to host her. By the end of the trip, Latham had stayed in 154 homes across the country. Her hosts opened up to her, sharing their own experiences and linking her to other people in their communities who had heartwarming stories to tell.
In Rhode Island, Latham met Judy. She'd been diagnosed with brain cancer and wanted to run a 5K. Her friends, who were not runners, started jogging right along with her in what Latham calls "a beautiful little love story of friendship."
One of Latham's favorite stories is of the customer who bought a bank teller a bag of M&M's® after the teller admitted she was having a bad day that was "nothing a bag of M&M's couldn't fix." This kind of gesture, Latham says, is "so small but so important. We are all capable of doing that, and we should be doing it more."
She ultimately interacted with thousands of people, following whatever leads she had and digging for more, inspired by her mom's words that despite inevitable sad times in our lives "there'll always be more good out there if you look for it." Latham emphasizes that "if you look for it" is the most important part as well as the hardest. "I feel like I was just doing one of those trust falls for the last three years," she says. "OK – hope people come catch me!"
They did. Latham was on the road to hear stories of good, but along the way, people began bestowing good deeds on her too. A guy in California tuned up her car for free. A ninth grader in Minnesota brought her a bag of dried fruit and granola bars. People gave her books, coffee mugs with state logos and meaningful tchotchkes, such as Alberta the hula dancer and Helen the turtle that rode along on Latham's dashboard.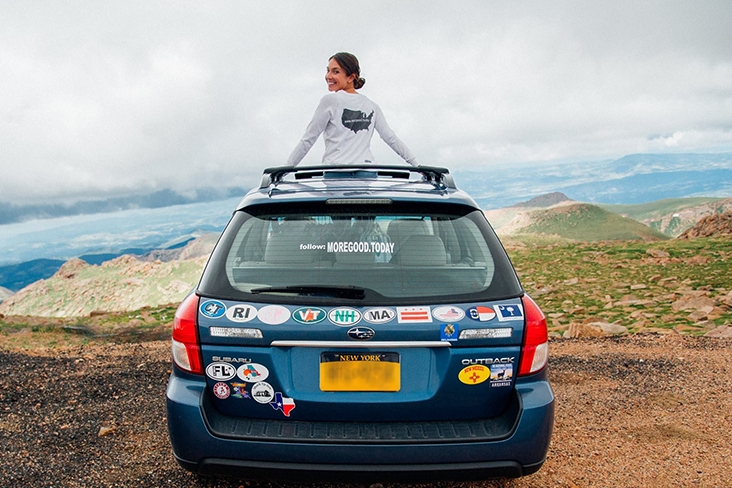 In late November 2019, Latham made her return trip across the Orient-East Marion Causeway on Long Island, with Ozzy Osbourne's "Mama, I'm Coming Home" playing on her speakers. She'd set her phone on the dashboard to record her last moments of the journey, but the device came crashing down before the finish line, a poignant reminder that certain things just can't be captured by technology and, instead, must simply be lived.
After Latham's return to her hometown, her sister, who lives nearby, had to make an unexpected grocery store run. She packed up her young kids and headed to the store, only to realize at checkout that she'd forgotten her wallet. "And the woman next to her paid," says Latham. "My sister was crying because to have one person see you and help you means so much. Then she said, 'It's so weird because my sister just got done with this really big road trip, documenting moments like this.' And the other woman said, 'You're Mary's sister?'"
Now, Latham is taking her own moment to live: to breathe, reconnect with friends and family, go on a date or two, get back to her job as a wedding photographer and, having worn the same pair of Converse sneakers and a "More Good" sweatshirt pretty much the entire trip, maybe buy a cozy sweater.
"And that's really the whole purpose of our life. If you can't find good, be good."
– Mary Latham
Latham still wants to write a book for hospital waiting rooms, and she's also thinking about a memoir "or something else, I haven't figured it out exactly," she admits. "But there's so much to be said."
Before Latham can get down to any serious writing, she's scheduled to talk at another school and then she'll spend two months in the Caribbean, where she traveled first after her mother had died. She plans to keep looking for stories of good there, which will go in the book's epilogue.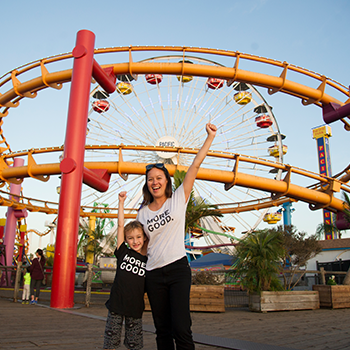 Jade Duell and her son, Ford, from Los Angeles, sport More Good shirts to support Latham's mission. Photo: Mary Latham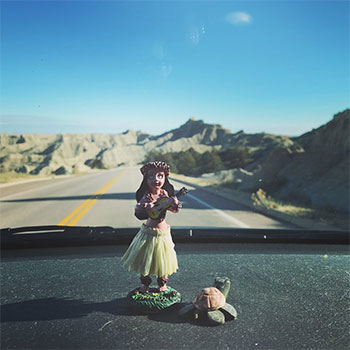 Alberta the hula dancer and Helen the turtle ride along on Latham's dashboard. Photo: Mary Latham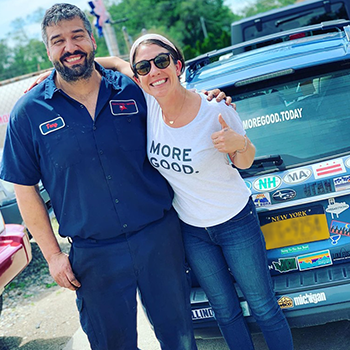 Latham with mechanic Tony Lacopo from South Bend, Indiana. Photo: Mary Latham
The stories are everywhere, but you've got to put it out there to get it back. "If we do turn off the news, if we stop looking at the negative things on social media, and we just walk around our communities, we make human interactions," Latham says. "And that's really the whole purpose of our life. If you can't find good, be good."