Like many Midwestern kids, I went through a monarch-rearing phase – watching caterpillars gorge on milkweed before they'd spin green chrysalises and emerge as colorful butterflies 10 to 14 days later. As an adult, my fascination returned when I read Four Wings and a Prayer: Caught in the Mystery of the Monarch Butterfly by Sue Halpern, a book about the wonders of monarch migration.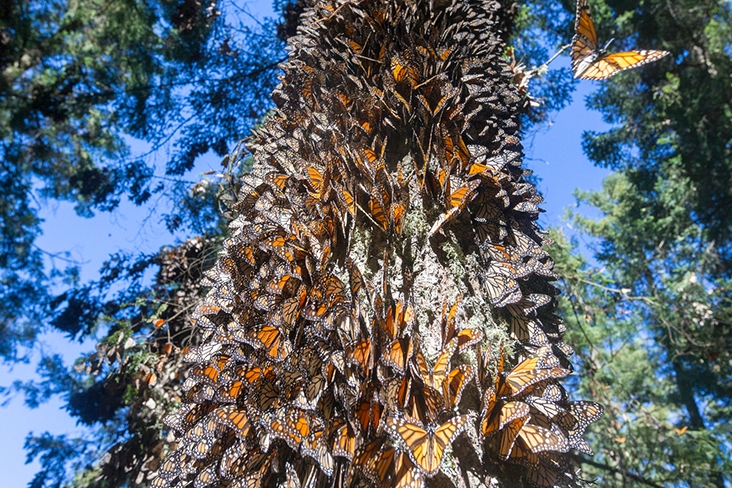 Every October, millions of the butterflies travel south from Canada and the U.S. to the Mexican state of Michoacán, more than 3,000 miles away. Though their ancestors have made this journey before, each year's migrating monarchs are first-timers.
Somehow, they innately know the path. When they arrive, they nest in mountain forests, many of which have been designated federally protected sanctuaries. Naturalists there and elsewhere in North America work tirelessly to save monarchs. The butterflies are important pollinators, helping many species of wildflowers thrive.
I retired recently from working as an educator in the Saint Paul, Minnesota, public school system, as did my husband, Scott. Finally free to spend our winters somewhere warm, we began looking at options for long-term rentals and felt drawn to the mountain air of the Michoacán highlands. A chance to visit nearby monarch sanctuaries tipped the scales.
Monarchs – who can't fly if the temperature dips below 55 degrees – escape Minnesota just ahead of the first frost. A few years ago, we decided to follow suit and stay in Mexico through April, but even if you have only a couple weeks to chase the monarchs, it's a wonderful journey.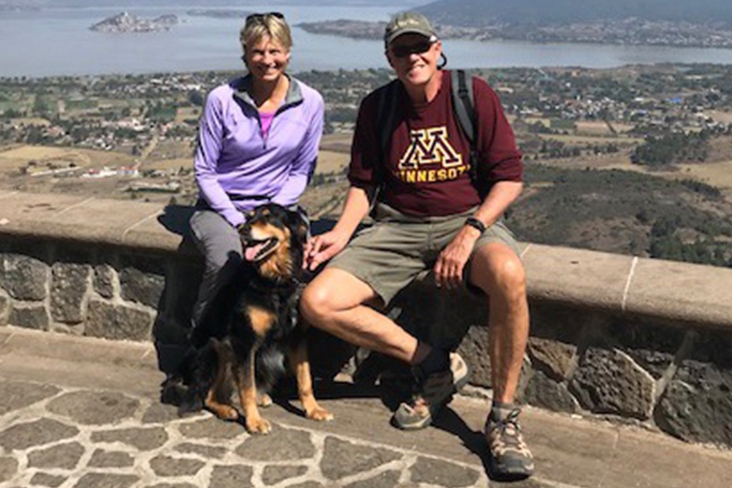 With two duffels, our dog, Flambeau, and our cat, Dulce, loaded into our 2016 Subaru Forester, we drive south into Iowa, past harvested fields and signs advertising corn mazes, pumpkin patches and haunted houses.
After a night in Cameron, Missouri, we slice through Kansas and Oklahoma, where the landscape opens up to rangeland and rolling hills. We stop to stretch at a scenic lookout at Bazaar Cattle Pens on the Kansas Turnpike, where we spot the black specks of grazing steers scattered across the Flint Hills.
We spend our second night in Ardmore, Oklahoma. In the morning, we head for nearby Lake Murray State Park for a hike with Flambeau. Another scenic spot to hike, Lake Texoma – an enormous reservoir and recreation area that straddles Texas and Oklahoma – is a 70-mile drive to the southeast. Naturalists from the nearby Hagerman National Wildlife Refuge lead bird and butterfly walks, and there are plenty of self-guided trails.
On a sunbaked stretch of Interstate 35 lined with tire repair shops, my husband and I drive past a quiet tornado of orange and black: hundreds of monarch butterflies, swirling around like maple leaves. Beams of sunlight illuminate their iridescent wings. The sight is exhilarating, and we're now about halfway through our five-day road trip from Minnesota to central Mexico.
From there, the Monarch Highway cuts directly through Dallas, Austin and San Antonio on the way to the border. We cross into Mexico at the Laredo-Colombia Solidarity International Bridge with the permit for our vehicle in hand. [Read "Permits & Pet Inspection" below for the paperwork you'll need to secure before your trip and requirements for pets.]
A perfect first place to stop in Mexico is Monterrey, a bustling city about a three-hour drive from the International Bridge. It's home to the Museum of Mexican History and the Museum of Contemporary Art (MARCO), designed by celebrated architect Ricardo Legorreta; rival fútbol teams and the Mexican Professional Baseball Hall of Fame; and a wonderful restaurant scene. Carne asada, grilled over open flame, is a long-standing tradition in the city and surrounding region.
From Monterrey, the road toward San Luis Potosí turns to mountain scenery, bordered by towering bluffs and dramatic canyons. We stop at a travel plaza for gas, and a woman approaches selling elote, sweet corn slathered with a mixture of mayonnaise and crema (a tangy, salty cream) and sprinkled with cheese and chili powder. It's delicious. Scott and I chat with her as we snack, and she tells us that two of her children live in Chicago.
At Las Palmas Midway Inn in Matehuala, a bellhop on a bicycle leads us through a palm grove to our room. Near the outdoor pool, we bump into a couple we'd met at the border. We clink cervezas and relax.
It's our last night on the road before we reach our destination, Pátzcuaro, a picturesque city of about 80,000. The central square, Plaza Grande, is a hub of vendors, performers, restaurants, shops and ice-cream stands. You'll find Scott and I here for part of every day during our snowbird months, sipping a latte at Loretta, our favorite coffee shop, or enjoying a meal at El Patio, a bright restaurant known for its corundas, steamed masa (corn dough) wrapped in fresh, green husks.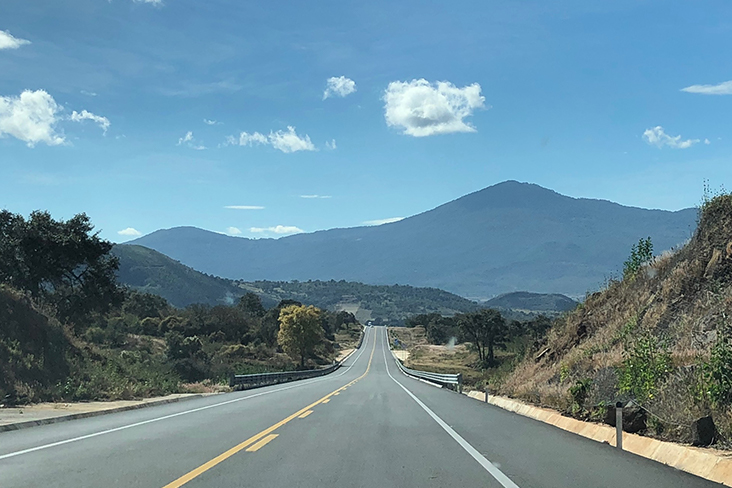 El Rosario, about 115 miles east of Pátzcuaro, is one of several sanctuaries in the Monarch Butterfly Biosphere Reserve, a UNESCO World Heritage site. The trailhead there elevates to 10,000 feet, so our lungs are pumping as we begin our ascent up a steep and rocky path. (For those who don't want to tackle the climb, horses are available to rent.)
On the first stretch, we see only a handful of butterflies. But the trail leads to a clearing, where a small group of tourists has gathered. A park ranger signals visitors to stay quiet, and we hear the soft thrumming of millions of butterfly wings.
It looks as though the towering oyamel firs are cloaked in orange shawls, but moving closer, we see that they're covered with monarchs, so many that the trees' branches bend from the weight. We stand in awe as the morning sun moves across the mountainside.
The butterflies slowly peel away from their roosts, spiraling downward like unwinding orange rinds. We can't help but wonder if the winged travelers we'd met on the road are among them.