David and Pam Brennan will never forget the first time they spotted a seal that seemed to be in distress. "One day we were walking on the shore near our house, and we saw a seal 400 feet away from us," says David. That first seal sighting was in 2012 near the house in Brunswick, Maine, he shares with his wife, Pam, and two Labrador retrievers. "We were concerned (because) the tide went out and came back in, and the seal was still there."
Their first call was to Marine Mammals of Maine (MMoME), an organization that's federally authorized to rescue stranded seals, whales, dolphins, porpoises and sea turtles. Soon, a volunteer was on the scene. While the seal turned out to be healthy and just resting, the experience inspired the Brennans to get involved.
Within a year, the two had completed volunteer training. They learned how to spot a seal in distress and studied the federal regulations governing seal handling. When it was time for their first seal rescue, they were ready. "As soon as MMoME determined that this pup had, in fact, been abandoned and that the mother wasn't coming back, we knew what we had to do," says Pam, a registered nurse.
This involved a fair amount of gear, including a large dog carrier, as well as a great deal of patience and stamina. "To transport a seal, you get behind it and cover its head and body with a blanket," says David, who is a self-employed salesman. "You always wear gloves because you can get a nasty disease if you're bitten. You then straddle the seal with the blanket on it and usher it gently into the crate headfirst."
Volunteers such as the Brennans are vital, says Lynda Doughty, MMoME's executive director. "We cover 2,500 miles of coastline, and without volunteers to assist us in responding, we couldn't help the many animals in need."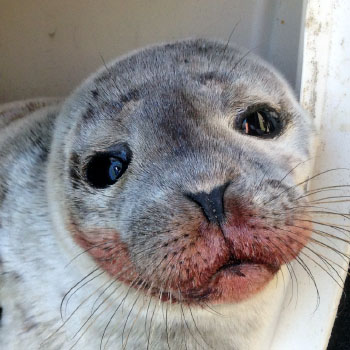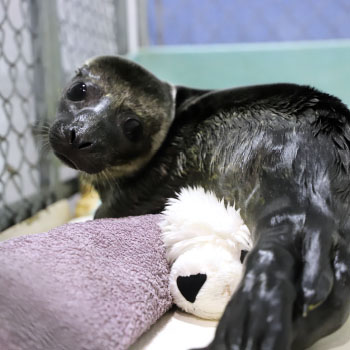 In addition to monitoring local seals and communicating with the MMoME team about any seal sightings, Pam and David have also transported many a seal in their trusty Outback, driving from Maine to Massachusetts to meet a truck that would take the seals to the Mystic Aquarium, a public aquarium in Connecticut with a top-notch research facility.
"Those rides are kind of fun and also a little uncomfortable," David says. "Harbor seals tend to be stranded in May or early June, so it might be warm outside, but you have to keep the seals cool. So, the car's AC is cranked, the windows are up and the car smells like seal – a combined smell of fish and urine!"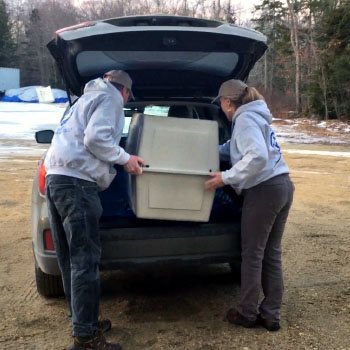 But thanks to the vehicle's hatchback, the couple can keep a close eye on the seals in the back on their lifesaving missions. "We angle them so the front of the dog carrier is toward the front (of the vehicle), so we can look inside and make sure they're not stressed," Pam says.
With Pam and David's help, MMoME rescued 60 seals last year. "Without our organization," Doughty says, "injured seals in Maine would not have any place to get the care they need."