Ed Parsil has had a long love affair with the Subaru 360, but he wouldn't be surprised if most people haven't heard of it.
Subaru imported about 10,000 of its 360 models into the United States from 1968 to 1970. In those early days, the vehicles slowly found their way to new owners, and half a century later, they're now increasingly popular collectibles in the little-car universe.
Parsil is the ultimate 360 enthusiast. In 1975, he bought his first – a 1970 Subaru 360 van – during a snowstorm in New Jersey. After a brake job, Parsil drove it for "40 years and two months," he says with a melancholy note in his voice.
His advancing years (Ed's now 84) had more to do with giving up his 360 vehicles than any performance issues. "You have to be able to get out and get under when you own a 360," says Parsil, who handled most of the work on every 360 he owned over the years.

While Parsil can't get "out or under" anymore, he has created a lasting legacy for the 360: a gathering of similar enthusiasts, the aptly named Subaru 360 Drivers Club.
The most pressing need initially, Parsil recalls, was locating a parts manual. Not all Subaru retailers stocked parts as the model grew increasingly older and rarer.
Parsil started running ads in vintage car publications, such as Hemmings Motor News, to reach out to other drivers for information and parts. "Within a few months, about two dozen of us were phoning each other and swapping tips. A guy in Arkansas had a parts book and could give the numbers we needed for replacement parts," Parsil says.
The club started with roughly 24 members back in 1979, and anyone who joined through 1980 was considered a charter member. Unlike the 360, only a few of the original members are still around. The membership dues were $2 ($1 for each cylinder). Now the dues are $8 – as they've been since 2007.
"Today, we're probably the lowest-cost car club," he says. "We're all volunteer. If you have people who enjoy the work, it's a lot cheaper."
Membership climbed quickly as the word spread. After one year, there were over 80 families representing about 140 makes and models. By the mid-'80s, that number had grown to 350 vehicles represented. Now membership has swelled to 650, which represents from 1,100 to 1,200 vehicles, according to Parsil.
As those numbers suggest, most members own two. Some own more. One multiple-owner is John Riley of Dubuque, Iowa. He co-founded Riley Subaru back in 1972, a couple of years after Subaru stopped selling the 360. (His son, Jim, now runs it.)
Riley owns a 360-based Sambar pickup truck he bought in 2011 as a restoration project. After the completion of that project, he purchased a sedan in 2013. Everything original was still on the car, with the exception of an amateur paint job. Riley cleaned up the paint as much as possible and only needed to replace the tires.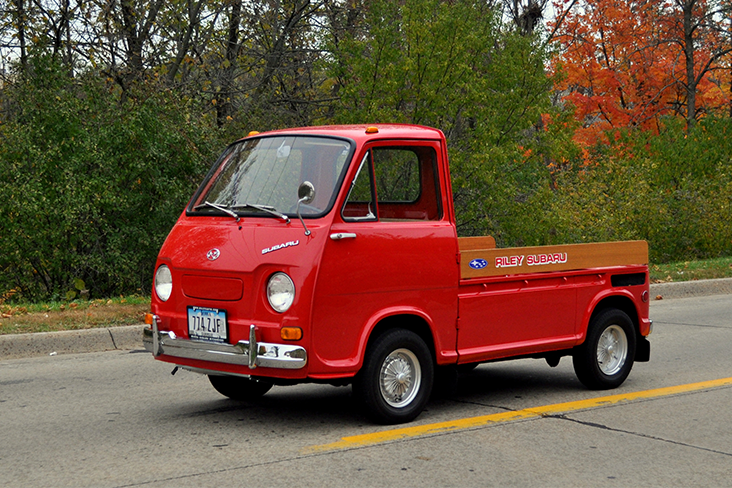 Riley says an active club, such as the one run by 360 owners, has helped maintain an interest in the vehicles. This helps to increase the model's value, with an average 360 selling for at least 10 times what it cost new. The strong interest also makes it worthwhile for suppliers to create aftermarket parts.
The 360 stays popular with a new generation, Riley posits, because "they're cute and fun to drive." That's a sentiment that Parsil echoes – he has enjoyed cross-country trips in them.
While a 360 may not be well-suited to 75 mph highways, he says, they can comfortably handle 60 to 65 mph. Parsil would also like to end the myth that 360 engines won't last for more than 25,000 miles. "I've rebuilt several 360s and never got less than 100,000 miles out of one. They are that reliable."