After 50 years of owning and operating automobile retailers throughout northwest Arkansas, Don Nelms, owner of Adventure Subaru in Fayetteville, has some advice for anyone running a business. "You can make all the money you need, and you can do the right things by the customers and the employees. It can all be done at the same time," he says. "And believe me, it's a heck of a lot more fun that way."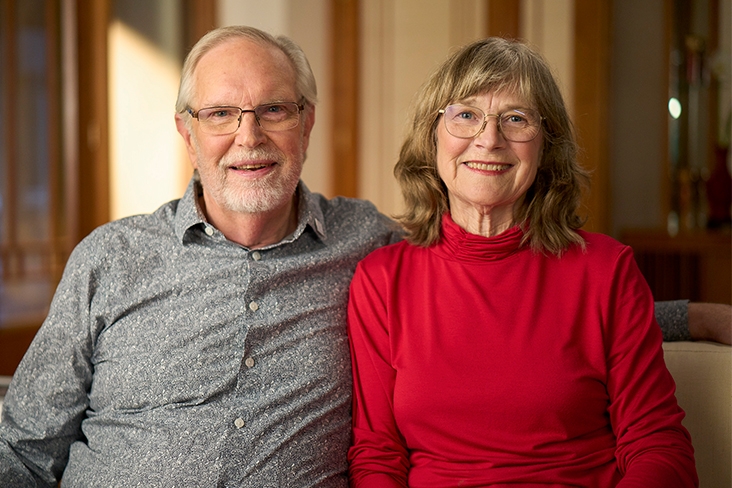 The Adventure Subaru team operates by a code known as the Nelms Tradition. "All of that has to do with Don – how you empower your employees to make the right decisions, do the right thing for the customer, give back to your community and stand by the product you sell," says Marketing Director Danielle Dotson.
That's how Adventure Subaru came to support Champions for Kids, a local nonprofit that helps children experiencing housing insecurity and other crises. Founder Adelaide Schaeffer was car shopping one evening when she started chatting about her organization with Adventure sales associate Chad Owens. Owens told Dotson, who met with Schaeffer, "and we all cried in the office," says Dotson. "Adelaide told us about the work she's doing, and I was like, 'We have to help.'"
The Adventure Subaru team helps sponsor campaigns such as the I Finished Strong! Reading Champion!™ program, which encourages youth summer reading, and Books, Bears and Blankets, a fundraiser to provide children with books, stuffed animals, blankets and gift cards.
The Single Parent Scholarship Fund of Northwest Arkansas is another organization close to the heart of Adventure Subaru, founded by sales associate Kenny Boyett's father-in-law.
The fund, boosted by the annual , helps Arkansans like Deana Duncan, a single mother who returned to college on a scholarship after fleeing an unsafe home in Oklahoma. The funds covered housing, car expenses and books for her children.
She finished her degree and both her children are now in college. "Single Parent Scholarship created a totally different life for me where I'm able to provide for my kids," she says.
Fayetteville is the kind of place where residents brag about the community to out-of-towners, recommending that visitors take a scenic drive through the Ozarks or explore the Buffalo River. Adventure Subaru invests back in the land, having adopted a portion of the Razorback Greenway trail and contributing to environmental groups, including the Northwest Arkansas Land Trust and the Buffalo National River Partners.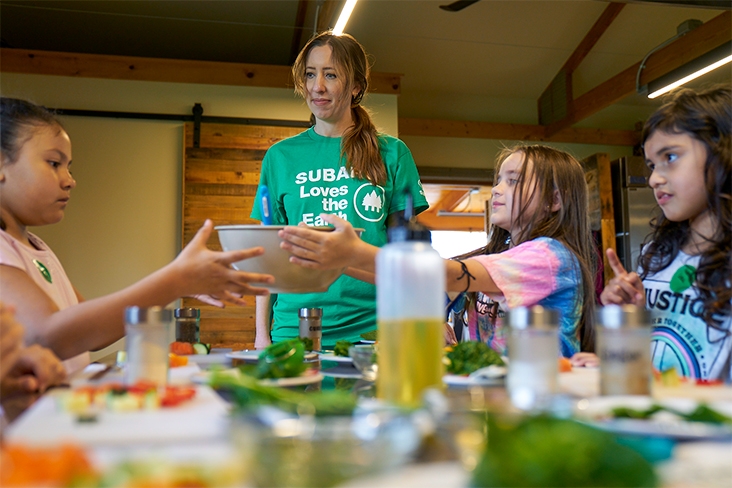 In Fayetteville's Gulley Park, Apple Seeds educational farm teaches children about their health and the ecosystem, supporting the Subaru Love Promise pillars that serve education and the environment.
Arkansas has high rates of childhood diet-related diseases and food insecurity, so the farm engages youth with hands-on experience growing, harvesting and preparing fresh produce in addition to distributing food packages to local families. Adventure Subaru also helps underwrite fundraising events at the farm, from foraged farm-to-table meals to gardening workshops that support the farm's programming.
The Nelms Tradition is extended to the retailer's employees as well. To ensure that staff can take time off when they need it most, Adventure Subaru matches dollar for dollar the amount that an employee chooses to contribute to bereavement and parental leave funds. The retailer gives time off for volunteer work too.
"I don't know that we're all that different from anyone else. We just try to do what we're supposed to do," says Nelms. Modesty aside, the Nelms Tradition has served him and northwest Arkansas well. "Try to do the right things by your community and do the right things by your employees and you can be rewarded very handsomely for doing that."