When Shawn Weigelt purchased a silver Forester from Peninsula Subaru in Bremerton, Washington, he was impressed by more than just the friendly service. After looking at the retailer's posts on social media, Weigelt and his wife realized how hard John Dionas, the president and owner of Peninsula Subaru, works to give back to the local community.
"For example, purchasing a bus that was then donated to an organization for children," Weigelt says in appreciation of one recent act of community service. Peninsula Subaru donated a vehicle to the Children's Home Society (CHS) of Washington that's now used for their Key Peninsula Family Resource Center to transport community members to educational fairs and youth to after-school programs, adolescent sobriety treatment groups and more.
A Focus on Helping Children
Raising four children with his wife, Melinda, inspired Dionas to focus much of his philanthropy on helping kids. Since opening Peninsula Subaru over two decades ago, he has enlisted the help of his staff and his own family to support organizations such as the CHS, which helps infants, children, teens and families through a variety of programs that include child abuse prevention efforts, education and career-adjacent projects and more.
In April 2022, Dionas and the employees of Peninsula Subaru presented a $30,000 check to CHS, money raised during the retailer's annual Share the Love® Event, when Subaru donates $250 from every new vehicle purchased or leased to national charities or the retailer's choice of local charities.
"Our commitments are based on the fact that we are a family with four kids, and we wanted to give back to a charity that we thought would honor children," Dionas says. "We've been blessed with opportunities and, in turn, we want to give back to those who are really in need, and children are the ticket to the next generation."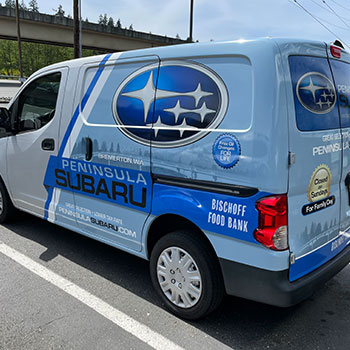 Vehicle donated to a local food bank.
Peninsula Subaru team members and Subie Adventure Club enthusiasts clean up nearly 700 pounds of trash from State Route 3 in Washington.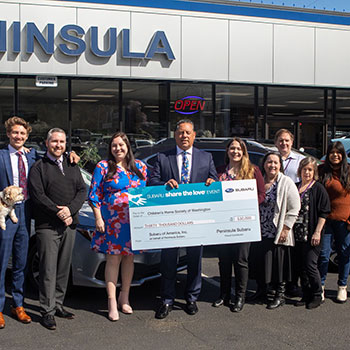 John Dionas (center) and Peninsula Subaru employees present a $30,000 check to the Children's Home Society of Washington.
Other Ways Peninsula Subaru Makes a Difference
Throughout the year, the Dionas family – including John and Melinda's sons and daughters, who are now in their 20s and 30s – and Peninsula's staff of nearly 100 employees do similar fundraising and volunteer work for many other groups, from the Gig Harbor location of the Boys & Girls Clubs of America to Gig Harbor Peninsula FISH, a local food bank.
Last year, Dionas hosted a "Stuff the Subaru" event, encouraging community members to leave nonperishable food items for FISH in the back of a white Forester parked at the retailer. Another group of Peninsula volunteers put together more than 100 personal hygiene kits and donated them to a shelter that houses youth who need a place to stay.
Enthusiasts are eager to help out as well. In February, Peninsula Subaru worked with members of the Subie Adventure Club, a local Subaru enthusiast group, to pick up nearly 700 pounds of trash from the side of State Route 3, a nearly 60-mile highway in Washington. Volunteers spent hours filling trash bags with plastic bottles, food wrappers and the litter commonly found on the side of busy streets.
When the pandemic interfered with some of Peninsula's usual fundraising events, such as an annual golf tournament, Dionas found other ways to give back. During work-from-home periods, for example, he asked his staff to rummage through their closets and see if they could find items to donate. The items collected, including clothes and stuffed animals, were given to the CHS' clothing bank.
Peninsula Subaru is Closed on Sundays for Family Day
When asked about his devotion to the various causes he supports, Dionas is quick to note that, although the financial aspect of the business is important, he believes that being upfront about his philanthropic and religious beliefs is essential as well.
"We are one of the few car retailers in Washington that are closed on Sunday, for example," he says. "We're closed on Sundays for family day, and I tell my children that won't ever change – it's in our DNA. It's an opportunity to be with your family and, if you choose to go to church, that's great. But we've been doing this for many years, and we'll never look back."
Dionas sees philanthropy as going hand in hand with running a successful business. "I think that if you create success within your environment, it is your duty as a person to give back on that."