When Caitlin Cottrell was undergoing treatment for leukemia as a 9-year-old, she received a colorful blanket from a local church group. It kept her warm and brightened up the hospital room where she spent considerable time during her more than 28 months in treatment. Eighteen years later – as a survivor – she still remembers how special that blanket made her feel.
"A blanket symbolizes comfort, and getting one as a gift from an organization reminds you there are people out there thinking about you," she says. "It makes you feel supported by the community."
Today, Cottrell is providing that same feeling to other cancer patients as a volunteer of the Subaru Loves to Care initiative, donating blankets in partnership with The Leukemia & Lymphoma Society (LLS).
LLS has invested more than $1.3 billion in cancer research since it was founded in 1949.
The partnership grew out of a practical need. One of the many side effects of chemotherapy and radiation is that it makes it difficult for patients to stay warm. Four years ago, LLS and Subaru of America found a scalable solution.
Since then, Subaru has shipped more than 148,000 blankets (along with over 21,000 arts and crafts kits, stuffed with markers, crayons, modeling clay and washable glitter glue) to more than 500 partnering retailers across the U.S., who then join forces with local LLS chapters to deliver the care packages to cancer treatment centers.
To date, the program has made blanket deliveries to 700 hospitals around the country.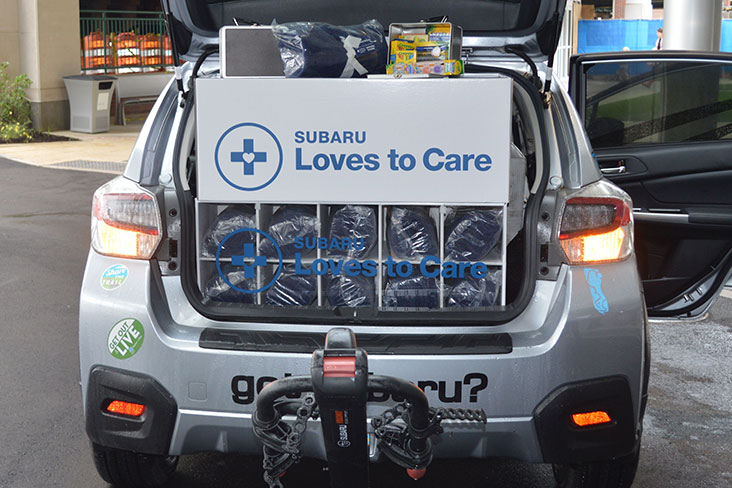 Delivering LLS Blankets at Dayton Children's
The impact this has on patients is palpable, as Cottrell witnessed again – this time, as an adult – when she returned in July 2017 to Dayton Children's, the Ohio hospital where she had been treated. Along with local LLS chapter staff and volunteers, and employees of Wagner Subaru in Fairborn, Ohio, she passed out blankets to children in the hematology/oncology unit.
"I hadn't been there in 15 years," she says. "I remember all of it, but as a kid, everything is different. When I [revisited], the hospital was about to remodel the unit I was in, so I was lucky to see it as I knew it one last time." She even ran into a few staff members who remembered her and got to say "hi" as she delivered blankets to the young patients.
"There was one little guy who had the same diagnosis as me and was around 9 years old," she says. "He was so appreciative and so sweet, and it just reminded me of myself when I was going through what he is."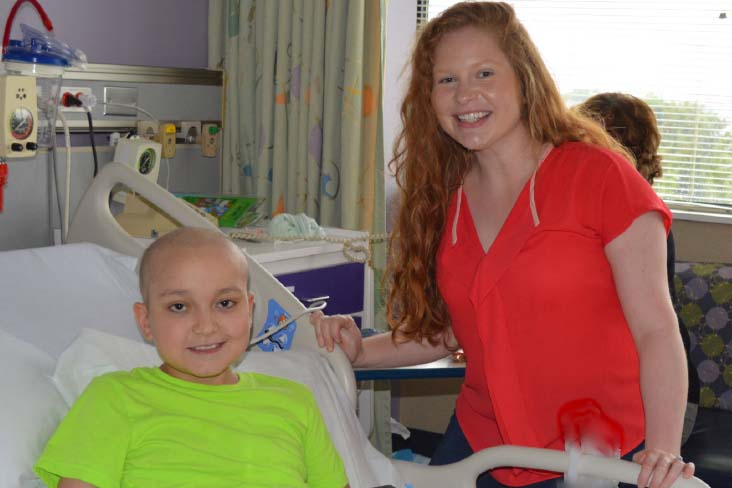 Giving Back Through LLS
This ability to empathize so deeply with cancer patients has set the course for Cottrell's life. During her treatment, she became involved with LLS fundraisers and educational programming at her elementary school (a service LLS still offers to families who need help reacclimating kids into school).
As she got older, she continued to volunteer for LLS, participating in fundraisers, calling parents of patients to check in and see how LLS could help, and in 2013, doing the Flying Pig half marathon through the LLS Team in Training® program with a childhood friend who'd supported her from the beginning.
After high school, Cottrell went to nursing school to become a pediatric oncology nurse. "From the time I was diagnosed, I realized how much nurses do and how involved they are with their patients; I knew that was what I wanted to be," she says. She works at a hospital near her home in Loveland, Ohio, where she lives with her husband, Chandler, and their infant son.
"Having cancer brought out different parts of me that I didn't know I had. As a kid, you never think you're going to get sick like that, and so it made me stronger-willed," she says.
Today, she draws on that feeling to encourage patients she works or volunteers with. "I don't tell every family my history, but if I think it's going to help, I'll talk to them about what I went through," she says. "I want to give them a story of hope."