If you're a skier, you know the logo: a sleek shield of red, white and blue. It belongs to the National Ski Patrol (NSP), the rescue brigade that grew up alongside the sport of skiing in America. In the 1930s, avid skier Charles Minot "Minnie" Dole founded a safety committee through the National Ski Association; by 1938, the committee had developed into the National Ski Patrol. Today, the NSP is a federally charted nonprofit that trains patrollers in outdoor first-responder basics, complex travel and rescue, toboggan handling and more. Its more than 31,000 members, mostly volunteer but some professional, respond to emergencies from the bunny slopes to the big resorts.
This winter, the NSP celebrates 25 years of working with Subaru of America, Inc. on initiatives that support patrollers and promote safe skiing – the longest such partnership for both organizations. It's a natural fit. Both Subaru and the NSP are rooted in safety and giving back to the community, and those areas of interest have characterized their programs since day one.
First, the Ambassadors. Each winter, Subaru and the National Ski Patrol choose nine patrollers across the country, selected from hundreds of applications, to join a year-long Ambassador program. These patrollers, who each receive a Subaru Outback for the year to assist with their work on the slopes, are picked because they exemplify the Ambassador program's #kneedeepinwork campaign, which spotlights hard work on and off the mountains.
The 2019-2020 outgoing class included Alex Limkin, a veteran infantry captain turned first responder. Christine Wodke, a baby boomer who competes in triathlons despite having inherited Charcot-Marie-Tooth, a degenerative nerve disease; and Drew Warkentin, a film producer who trains avalanche rescue dogs.
Among the new group of Ambassadors who started November 1: neuroscientist Hannah Waguespack; Julie Stone, a nurse who has been patrolling for almost 15 years; and Cipher Tarrant, an EMT and youth climbing coach.
Getting the news that she had been chosen as an ambassador "literally flipped me over and made my arms fly up in the air," Stone says. "I was elated. I have been given so much by other patrollers who gave selflessly if someone stepped up looking for help. I always just could not wait to get better myself so I would have something to share back."
Ambassadors appear at outdoor emergency care refreshers and ski swaps (swap meets for ski gear) and do takeovers of the NSP Instagram account. Look for the wraparound graphics – the NSP shield, a mountain, a skier – on their Subaru Outback vehicles.
Subaru also sponsors scholarships for avalanche dog training, including travel and lodging for patrollers and pups at two prominent programs: Wasatch Backcountry Rescue International Dog School in Little Cottonwood Canyon, Utah; and Colorado Rapid Avalanche Deployment in Frisco, Colorado.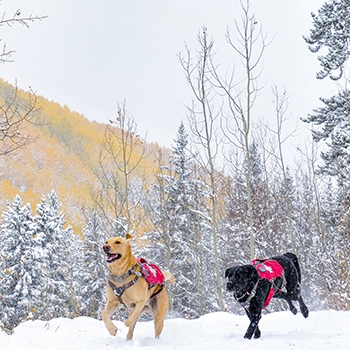 Ambassador Drew Warkentin works with avalanche rescue dogs.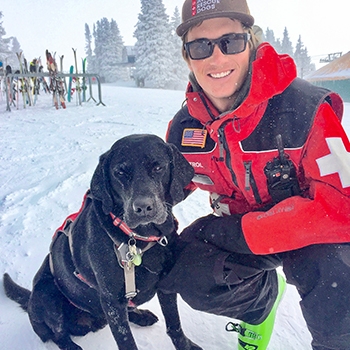 WinterFest, the Subaru-sponsored concert and mountain lifestyle tour, generates funds for this initiative. For every participant who opts in with an email throughout the tour, Subaru donates $1 to the NSP for the dog-and-handler scholarship fund. More than a dozen teams have already been trained thanks to the partnership. Meanwhile, the NSP is working on its own comprehensive training for avalanche rescue dogs.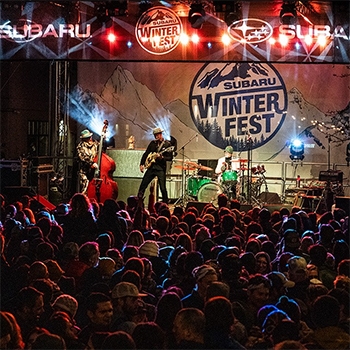 WinterFest is a one-of-a-kind concert and mountain lifestyle tour featuring live music, Subaru swag, free snacks and beverages, and much more at some of the nation's top resorts.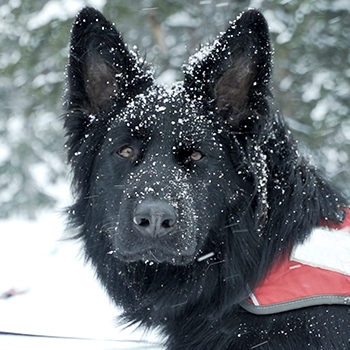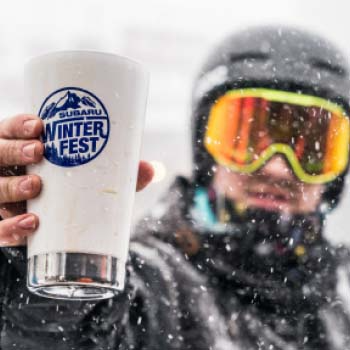 The NSP gets its members discounts on equipment that they need "for patrolling, for their outdoor lifestyle, need for safety and need to get where they're going," says Beckett Stokes, the marketing and communications director for the National Ski Patrol. That includes VIP partner discounts on Subaru vehicles that many NSP members rely on to get to the mountains and back.
NSP executive director Meegan Moszynski drives a Forester, and Stone is on her third Subaru, a 2018 Outback. "My first Subie was a Forester, and I loved that car," she says. "I drove it west to Colorado to go skiing a couple days after purchase and wound up in blizzard conditions. I immediately became a believer in Subaru because my Forester never struggled, and I felt so safe and in control. Many friends and family have become Subaru owners over the years; I like to think it is at least partly because I have been such a fan."
The longevity of the relationship between the NSP and Subaru speaks to another commonality: identity. "At the National Ski Patrol, innovation is important, but we understand who we are and where we are going," says Stokes. "And just like Subaru, we are true to that. They continue to produce cars with the same core attributes, such as safety. As much as they have evolved, they are clear about who they are."
Help us congratulate the 2020-2021 NSP Subaru Ambassadors:
Marc Abend, Loon Mountain, New Hampshire
Julie Stone, Hidden Valley, Missouri
Tait Germon, Killington, Vermont
Bruce Welton, Squaw Valley, California
Cipher Tarrant, Tyrol Basin, Wisconsin
Hannah Waguespack, Bryce Mountain, Virginia
Kate Speare, Park City, Utah
Brendan McCue, Beaver Creek, Colorado
Colby Atkinson, Snowbasin, Utah