Janessa Rocco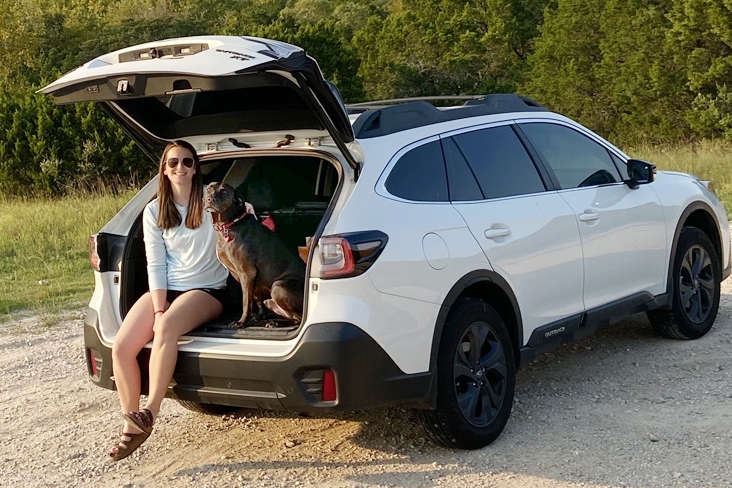 "The biggest change in the emergency room is that families haven't been able to be with their loved ones during really hard situations. That's been the hardest part. We've been calling family members instead and giving them a heads up on what's happening.
"But there's always something throughout the day that is positive. Being able to give someone a negative test result for COVID, giving them that relief, has been a nice thing.
"I love taking care of people, and I love every single person I work with. We jokingly have what we call the Ru crew. There's at least six of us with Subaru vehicles. My first car was a '99 Forester. My friends and I used to take it camping and lay the backseat down and sleep in there, which I still do with my new Subaru.
"The drive to and from work has become my favorite part of the day. Letting the turbo rip on the mostly empty roads – safely, of course – puts a huge smile on my face after a 12-hour shift."
Katie Wilkinson
Nurse practitioner in Mobile, Alabama
Drives a 2017 Outback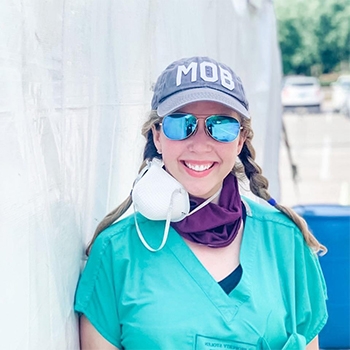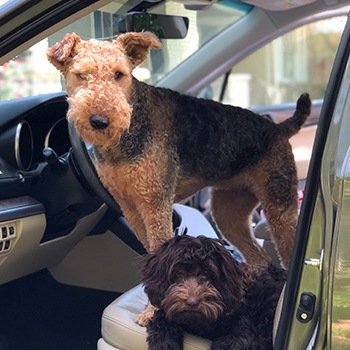 "For five weeks, I worked in a designated COVID tent at my local clinic. It was really hot – the heat index was 100 degrees most days – so we needed a lot of water and snacks and other supplies. We would keep it all in my Outback. I was one of the first ones to show up in the morning and one of the last ones to leave, and my car was filled with bottled water, sunscreen, baby wipes, face lotion, gum, granola bars, donated handmade face masks – and white cheddar Poppables™!
"I got the Outback because it's so dog-friendly; I have an Airedale terrier named Lo and a miniature labradoodle named Dinky. And now it's like, this car is good for everything. At the hospital, it truly became a community vehicle that helped us through the toughest of times."
John Zdanowicz and Julia Zdanowicz
Outpatient chemotherapy infusion nurse (John) and intensive care nurse (Julia) in Lake Forest, Illinois
Drive a 2018 Impreza and 2014 Forester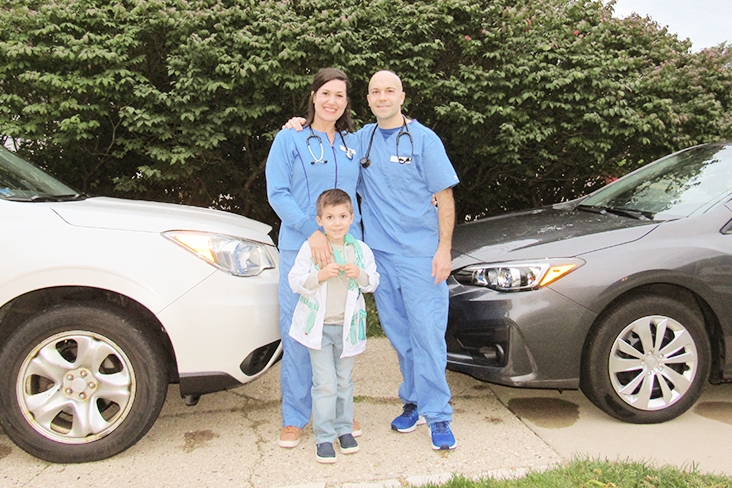 Julia: "We met going to school for nursing. John was driving a WRX at the time."
John: "I ended up selling it to get the money for Julia's engagement ring. I put it up for sale online, and within 30 minutes, somebody reached out."
Julia: "It was an 18-year-old boy who responded, and it felt like he wanted the car just the same way John had."
John: "I worked as a mechanic for five years before nursing school. I worked for the fire department too. And then I was an EMT, drove the ambulance full time. That was my entranceway into becoming a nurse."
Julia: "And I've always told you, you're probably the most compassionate and brilliant nurse I've ever met."
John: "Luckily, my patients have been OK during the pandemic. The unit has taken a lot of precautions. But it was nothing like Julia's unit."
Julia: "The summer was emotional. We took over three units in the hospital for COVID intensive care. There was a lot of fear in the beginning. After a while, you become like a soldier and you're not afraid to go in the rooms anymore. And you just work, work, work. I feel honored to have had the experience I did. I got into critical care nursing so I could take care of the sickest people. That was my goal graduating nursing school. And I've accomplished that."