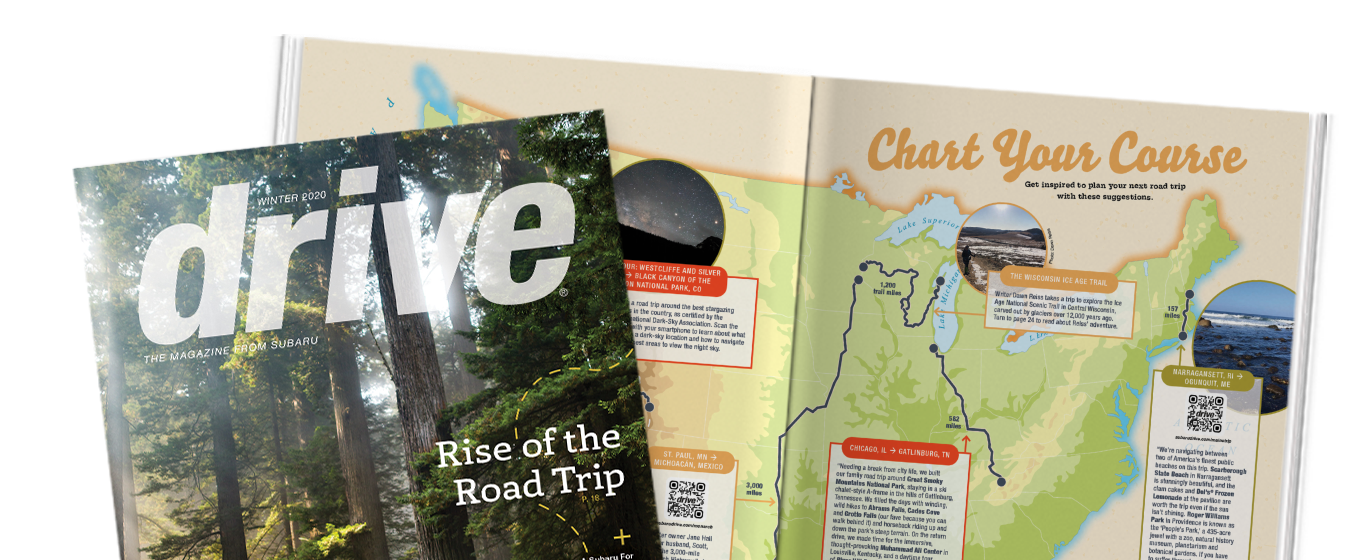 Featured Content
2020 Subaru Drive Community Champions
Honoring seven Subaru owners who exemplify the Subaru Love Promise with their commitment to helping others.
Read More
Road-Tripping in Your Subaru
Getting the most out of your Subaru vehicle on your next road trip vacation.
Read More
Wisconsin's Ice Age Trail
Walking this winter wonderland, you can find challenging climbs, scenic strolls and everything in between.
Read More
Departments
Partner Profile
Subaru & National Ski Patrol: 25 Years of Partnership
National Ski Patrol® and Subaru celebrate a quarter century of helping others, together.
Read More
In the Community
Subaru University Trains Technicians for Highly Skilled Jobs
Students receive the Subaru-specific training they need to succeed not only in the shop but also behind the service counter.
Read More
Owner Spotlight
Subaru Loves Nurses
Meet four inspiring nurses who have gone above and beyond to serve patients in their care during the COVID-19 pandemic and relied on their Subaru vehicles to help them.
Read More
Road Trips
Traveling the Monarch Highway
The "Monarch Highway," also known as Interstate 35, stretches 1,585 miles from Minnesota to Texas, and mirrors the butterflies' annual migration. Retired and seeking adventure, Jane Hall and her husband, Scott, follow it even farther, venturing 3,000 miles south to the Monarch Reserve in Mexico.
Read More
Road Trips
Family Road Trip in the 2020 Subaru Outback Onyx Edition XT
Auto editor Craig Fitzgerald and his family hit the road for a family vacation in a Subaru Outback Onyx Edition XT.
Read More
Safety & Technology
When To Use Subaru Dual-Function X-MODE®
Dual-function X-MODE can help get you out of sticky conditions like deep snow and mud, where a little wheelspin can be useful.
Read More
Owner Spotlight
1981 Subaru GL: A Family Reunion
Stephen Hodges gets his old 1981 Subaru Leone GL back, thanks to a gift from his wife, Ashley.
Read More
Retailer Spotlight
2020 Subaru Love Promise Retailer of the Year
At Schulte Subaru of Sioux Falls, South Dakota, kindness isn't just a word. It's a way of doing business.
Read More
DIY
Subaru Owners' Favorite Products & Gift Ideas
From puzzles to poles to smart keychains, our staff and readers share some of the products and services that they're relying on this year.
Read More
In the Community
The National Ski Patrol's Avalanche Dogs
Subaru Ambassador Drew Warkentin describes a typical day of working with avalanche rescue dogs.
Read More
Recent Issues